Glamorous Godet Dress Pattern Template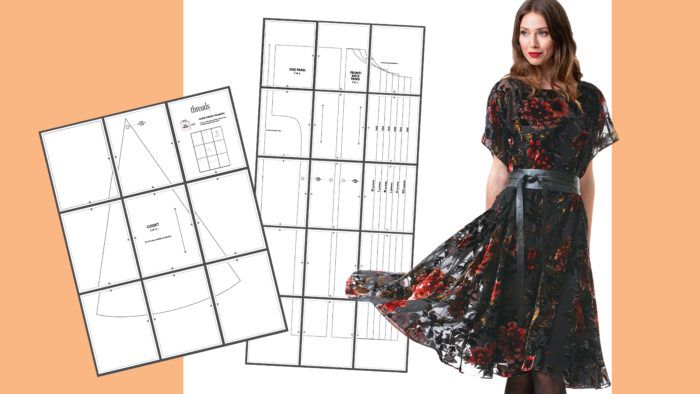 A godet is a triangular wedge of fabric sewn into a garment, either in an existing seam or within a cut opening. Its purpose is to give extra flare at a hemline. With godets, you can achieve a body-conscious fit through the bodice and hips while increasing fullness around the hem. They create a pretty silhouette and enhance movement in a skirt or dress.
This dress design features six godets inserted into seams. It's a simple project that yields great results in a variety of fabrics, looks good on a range of figures, and is easy to sew and customize.
To make your own version of a godet dress, download and print the PDF godet dress pattern and godet template attached to this post below. The instructions for sewing the dress are in the story "Godet Glamour" in Threads #211 (Oct./Nov. 2020).
When you print the pattern, choose "print actual size" on U.S. letter-sized paper under the printer settings, and double-check on the printout that the registration square measures 1 inch on each side. The registration square ensures the scale of your pattern is correct.
The godet dress pattern includes sizes extra small through extra large, for bust measurements 34 inches through 54 inches. It is easily customizable for length. Simply extend or trim the hemline to suit your figure and style, then alter the godet pattern piece to match.
Godets require some precision stitching, but the story includes a foolproof method that relies on fusible tape to install the in-seam variety.
To see the godet stitching method in action, watch the video "Make a Custom Godet Skirt."
View PDF