Pattern Roundup: Lingerie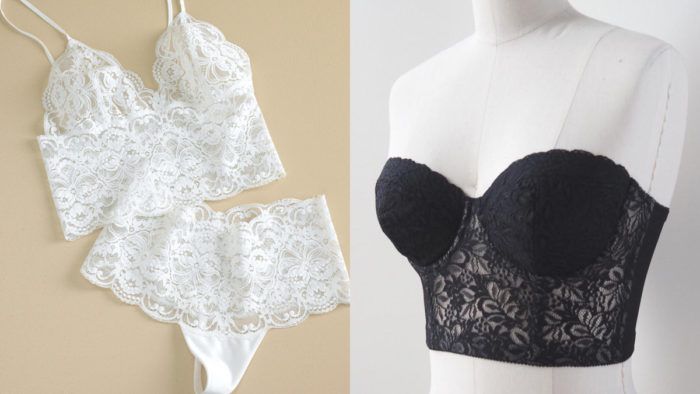 Sewing your own lingerie is one way to get a more customized fit for your undergarments, especially if common commercial sizes are limited. Myriad styles are available through different patternmakers and the wide variety of materials for lingerie making gives you the flexibility to create something that reflects your personal style.
Lingerie sewing advice
For tips on fitting and sewing bras, see "The Bra Dilemma Solved" by Cynthia Elam, originally published in Threads #71 (June/July 1997). The article contains techniques for solving many common concerns in making well-sewn bras.
Read "Adapt a Bra to Accommodate a Prosthesis" by Cynthia Elam, to learn more about altering bras to fit a prosthetic or padding.
If you're a Threads Insider, check out Stephani L. Miller's article, "Bra-Making Basics," Threads #159 (Feb./March 2012), Stephanie takes you through choosing materials and measuring for fit, as well as construction techniques.
Threads Insiders can also read about couture lingerie techniques in "Create Couture Lingerie" by Alexandra Armillas, Threads #135 (Feb./March 2008). Alexandra worked in Dior's couture house and shares some of the methods she picked up over the years.
Lingerie pattern options
Below are 10 lingerie patterns to get you started on your lingerie-making journey. Many of these patternmakers sell kits, so you don't have to worry about gathering appropriate materials on your own.
Bra-makers Supply Sweet Sixteen Bralette
With options for lace or fabric construction, and pattern pieces to create your own foam cup, this bralette pattern is highly adaptable to personal taste. It features a wide range of cup and band sizes to better fit different body types. This site also has bra or bralette kits that include the fabric, elastic, closures, and findings to make one bra.
---
Designer Stitch Olivia Bralette/Knickers/Briefs/Panties
This lingerie set features a bralette and panties with many leg-cut options for more or less coverage. The wide size range enables it to fit different body types. Cup-size options for the bralette range from B to F. The pattern is simple, designed for comfort without frills.
---
Available in two size ranges determined by cup size, this bra fits band sizes 28 to 40 and cup sizes B through G. It is a balconette-style bra, with the strap extending to the bottom of the cup for extra support. This site has kits specifically designed for use with this pattern available for sale.
---
Designed by a French lingerie pattern company, this bralette and panty combination is great for stretch lace applications. It comes in two size ranges and fits waist sizes from approximately 23 to 50. The pattern instructions and website are available in English, but beginner sewers may struggle, as some sewing terms can be difficult to properly translate.
---
A simple panty and camisole combo, this pattern has minimal seams and shaping but uses the fabric's stretch to achieve a close fit. This style is not designed to provide much bust support and does not have separate cup size options. Therefore, it may be better for someone with a smaller bust. There are four panty styles, from thong to boy-short.
---
Madalynne Intimates Sierra Wrap Bralette
Get this intriguing bralette pattern for free. It has halter-style straps and a wraparound back closure. There are no cup size options. The design is a great option for beginners, as they do not have to worry about underwires or channeling, and the shape is easy to adapt for different band sizes.
---
This pattern is designed to be sewn from woven, nonstretch fabrics. Try using silky satins or chiffon for a vintage-inspired look. The pattern does not have separate cup size options, but the seam across the cup makes this design easy to adapt to suit a larger bust.
---
Designed as a classic strapless, longline style, this bra has foam cups and a boned band for support and staying power. The wide band provides support for larger busts without digging into the ribs. It has cup sizes from A to DD and band sizes from 30 to 40.
---
Embrace vintage-style underthings with this 1930s-inspired brassiere and tap panty. These are designed for woven fabrics. The bra is gathered at the front and fitted with darts. The panties fasten at the sides and have the option for a shaped yoke.
---
This ensemble pattern includes two length options for a robe, two lengths for a camisole, and shorts-style panties. They are designed to be sewn in woven fabrics. The panties are cut on the bias for extra comfort. There is the option to add lace embellishment to any of the three pieces.