[CLOSED] Halloween Costume Contest 2020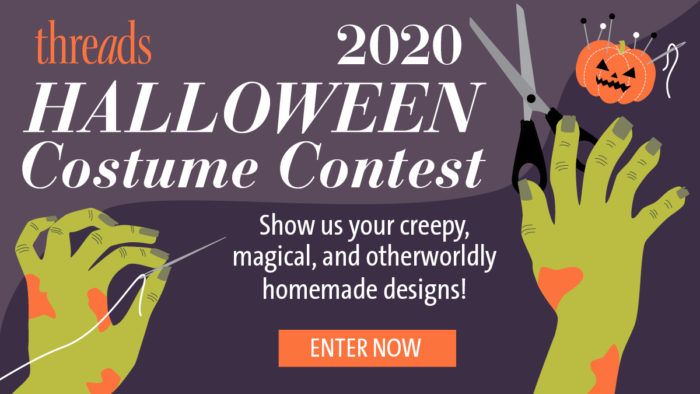 It's time for our annual Threads Halloween Costume Contest
Are you making a Halloween costume this year?
If so, share your creative, festive, or just plain scary costume in the Threads Gallery, and you could be one of five winners to take home a prize from Threads. We can't wait to see all your wonderful designs.
How to Enter

Starting October 1st, 2020 share images of your homemade costumes  to the Threads Gallery by 11:59 EST, November 9, 2020. Include a description of how you made your costume and why you should win. There is no limit to the number of costumes you can enter, but we do ask that costumes have not been entered previously into this or other contests.
Winner selection
At the end of the submission period, Threads editors will choose finalists in five categories: Best Adult's Costume, Best Child's Costume, Most Creative Costume, Best Costume to Incorporate a Mask, and Scariest Costume.
Prize package
Most Scary Costume – Threads 2020 USB archive, $99.95.
Most Creative Costume – Threads Insider Membership (1 year); digital product. $59.95 value.
Best Child Costume – Threads Selects collection; print – choose youth crafts. Pick 5 @ $9.95 each = $49.75.
Best Adult Costume – All New Fabric Savvy by Sandra Betzina; book. $26.95.
Best Costume to Incorporate a Mask – Sew Smarter, Better, Faster (Tips from Threads magazine); book. $24.95.

ENTER STARTING OCTOBER 1, 2020
See official rules for more details. Click here.
Need some inspiration? View previous winners of the costume contest!
2019 Halloween Contest Winners
2018 Halloween Contest Winners
2016 Halloween Contest Winners
2014 Halloween Contest Winners
2013 Halloween Contest Winners