Editor's Note: An Extraordinary Fiber
Threads #212 is available now. Read the letter from the editor about what you'll find inside.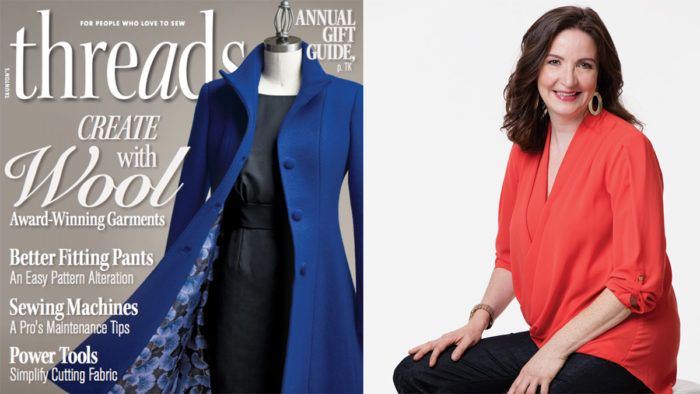 Wool has qualities that make it beloved by many sewers. It is available in a wide variety of textiles, woven and knit in many weights and textures. No other fiber is as receptive to shaping with heat and steam. This characteristic opens impressive design and tailoring possibilities. Wool fabrics and yarns seem to have an unparalleled range and depth of color.
To spark your sewing plans, a number of articles in this issue cover ways to create with wool. For great workmanship and design, check out "The Wool Wrap-up" by former Assistant Editor Erica Redfern. It is our annual coverage of the national Make It With Wool competition. Every year, it makes me hopeful about the future of our pastime, as many of the impeccable entries are by young sewers.
Use your sewing skills to salvage and remake wool and other types of sweaters, with guidance from "Upcycling Sweaters" by Andrea Schewe. Cut preworn sweaters around holes or wear and combine them into fresh designs with Andrea's methods.
If an artistic way to apply wool fibers appeals to you, check out Ellen W. Miller's "Needle Felting Know-How". This embellishment technique employs wool fibers' unique properties, including a natural crimp and tendency to lock or "felt" together, to create motifs that are a part of the fabric they decorate.
There is much more to enjoy in this issue, including two excellent fitting articles. I thought I would take a moment here to appreciate wool, and how enjoyable it is to work with, especially this time of year.