Profiles in Sewing: Jasika Nicole promotes creativity and inclusivity
Accomplished actor promotes creativity and inclusivity online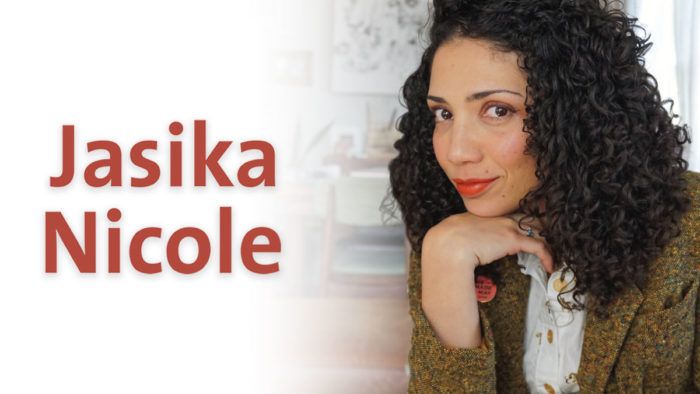 You may know Jasika Nicole from her roles in television shows such as Fringe, Scandal, and The Good Doctor. However, you may not know that she is also an avid home sewer, amateur shoemaker, and artist. Jasika found her passion for sewing in college and has pursued the craft since then, tackling complex projects. She enjoys sewing garments from a wide range of pattern designers, carefully curating her wardrobe to suit her lifestyle and personal taste. She documents her sewing and shoe-making adventures on her blog, Try Curious (JasikaNicole.com/Try-Curious-Blog), and has an active social media presence on Instagram (@JasikaIsTryCurious) and Twitter (@TheJasikaNicole). Through sharing her artwork and sewing journey, Jasika encourages sewers and makers of varied backgrounds to share their experience. Threads spoke with her to discover more about her sewing practices.
Threads: How did you get introduced to sewing?
Jasika Nicole: I had to learn how to sew when I took a costume design class in college for my studio art minor. I ended up not being all that interested in the design aspect of the course, but I was intrigued by the construction, and took to it very quickly. Eventually I was spending late nights during the weekend in the costume shop playing with fabric and dress forms. My mom bought me a cheap sewing machine from Walmart that Christmas and I've carried it around with me to every dorm room, apartment, and house I lived in after that, even though I have better machines to use now.
TH: What was your first sewing project?
JN: On the very first day of that costume design class, our newly appointed professor, who was wonderful but very overwhelmed by her teaching workload and running the costume shop, just handed each student a stack of velvet, silk, and brocade fabrics with a Big Four costume pattern on the top. She told us, "Follow the instructions, and let me know when you need help," and then walked away. Our first assignment was sewing the costumes for our school's production of Romeo and Juliet. I was saddled with making Lady Capulet's gown. It felt bizarre at the time, but ultimately it was the greatest learning experience I could have had. The stakes felt high because our peers were on that stage, and we didn't want to let them down. That dress is still one of the most complicated garments I have ever made and it looked absolutely stunning on the actor.
TH: How do you get inspired to make new things?
JN: I try to keep a running list, either on paper, in my head, or on a Pinterest board, of all the things I would like to try or garments I want to re-create. In truth, the thing I most often struggle with is having too much inspiration, wanting to do all the things and feeling so overwhelmed with the possibilities ahead of me that I just freeze. In the past, when I have tried to push through feeling unmotivated, I haven't ended up with projects I was very excited about because there was no joy in the process of making them. I am learning to be kind to myself and allow my body and my mind to have rest when I need it.
TH: How does the online sewing community shape your sewing experience?
JN: It motivates me to step out of my comfort zone and try all kinds of new things. Without the sewing community, I wouldn't have been introduced to so many lovely friends who are now an important part of my life, and I wouldn't have learned a fraction of the amazing skills that I have picked up by other people so generously sharing their expertise. The online community has made me a better sewist, provided endless amounts of inspiration to so many aspects of my life, and has encouraged me to use my voice and my platform in exciting ways. In general, I think that Black and POC (people of color) voices are often absent in maker spaces, even though so many of us are talented creators. So I have felt encouraged and appreciated in my little niche of the sewing community, and I am so grateful for it.
TH: What advice would you have for sewers looking to emulate your online presence?
JN: Treat social media like it's real life. One thing my Instagram friend Grace and I share frustration over is the fact that strangers come into our DMs (direct messages) without introducing themselves. You would never walk up to a person on the street and just start talking at them, and it's totally reasonable that same civility and respect carry over into social media-land.
Another thing that I am recognizing is important with an online presence is to foster the kind of online environment that we want to experience in our daily lives. I don't allow anti-Black, anti-fat or anti-queer comments, and I don't allow people to make objectifying comments about me. They get one warning and if they can't handle it, they get blocked.
TH: What resources would you recommend for young creators?
JN: There is so much information at our fingertips, thanks to the internet. To me, there is no excuse for not taking the initiative to educate oneself. When people DM or comment on my posts with questions that are easily answered with a simple click on a search engine, I just tell them that Google is their friend. My Instagram handle is @JasikaIsTryCurious for a reason— I'm curious about so many things and I always encourage people to feel empowered by their own ability to seek out answers for themselves.
Erica Redfern is Threads' former assistant editor.