Pattern Roundup: Make Your Own Napping Dress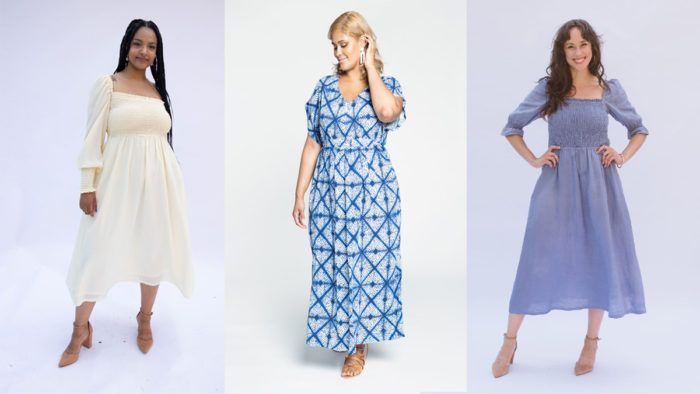 Whether you call it cottagecore, farmhouse style, or soft aesthetic, the trend toward soft, delicate, flowy dresses isn't going away anytime soon. One of the mainstays of the cottagecore clothing aesthetic is the now famous "nap dress" from Hill House (HillHouseHome.com). Within hours of releasing a fall plaids collection, Hill House was sold out of every size, style, and plaid pattern.
Fans of the cottagecore dress style are looking forward to more winter friendly fabrics and styles from many manufacturers. But why wait? With some dresses carrying hefty price tags of more than $300, making your own will certainly provide you with more affordable options.
---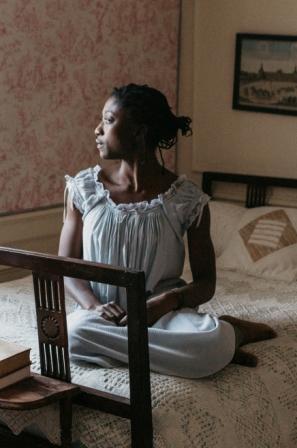 This pattern just might be the perfect napping dress. With short, ruffled cap sleeves, it could be worn as a nightgown or a dress. Use your imagination when it comes to fabrics—most any lightweight cotton will work. The pattern has two versions, with different ruffle and casing styles. This Lady's Chemise comes in XS to 3XL, bust 30 1/2 inches to 54 inches, waist 23 inches to 49 inches, hip 32 1/2 inches to 56 inches.
---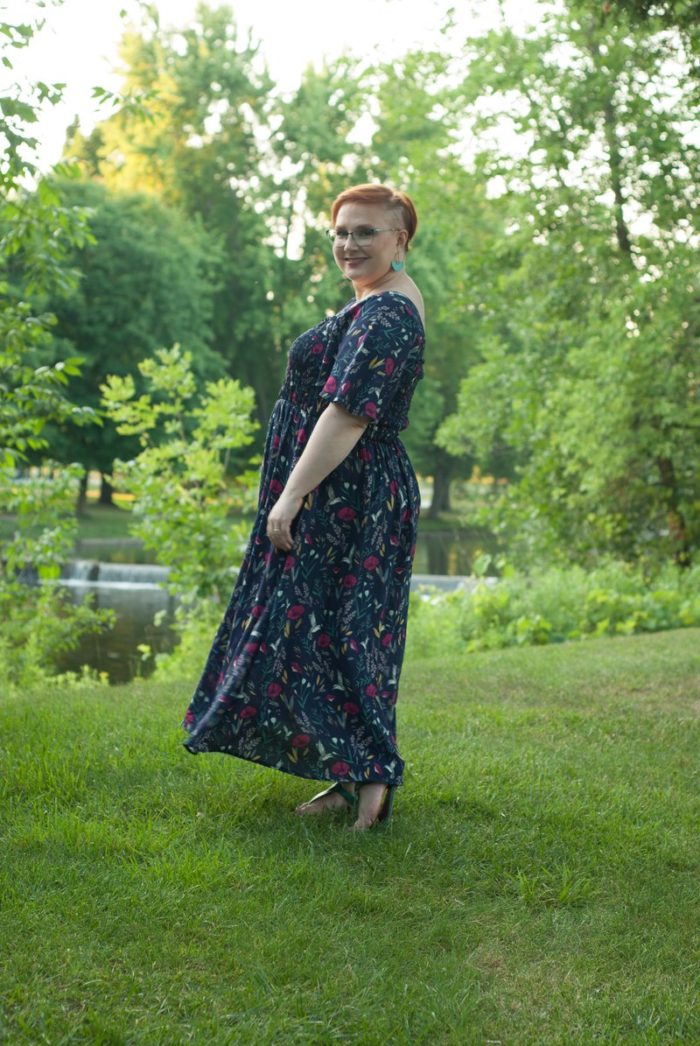 What a great pattern from Victory Patterns. It's another perfect dress for everyday wear and comfortable enough to withstand binge-watching The Queen's Gambit. A key feature of this design is the elasticized shirred bodice, which simplifies fitting. The pattern includes three garment styles (dress, short blouse, or peplum blouse) along with four sleeve options (cap, elbow, bishop, and bell), making it incredibly versatile. PDF patterns include sizing from 0 to 30 (Sizes 0 to 30, bust 32 inches to 58 inches, waist 24 inches to 50 inches, hip 35 inches to 60 inches).  And yes, it has pockets.
---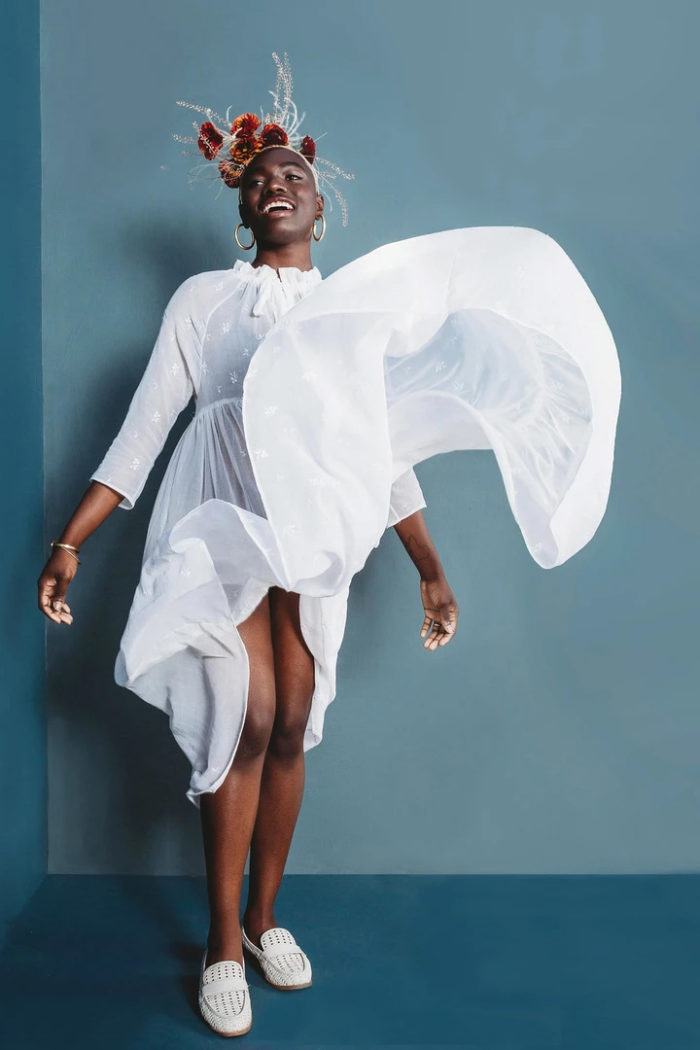 This oh-so-flexible cottagecore dress pattern is ideal for beginners. The gown design can be made long- or short-sleeved, with one skirt tier or two—or can be made as a blouse. All versions feature raglan sleeves and a gathered, drawstring neckline. The dress and blouse are best made with woven fabrics. The pattern is available in sizes XS to 4X (bust 32 inches to 54 inches, waist 24 inches to 47 inches, hips 34 inches to 57 inches). Five percent of the pattern sale proceeds go to RAICES, a 501(c)(3) nonprofit agency that promotes justice by providing free and low-cost legal services to underserved immigrant children, families, and refugees.
Author Update: I finally made one of these dresses and immediately made a second. I'll be making my third this weekend. I am smitten.
---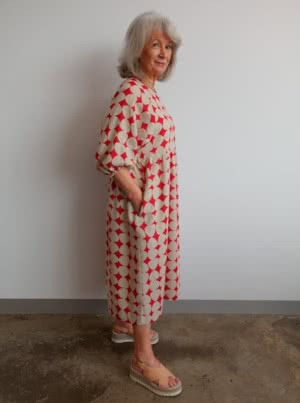 This easy-fit, slip-on dress from Style Arc is just right for comfortable style. The dress has a deep raglan armhole with a full sleeve that ends in an elasticized casing, a slightly raised waist seamline, and gathered skirt. Look for lightweight, soft wovens or knits to create this design. Sizes 4 to 30 (bust 30.3 inches to 58.25 inches, waist 23.5 inches to 50.5 inches, hip 32.6 inches to 61 inches).
---
This pattern was designed with novice sewing enthusiasts in mind. Although it has a fitted, princess-seamed bodice, the pattern comes in three bust sizes and is customizable for most shapes. The gathered skirt may be made full-length or knee-length. Sizes 2 to 24 (bust 31 1/2 inches to 56 3/4 inches, waist 24 1/2 inches to 46 1/2 inches, hip 35 1/2 inches to 57 1/2 inches).
---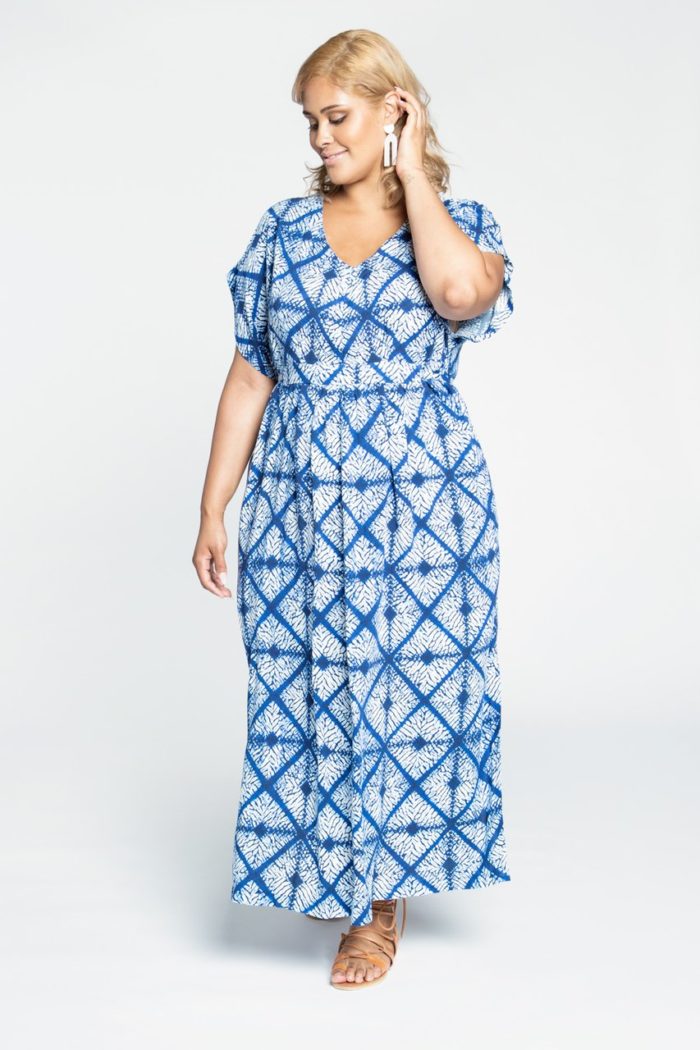 Here's another pattern for advanced beginners. With a deep V-neckline, short dolman sleeves, inset center panel, and roomy pockets, this dress has options that are as comfortable as you desire. Choose between a wide sleeve or a slightly higher cut and two skirt lengths. It's perfect for working from home, taking a nap, or making a trip to the market. Sizes 0 to 20 and 14 to 30 (bust 31 inches to 58 inches, waist 24 inches to 51 inches, hip 33 inches to 61 inches). Visit the link above to see some great examples of me-made dresses.
---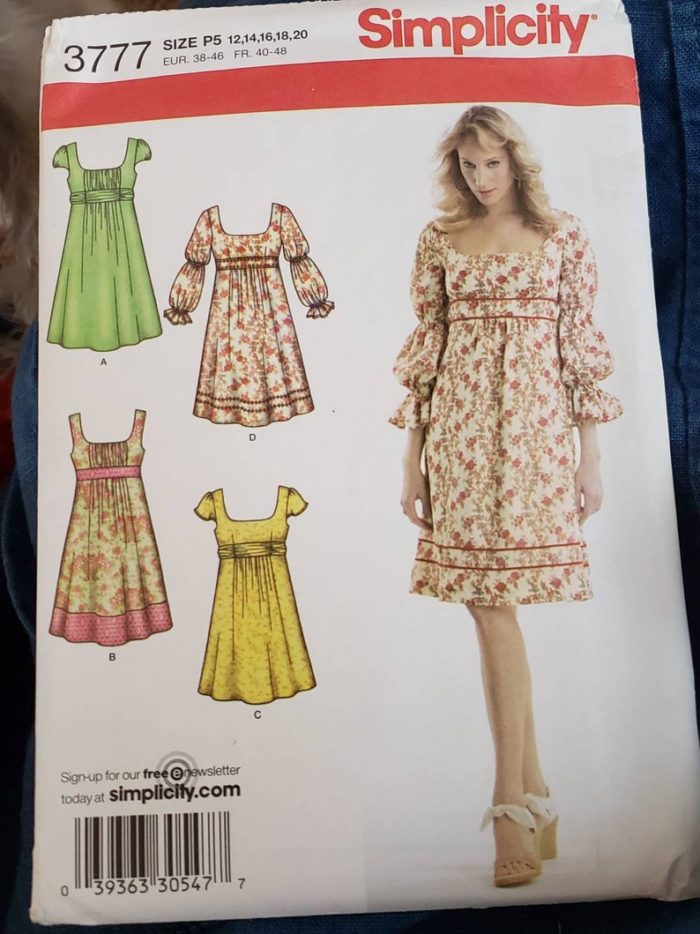 You can always search Etsy, eBay and other sites to find great vintage patterns that are suitable for today's take on vintage style. This one reminds us of many a bridesmaid gown of yesteryear. You might want to act fast on this one, it is going to be hard for me to hold off on buying it!
---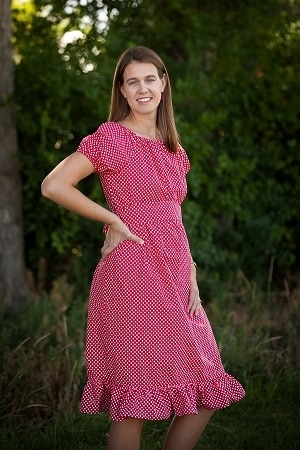 This super easy pattern is great for beginners—and great for experimenting with fabric. The pattern has three raglan sleeve options (short, three-quarter, and long), making it perfect for fall and winter too. There is an inset waistband and gathered skirt finished with a hem ruffle. Sizes XS to 5X (bust 32 inches to 59 inches, hip 32 inches to 62 inches).
---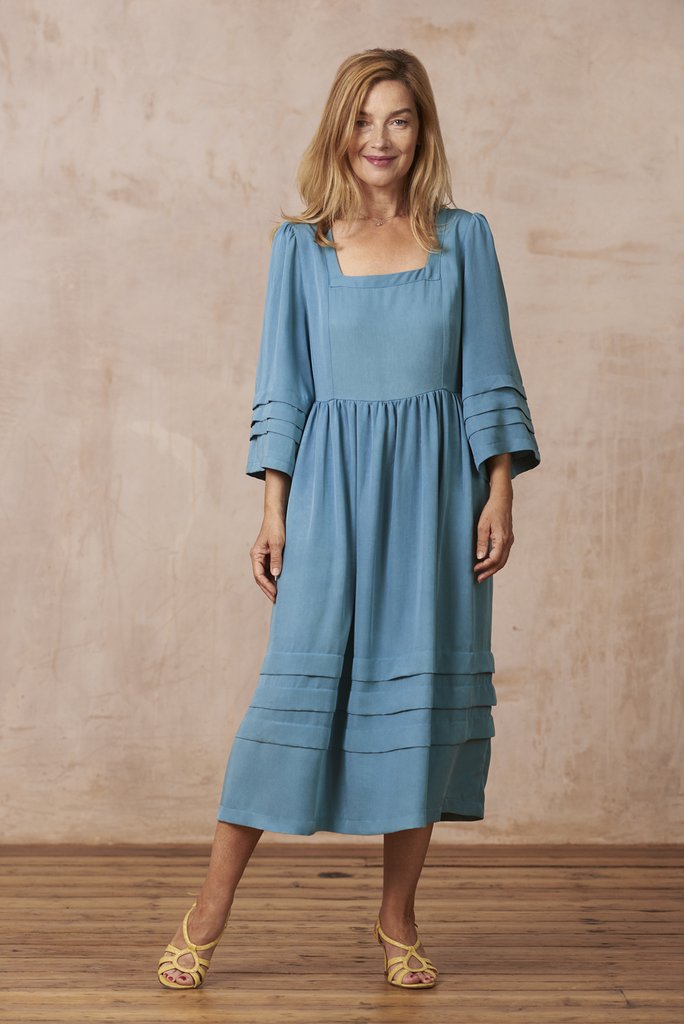 Sure, it's fancier than your average nap dress or loungewear, but imagine it in it in a light flannelette floral. Dreamy. And the tuck detail is a pretty feature. A square neckline, front and back bodice panel seams, and adjustable waist ties distinguish this charming dress. The Tamzin pattern is available in sizes 2 to 34 (bust 32 inches to 61 1/4 inches, waist 25 inches to 56 1/4 inches, hip 35 inches to 63 1/4 inches).
---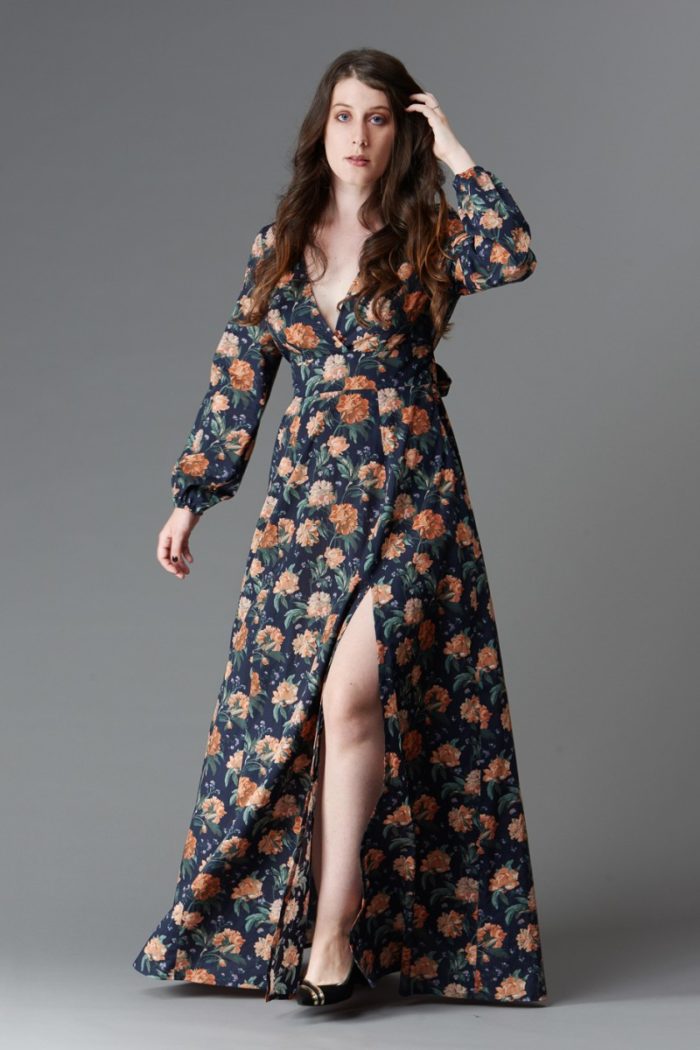 We did a full pattern review of this great pattern just about a year ago, and it is still one of our favorites. As winter holidays approach, consider this dress in a richly colored velvet print.
---
These patterns almost all call for a light or midweight fabrics. For many of these dresses, how cottagey-comfy it is comes down to the print you choose. As you can see, though, they look great in a wide variety of fabrics, whether print or plain.
While I was dreaming of making myself the Folkwear chemise using a single dainty floral from Liberty of London, I found this breathtaking dress. At least for this moment, I can think of nothing better than making this as a cottagecore dress for myself. Right. After. This. Nap.