How to Embellish with Pleated Bands for Stunning Organic Detail
The pleat is the key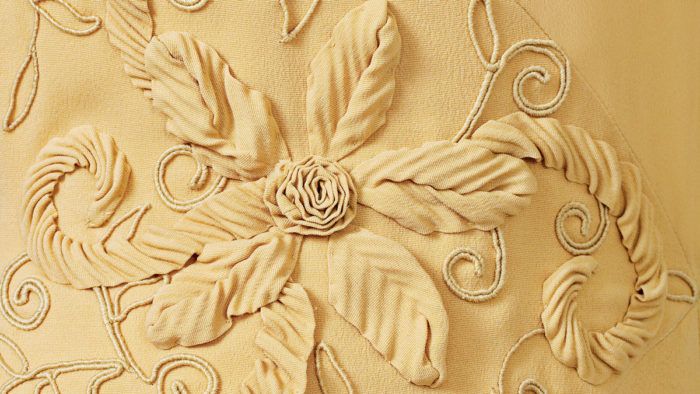 This buttery stunner in rayon crepe is a study in the powerful effects of understated embellishment. Its nipped waist consists of two triangular side panels, which are graced with an arrangement of flowers. To achieve this floral effect, fabric bands were molded, pinched, and crimped into shape and placed atop vines of couched cording. The dress embraces the period in which it was created: 1940s wartime. It's practical, a little austere, contains military-inspired details at the shoulders, but most of all, it is an elegantly designed gown. To see how to create this embellishment, read this article from Threads #160.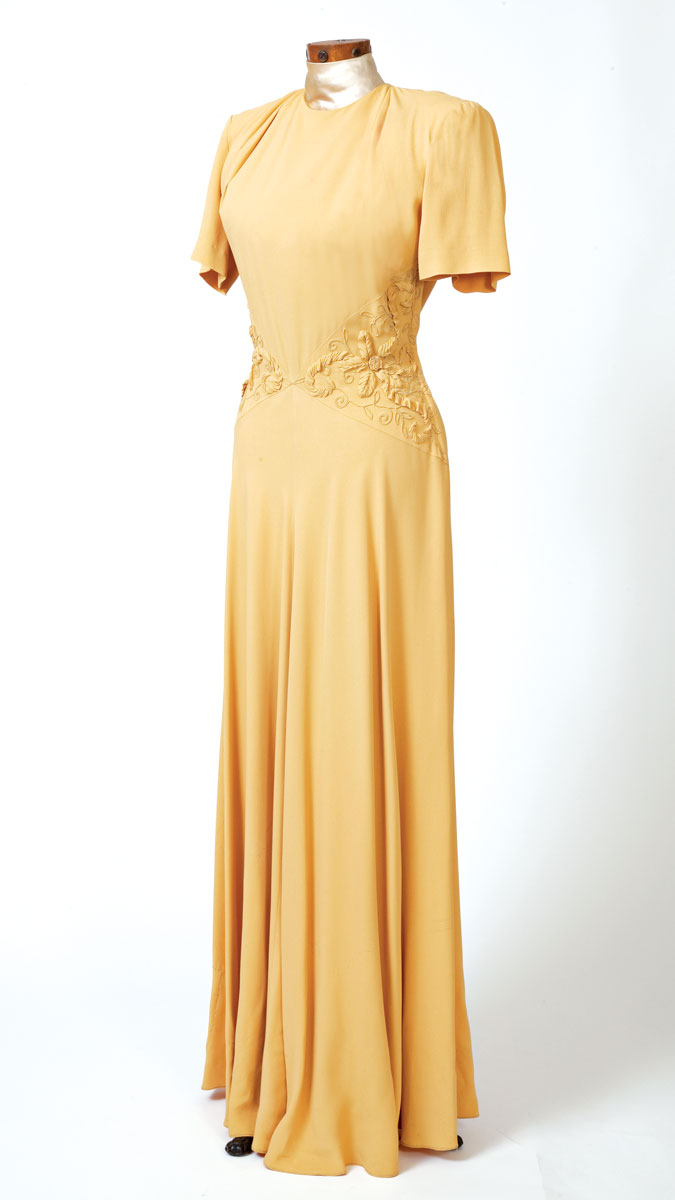 The embellishment on the gown shown on the back cover is so delicious it looks as if it were squeezed from a pastry tube. Creating these delectable shapes from fabric involves manipulating pleated bands and then stitching their edges into organic forms. The bands are on-grain, self-fabric strips that are folded into tape, then pleated diagonally, making them malleable. The pleated bands take on shapes that a bias or straight grain strip or ribbon could not. Select a fabric that will take a crisp crease in pressing, but not wrinkle too much in wearing. The original dress (above) fabric is unknown. The samples (below) are silk shantung.
After a brief description of how to manipulate pleated bands, I'll show you three ways to pleat them. Experiment with the methods, then put them into a memorable design.
Accordion Sculpting
Imagine the accordion player working his instrument open and closed: Consider how the alignment of the pleats moves and changes. They fan in and out to form different angles and only occasionally settle into parallel alignment.
Cut the strips on the straight or cross-grain 13/8 inches wide. Press the long edges under 3/8 inch for finished bands that are 5/8 inch…
Start your 14-day FREE trial to access this story.
Start your FREE trial today and get instant access to this article plus access to all Threads Insider content.
Start Your Free Trial
Already an Insider? Log in