Meet the Threads Digital Ambassadors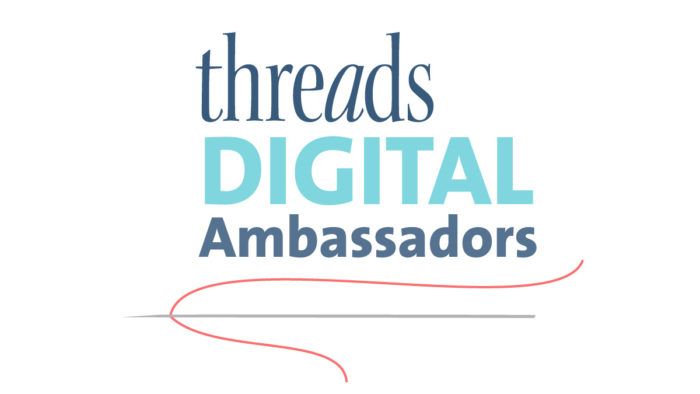 Meet our digital ambassadors, who share their sewing adventures online with the Threads community. These sewing experts' monthly posts provide garment sewing tips, how-tos, inspiration, and even some lessons learned. Threads Insiders have the benefit of reading all the digital ambassador musings and helpful techniques on demand.
Meet Pamela Howard
Pamela is a Craftsy instructor, a pattern designer, a top alterations specialist, custom clothier, and she teaches nationwide. She has been sewing since she was 14 years old. See Pamela's posts.
Meet Gilbert Muniz
Gilbert Muniz is a fashion design teacher and designer living in Houston, Texas. He's been sewing for 30 years and has the fabric stash to prove it. His work focuses on integrating surface design and embellishments into modern cuts and tailoring. He's never satisfied with the ordinary, and is constantly learning new and innovative techniques to add pizazz to his work. His main philosophy for finishing a garment is: Why buy a button when you can spend triple the amount on the supplies to make your own?
Gilbert has constructed everything from bikinis and wedding dresses to Mardi Gras parade costumes and corsets. You can follow his design journey on his Instagram page (@stitching_vulture) or his forever-under-construction website, stitchingvulture.com.
---
Meet Becky Fulgoni
Update: Becky is no longer a Threads digital ambassador but remains a valued contributor. Be sure to check out her two yearlong series in which she challenges her creativity and sewing skills, Riffs on a Trusted Pattern and A Year of "Re".
Becky has been designing and sewing her own wardrobe since elementary school when she grew past any standard ready-to-wear pant lengths. She was introduced to the wonderful world of sewing and fabric by her mom, an accomplished art quilter. Read more about Becky Fulgoni.
Meet Marcy Harriell
Update: Marcy has moved on to new adventures and no longer serves as a Threads digital ambassador/ But we always enjoy catching an episode of her and her husband, Rob, on YouTube, They're The Handmade Harriells.   
A Broadway, film, and TV veteran, Marcy's journey to sewing stemmed from a need to escape the everyday confines and clichés of the entertainment industry. She taught herself to sew online and through vintage sewing books, carrying a Singer Featherweight with her to various dressing rooms, and spending lunch hour rehearsal breaks in the fabric district of wherever her work landed her. Read more about Marcy Harriell.
Editor's note: A short clip in the following video is from the "DIY Denim Jacket" segment on Marcy's YouTube channel, courtesy of Marcy.
Meet Peter Lappin
June 2021 update: Though Peter has stepped away from his Threads digital ambassador role, he won't be far from sewing. He says he wants to recharge creatively and plan his next adventure.
Peter began sewing in 2009 and today is one of the internet's most visible male sewers, thanks, in part, to his popular blog, Male Pattern Boldness. It's where he shares his passion with sewers from all over the world, at every level of experience. Read more about Peter Lappin.