Alteration Shop Techniques: How to Lengthen Jacket Sleeves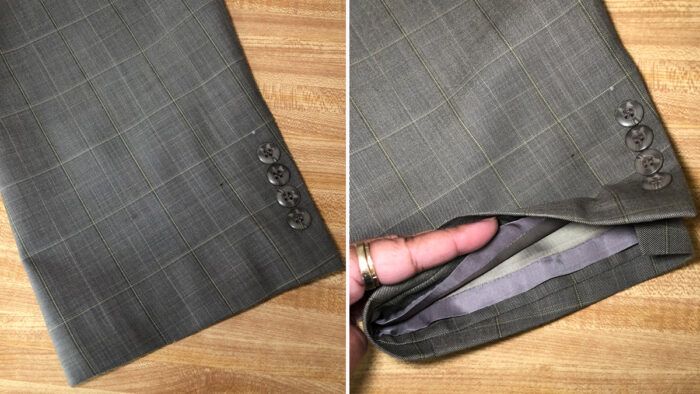 The second part of my discussion on altering a jacket's sleeve length is for those of you who need to lengthen jacket sleeves on your me-made garments or upcycled finds.
If you have the opposite issue, see Part 1 of my Alteration Shop Techniques post on how to shorten jacket sleeves.
When you need to add length, it helps to have fabric that matches the garment. However, it's not the end of the world if you use found fabrics to complete the task. Try to find fabric of similar weight to the existing garment fabric, and the alteration will work out fine.
Just as with the instructions for shortening a jacket's sleeves, this method is not complicated. There is, however, an added step to attach more fabric to the garment's original sleeves and lining in order to extend their length.
My jacket sleeves were too short
I am of average height and have average arm length, but many years ago I needed to lengthen the sleeves of a jacket I was making. The fabric had been cut with the correct sleeve length based on the muslin fitting. However, I did not anticipate the fabric would shrink from steam-pressing fusible interfacing onto it as the underlining for the entire jacket. Panic started to set in. But then I reminded myself that I knew how to add length using the methods learned while working in a menswear shop.
Hopefully, after learning some of these techniques and adding them to your bag of tricks, you won't panic, either.
Prepare to lengthen jacket sleeves
Start by following the same steps you would for shortening a jacket's sleeves, as shown in Part 1 of my Alteration Shop Techniques post under the section "Take note of the jacket sleeve details."
1. Take…
Start your 14-day FREE trial to access this story.
Start your FREE trial today and get instant access to this article plus access to all Threads Insider content.
Start Your Free Trial
Already an Insider? Log in