Bridal designer Jude Jowilson's gowns feature exquisite details
Bridal designer's gowns feature exquisite details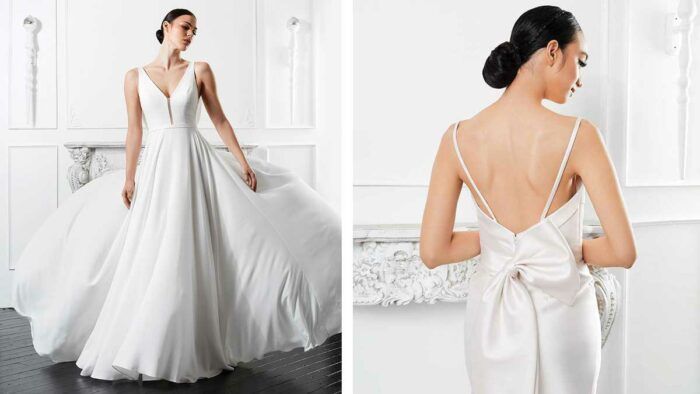 Jude Jowilson knew at an early age, while sewing at his grandmother's side in the Philippines, fashion was in his future. "When I was 14 or 15, I made my cousin's wedding dress, and it evolved from there," he says.
Today, after two decades in the industry, Jowilson is living his dream in New York City. He's a sought-after designer known for his elegant bridal gowns that are at once nostalgic and modern.
"New York has always been a big part of my brand. It is a perfect mix of classic style, chic elegance, and just the right dose of unexpectedness that keeps you interested and hooked," Jowilson says.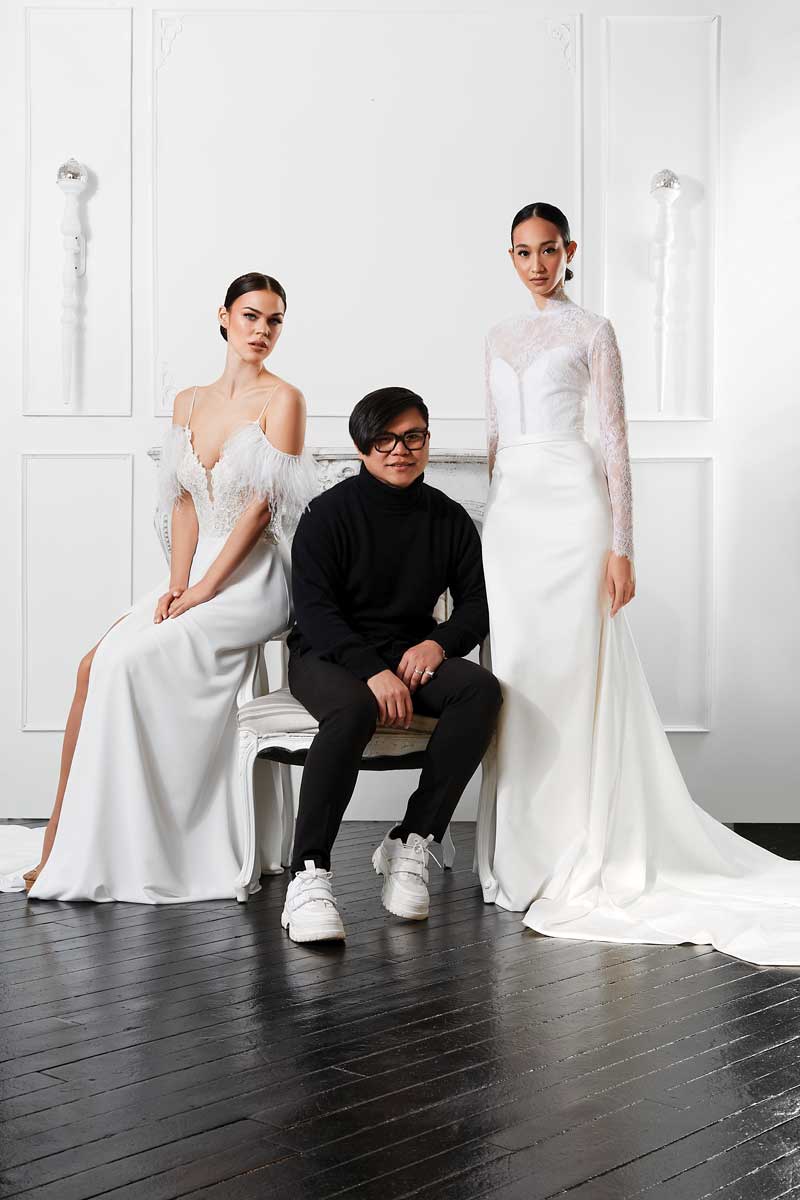 Featuring high-end materials in flattering shapes, Jowilson's gowns are often embellished with luxurious and complex detailing. Intricate draping, a key technique for Jowilson, helps to create dramatic silhouettes. He shares his technique for achieving a defined V for a sweetheart neckline in the article, Well-Defined Sweetheart Neckline.
Jowilson studied fashion in the Philippines and opened his first boutique in Cebu City before coming to New York to continue his education at Parsons School of Design. In 2014, he debuted his own bridal collection under the Jude Jowilson brand. His designs are available at his New York City showroom or at boutiques worldwide. He also creates custom gowns, working closely with brides on one-of-a-kind creations. Pre-pandemic, Jowilson often crisscrossed the country to connect with brides at trunk shows—a practice he hopes will pick up in a safer future. Visit his website at JudeJowilson.com or his Instagram feed @judejowilson.
Threads: Can you share a little about your start in sewing and how that eventually morphed into a passion for bridal gown design?
Jowilson: Creating dresses was always a part of my family history. My maternal grandmother was a seamstress, but she passed away when I was young. My first memory of my paternal grandmother was her using a vintage Singer treadle sewing machine. She taught me how to use it and, starting with doll dresses, she pushed me to use my intuition and creativity.
TH: What do you find most rewarding about creating a memorable element of such special days?
JJ: I love when a bride is happy with the finished product, and it's always exciting when they send me or tag me on the wedding photos or videos.
TH: What is the overall process of creating a bridal gown?
JJ: It all starts with inspiration and finding the right fabric. For the collection, it involves finding the vision I want for the season. For a custom client, it's a collaborative process, getting to know the bride, and sometimes her family, during our consultation. Understanding a bride's aesthetic and the wedding's theme is critical. From there, it's sketching, sourcing the right fabric, muslin fitting, pattern creation, sewing the dress, and fittings.
TH: How long does it take to complete a gown?
JJ: It depends upon how intricate the design is and how much hand sewing is necessary. It takes weeks, sometimes several months.
TH: What fashion designers are you inspired by?
JJ: Charles James [best known for his ball gowns and highly structured aesthetic] and Charles Frederick Worth [considered by many to be the father of haute couture].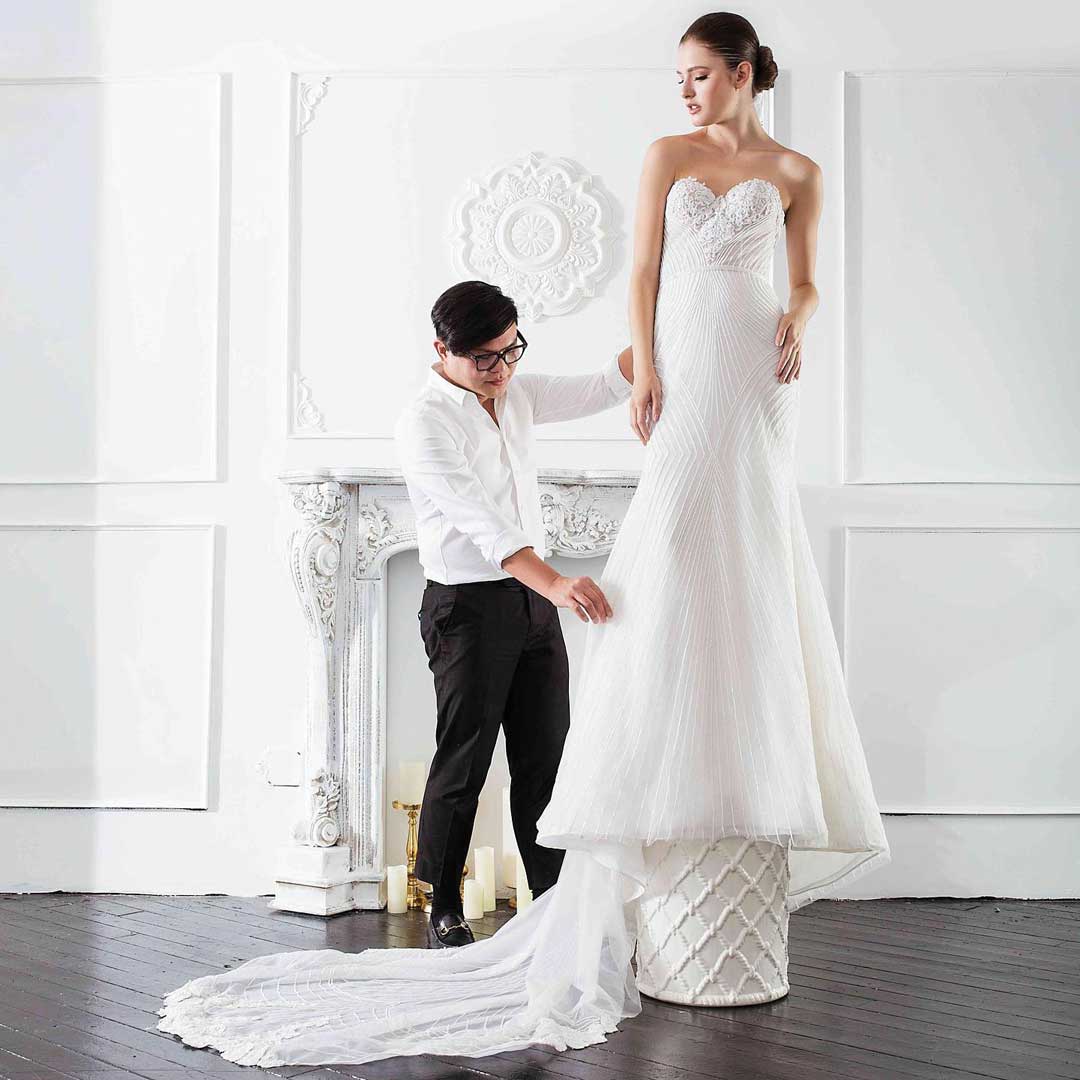 TH: What aspects of life and art tend to inspire and end up in your bridal designs?
JJ: The glamour of old Hollywood films, architecture, and my travels.
TH: How has your new combination workroom and showroom in New York City changed your business?
JJ: The first two studios we had in NYC were tiny workspaces. We had to convert from studio to showroom anytime we had custom appointments. We found our new, larger studio in August 2019. It is big enough to create a separate workroom and showroom. Now we can have appointments with happy brides-to-be, while our production team continuously creates without disruption.
TH: How was your business affected by the pandemic?
JJ: New York City was on pause from March 20 through June 10, 2020, so we couldn't work in the studio. Plus, we lost a significant amount of trunk show sales. Owners of boutiques could not travel, so both the April and October New York Bridal Fashion Weeks
were cancelled. A few of our fabric suppliers closed—so we've had to search to locate the same material—presenting our greatest gown challenges to date.
TH: What advice would you give designers who are starting out?
JJ: Going to a fashion school really helps you hone your craft, and give yourself more exposure to the industry through internships.
TH: What personal projects are you most interested in sewing?
JJ: Pillow covers and cushions. I've done draperies, tablecloths, and plenty of masks during the pandemic. But in my free time, mostly I cook and bake.
---
Sarah Opdahl is a writer and editor with a passion for hands-on activities such as sewing, cooking, and crafts.