Pattern Review: Marfy 1670 & 1672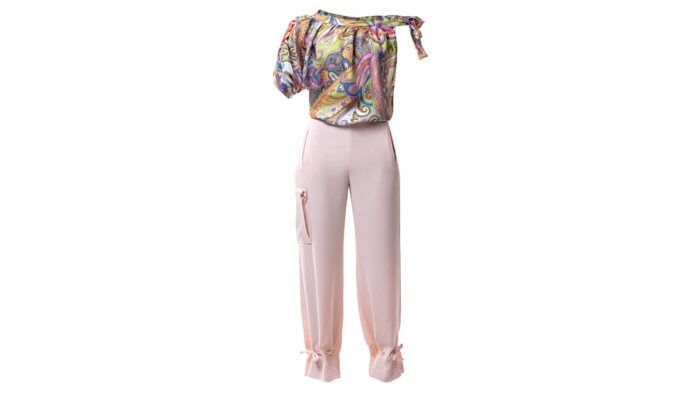 Marfy 1670 & 1672
Let's start at the top for this duo. A summery, off-the-shoulder asymmetrical blouse design is gathered along the front and back necklines. One side has a dolman-style, elbow-length sleeve with elastic ruching, while the other side is sleeveless with a shoulder tie, or an added set-in, gathered, cold-shoulder sleeve. The second garment is a straight-leg pant with a 1-1/4-inch-wide waistband that sits at the natural waist, slight gathering into the waisband, an invisible center-front zipper closure, back darts, double-welt pockets, one cargo pocket with zipper closure, and ankle drawstrings.
Marfy patterns do not include instructions, illustrations, nor hem and seam allowances, but you will find lettered match points to guide assembly. The patterns are hand-cut in a single size.
The blouse sketch shows the top edge of the raglan sleeve is bound with a strip, but there is no pattern piece. Simply cut a 1-inch-wide strip plus the seam allowances.
The welt pocket bags are small, so you may want to enlarge the pattern piece.
Our seamstress found it took some guesswork to install the cargo pocket with the zipper at the top.
On the pants, since the welts are large, try making them from a fabric in a contrasting color or texture. In place of the suggested grommets shown on the sketch and sample at left, thread the drawstring through buttonholes, or forgo the ankle-cinching detail.
For the blouse, a lightweight, drapey fabric, such as silk charmeuse, is a must. For the pants, use a drapey bottomweight fabric. A Tencel twill or a soft satin works nicely.
(Sized European 42–46–50 for busts 34.625–37.75–41.75 and hips 36.25–39.375–43.375 in.)
—Tested by Tomasa Jimenez, Lyndhurst, New Jersey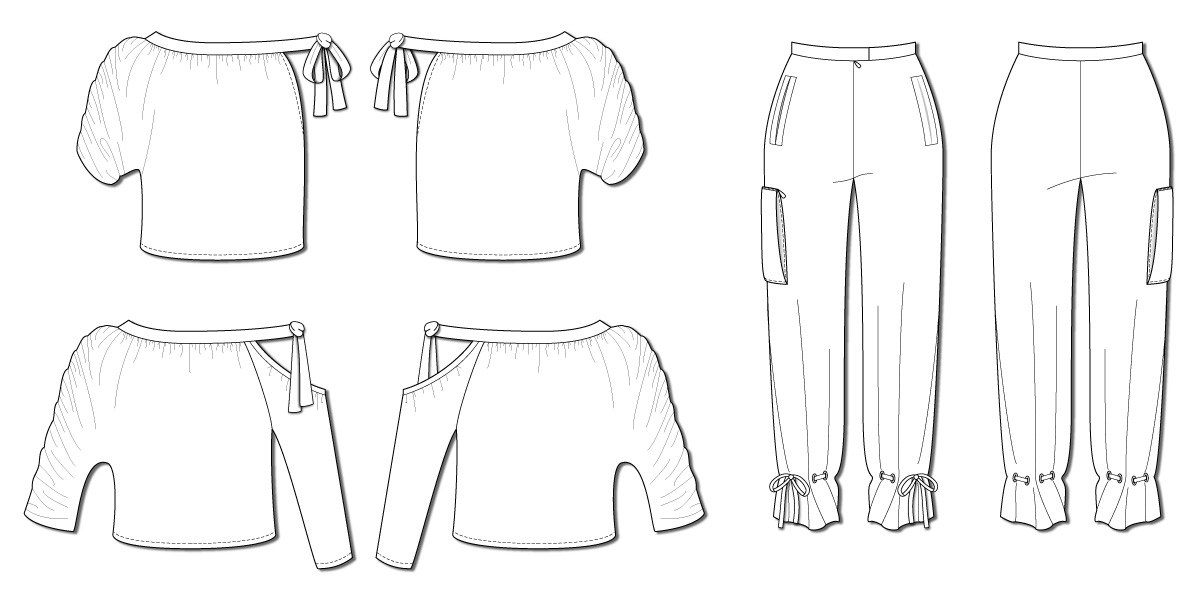 Sewing tip: Move the zipper closure to the left side seam or center back.
This review was originally published in Threads #214, April/May 2021. Have you made this pattern? If so, be sure to share pictures in our Readers Closet gallery.
Illustrations by Steven Fleck.