Why Don't You . . . ? Create Brilliant Garments with Upholstery Fabric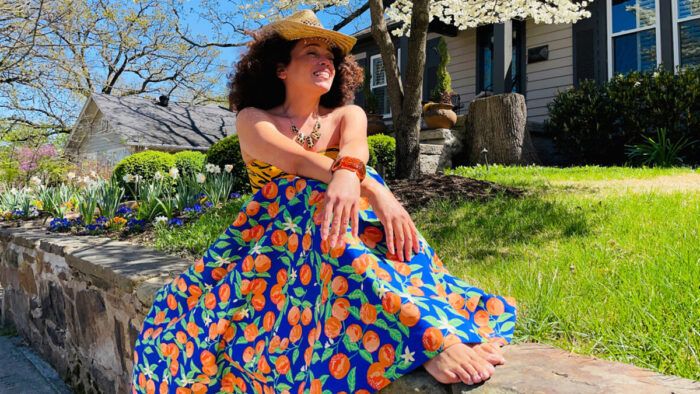 For today's challenge, we're drawing inspiration for brilliant garments from the home, and Diana Vreeland's interior decorating advice:
Why Don't You . . . ? Have a woven straw bed—crochet the cover in squares of black and white. Include in this room: the carpet—brilliant needlework flowers or animals on a black background; the walls—scattered with brackets holding Victorian bouquets.
Now, I'll bust out the staple gun and re-cover a sofa if need be. But I've never been a home decorating sewist. All those straight lines just aren't my jam. Neither am I a crocheter. Or a needleworker, for that matter. However, I love a good upholstery fabric in a garment, and I'm happy to decorate the landscape of my body in homage to Ms. Vreeland's interior vision.
Why don't we . . . use upholstery fabric to make ourselves into an homage to this brilliantly described room?
The tree house

When I first took up sewing, I lived in a tree house—a two-story, 1940s Hollywood apartment building centered around a rambling garden. It was run-down, it was drafty in the winter, but the windows to this hideaway were engulfed by flowering trees. After years of living with two fourteen-story brick buildings for a view, it was a delight for my husband and me.
We had just moved to Los Angeles from New York, at the behest of our agents, who were rabid to see how we'd fare in the film and TV world. It was flattering, but it was also expensive. We brought with us a condensed version of our home in New York, just the essentials: three cats, clothing, computers, and an armload of newly acquired sewing supplies. A little birdie by the name of (award-winning actor) Judith Light had told us…
Start your 14-day FREE trial to access this story.
Start your FREE trial today and get instant access to this article plus access to all Threads Insider content.
Start Your Free Trial
Already an Insider? Log in