Thread Conditioner Ensures Trouble-free Stitching by Hand and Machine
Products to ensure trouble-free stitching by hand and machine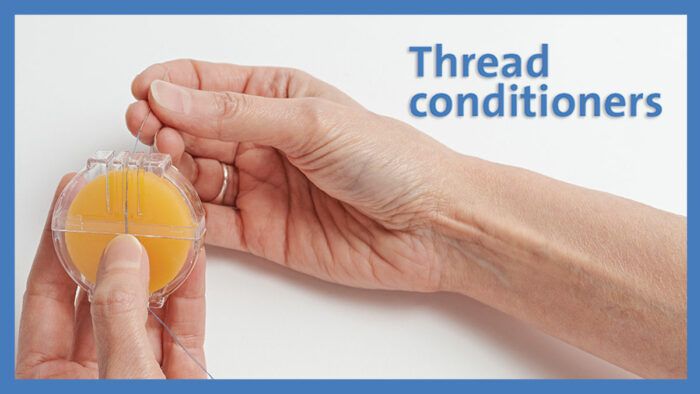 Most sewing projects include at least one step that calls for hand stitching. Managing the thread is sometimes frustrating, with knots and tangles getting in the way of smooth stitching. Machine sewing with specialty threads presents the challenge of thread breakage. The solution to both scenarios is simple: use a thread conditioner.
Thread conditioners are made from natural or synthetic ingredients. Both types coat and penetrate the thread, lubricating and strengthening the strand so it passes more smoothly through the fabric. This protects the thread from damage and helps eliminate breakage and tangling.
There are two main types of thread conditioners: those for hand sewing and those intended for machine sewing. Some thread conditioners can be used for both, but many sewers prefer to choose a conditioner based on their project and  materials. A conditioner is especially helpful when using abrasive materials, such as metallic fabrics or threads, or synthetic fabrics. To smooth and strengthen your thread, apply a thread conditioner. You'll enjoy your sewing experience more and get better results.
Hand-sewing thread conditioner options
The problems you may need to solve when hand sewing are tangled and knotted threads or threads that are too flimsy for the job. Solid conditioners are easy to apply to thread for hand stitching.
Wax
The simplest form of thread conditioner is one that has been used historically: wax. Some commercially available "beeswax" actually contains paraffin (a petroleum-based wax) and, in fact, many sewers simply run their thread over a paraffin candle. Others insist that only real, purified beeswax should be used.
Wax thread conditioners are often sold in a clear plastic case to keep the wax clean and make it easier to guide the thread through the cake of wax (Wawak.com). Modern makers and beekeepers are producing their own small wax blocks…
Start your 14-day FREE trial to access this story.
Start your FREE trial today and get instant access to this article plus access to all Threads Insider content.
Start Your Free Trial
Already an Insider? Log in