Pattern Fixes for Leg Angle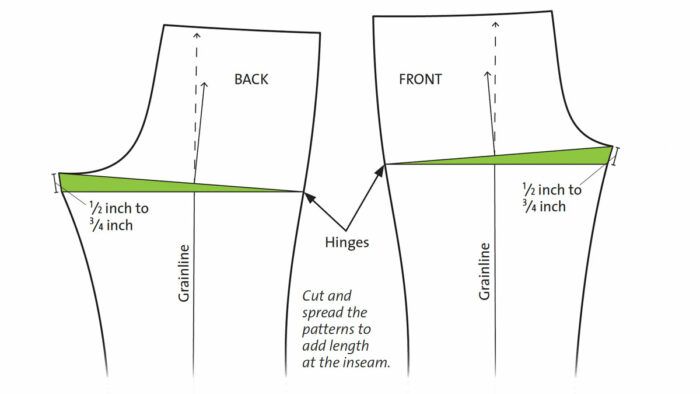 Q: I have been a Threads subscriber for many, many years. I'd like to ask: How do I adjust a pants pattern for knock knees?
—Marie Brookes, via email
A: The Threads team has looked into the problem and offers a couple of solutions: This  fit issue occurs when the legs touch from the knees up, but the ankles are separated by 3 inches or more. It may be caused by knee joints that lean inward or by the distribution of flesh on the inner legs. In both cases, the fitting symptom is typically a series of angled draglines on the front and/or back legs, slanting up from the inner knees toward the outer legs. You can approach the adjustment in two ways. Try both to see which resolves the problem better.
Reposition the lower leg
On the pants front and back patterns, locate the knee level. At this level, cut across the pattern perpendicular to the grainline. Slide the lower portion toward the center, starting with an adjustment of ó inch. It is difficult to measure on the body how much of a shift you'll need, so trial and error is the best way to assess the fit. True the side seams and inseams. If this solves the knock-knee wrinkles, but the side seam doesn't hang smoothly, try widening the hem and redrafting the side seams to hang straighter from the hip.
Hinge at the crotch line
If the inner thighs are full, they may be pulling the pants' inseam up, creating diagonal drag lines. This fix adds length to the inseam, to accommodate fullness at the inner thigh.
On the pants front and back patterns, draw a line from the crotch point to the side seam, perpendicular to the grainline. Cut along this line from the…
Start your 14-day FREE trial to access this story.
Start your FREE trial today and get instant access to this article plus access to all Threads Insider content.
Start Your Free Trial
Already an Insider? Log in