Protect Your Hands with Specialty Sewing Gloves
Specialty gloves offer comfort, grip, and safety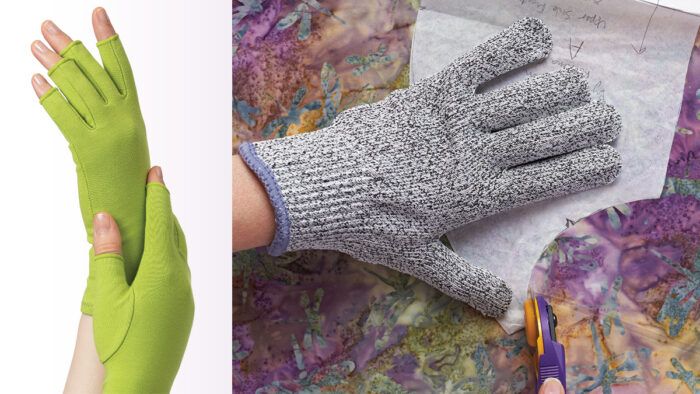 Gloves have long been useful to needleworkers. Originally, gloves were used for warmth: They kept fingers nimble in poorly heated homes. While they still serve this purpose, gloves and hand covers have evolved along with sewing technology to serve even more roles. From providing support and compression to armoring fingers against cuts, gloves care for your hands so you can enjoy sewing and other crafts more, and get better results.
Warmth
Even in modern times, our hands can benefit from the increased warmth that wearing gloves provides. According to the Arthritis Foundation, warmth increases circulation in the hands, which helps to relax stiff muscles and joints, and alleviate pain. Wearing fingerless gloves is a simple solution for reaping the benefits of increased warmth without reducing finger dexterity.
| | |
| --- | --- |
| Dritz Crafter's Comfort Gloves are made of cotton/spandex knit and provide warmth and mild compression. Dritz.com | Arthritis Compression Gloves are made of a cotton/polyester blend knit with 10 percent or more spandex, for added support. Amazon.com |
Support
Modern craft gloves take the therapeutic benefits of basic glove warmth a step further by adding compression, sometimes combined with extra support in the wrist or hand area. The gentle pressure can reduce or prevent inflammation in the joints. The combination of support, compression, and warmth promotes pain-free mobility for busy hands.
Safety
With the advent of rotary cutters, cut-resistant gloves have an important place in your sewing toolbox. These high-tech gloves are available in a variety of materials, including wire mesh. For the sewing room, they may be knit from aramid fibers (Kevlar), or a fiberglass blend. While they won't keep you from being poked by a pin (they are cut resistant, not puncture resistant), they do reduce the risk of injury from sharp blades. Cut-resistant gloves come in plain knit…
Start your 14-day FREE trial to access this story.
Start your FREE trial today and get instant access to this article plus access to all Threads Insider content.
Start Your Free Trial
Already an Insider? Log in