Refine Your Pants Fit with a Template
A fabric mock-up simplifies crotch-curve adjustments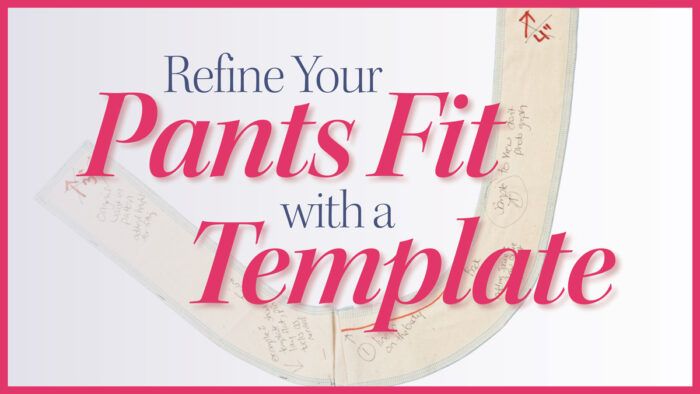 The crotch curve is often referred to as the saddle of the pants. It is where your body "sits" within the pants, and the correct fit along the curve is crucial for comfort, mobility, and style. Similar to the armscye, it may need to be contoured to match your unique shape. Imprecise shaping or incorrect seam placement can result in binding, cause drag lines, or leave excess fullness. A crotch curve that is binding into the body affects many areas of the pants, including how they function with your body movements. Additionally, sections of the back crotch curve are cut on the fabric's bias grain, and the inherent give this provides is important for fit. Test the fit in this specific area and eliminate problems before sewing by creating a crotch-curve template. 
The easy-to-make muslin template enables you to record fitting adjustments on the body, then apply the changes to the pattern before you cut and sew pants. The crotch curve can be modified for style emphasis, and you may create a few templates to use with different designs. Varied pants styles deliberately use different crotch curves: You can't change the silhouette drastically and keep the same curve. Body-hugging jeans and other similar styles might have been designed with an intentionally snug crotch curve to create that look, while looser-fit trousers follow a roomier curve. 
I'll show you how to make this simple but effective fitting tool and demonstrate its use in fitting a pants pattern. This method eliminates most fit issues that affect the crotch curve, such as drag lines, smile lines, binding, and excess fabric. However, making a fit sample of the pants pattern to address other fit refinements is imperative for overall successful results. After adjusting the curve based on the template, be sure to…
Start your 14-day FREE trial to access this story.
Start your FREE trial today and get instant access to this article plus access to all Threads Insider content.
Start Your Free Trial
Already an Insider? Log in