Wonders in Wool | Letter from the Editor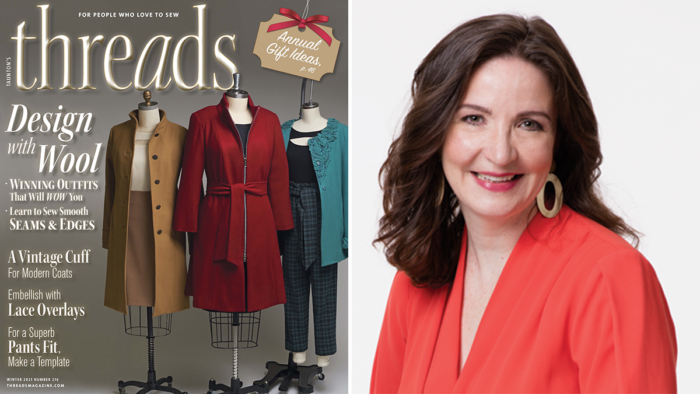 With every issue we put together, I am reminded of how knowledgeable and creative Threads contributors and readers are. This edition contains inspiration and tutorials for garment fitting, construction techniques, and exciting embellishments. As it is our winter issue, it puts the spotlight on wool, a fiber many sewers favor for its versatility and potential.
First, congratulations to the winners of the 2021 Make It With Wool national competition. Check out our coverage to take a closer look at the spectacular garments and learn about the creators' concepts and methods.
For more on working with wool, check out "Sewing with Boiled Wool," by Contributing Editor Louise Cutting and Sandra Miller. We all look for ways to finish garments beautifully with the appropriate techniques, and they offer expert advice for supple seams and precise edges in this rich-looking, wool-blend fabric.
This issue also offers ingenious methods to achieve a better fit quickly. "How to Alter Men's Shirts, Part 1," by pattern designer and professional tailor Vanessa Nirode, focuses on swift, simple fitting adjustments for men's ready-to-wear shirts.
If you've ever struggled with pants fitting, turn to Joi Mahon's article, "Refine Your Pants Fit with a Template". This ingenious approach uses a simple fabric template to accurately record rise adjustments. I can attest (having been the test subject) that it is a quick and easy way to refine the crotch curve.
There is much more in the issue, including a smart tutorial for square pillows, a step-by-step guide for sewing a classic straight waistband, and a clever way to add lace overlays to garments. Our Winter 2021 issue would not be complete without our annual gift list for sewers. There are items to make your sewing more efficient for seasoned or beginner sewers, at prices to suit every budget.
Have a wonderful holiday season, and we hope you have time to enjoy exploring all the topics this issue has to offer. See you in the spring.