A Vintage Blend of Shaped Edge Embellishment
Shirring and velvet make a tasteful pairing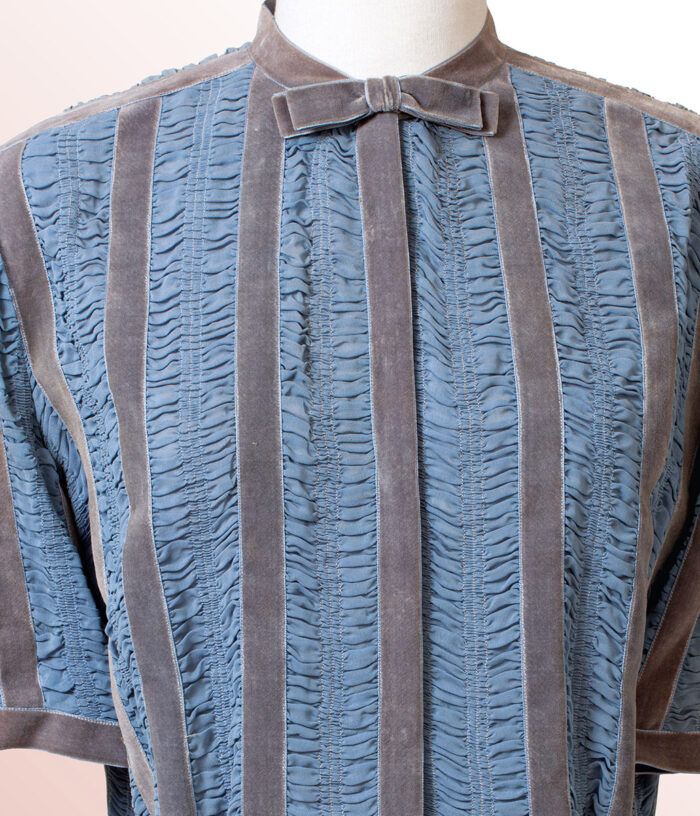 The blouse shown may date from the second quarter of the 20th century, but its shaped edge embellishment can be adapted to contemporary looks. Velvet ribbons, each about 1 inch wide, provide the appearance of a framework atop a base of shirred fabric. The pairing is simultaneously soft and structured. In a higher-contrast colorway, this combination could look bold and modern. Fabricated in similar colors, as on the example blouse, the effect is understated and chic.
Threads has shown several other approaches to using flat, linear trim to create garments. Take a look at Kenneth D. King's ingenious techniques with twill tape in nos. 140 (Dec. 2008/Jan. 2009) and 179 (June/July 2015). Let's look more closely at this blouse's details.
Gather for texture
Shirring sets the tone for the garment. This blouse was made from a sheer fabric that may have been shirred commercially. The textile, which has a crepelike texture, may be rayon, silk, or even a gauzy cotton. Its shirring consists of three-row sets of gathering stitches, spaced about 2 inches apart. The tight gathering gives the fabric substance so it isn't see-through, and the multiple stitching rows control the texture so it's not too puffy. You also can shirr your own fabric. Experiment with the stitching-row spacing to get the look you want
Create structure with trim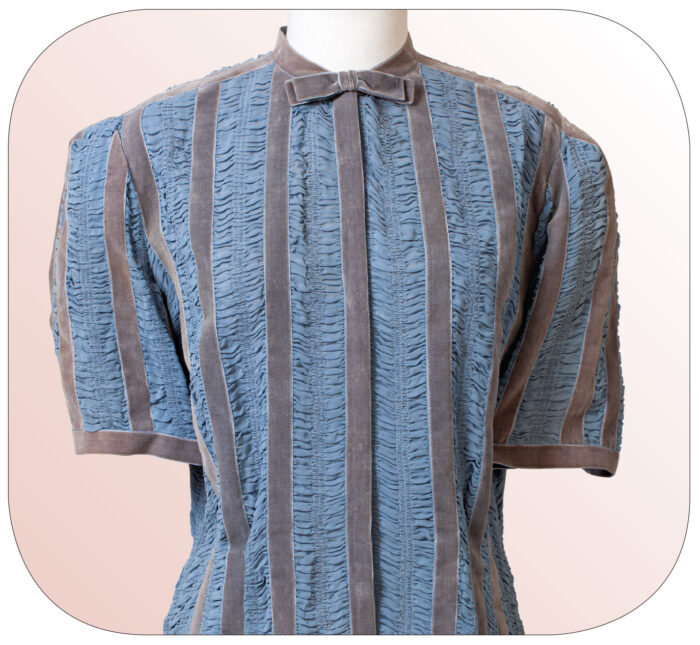 Part of this garment's charm comes from the striped effect of the applied velvet ribbons. They are centered over every other set of gathering stitches and edgestitched in place.
It's difficult to tell which came first, the beribboned fabric or the shirred garment. While the bodice ribbons may have been attached to the flat fabric before the garment was cut, the center-front placket ribbon probably was applied after the garment was constructed.
No darts interrupt the bodice at…
Start your 14-day FREE trial to access this story.
Start your FREE trial today and get instant access to this article plus access to all Threads Insider content.
Start Your Free Trial
Already an Insider? Log in