A Lagerfeld-Style Deconstructed Embellishment
Meld textiles for an organic frayed effect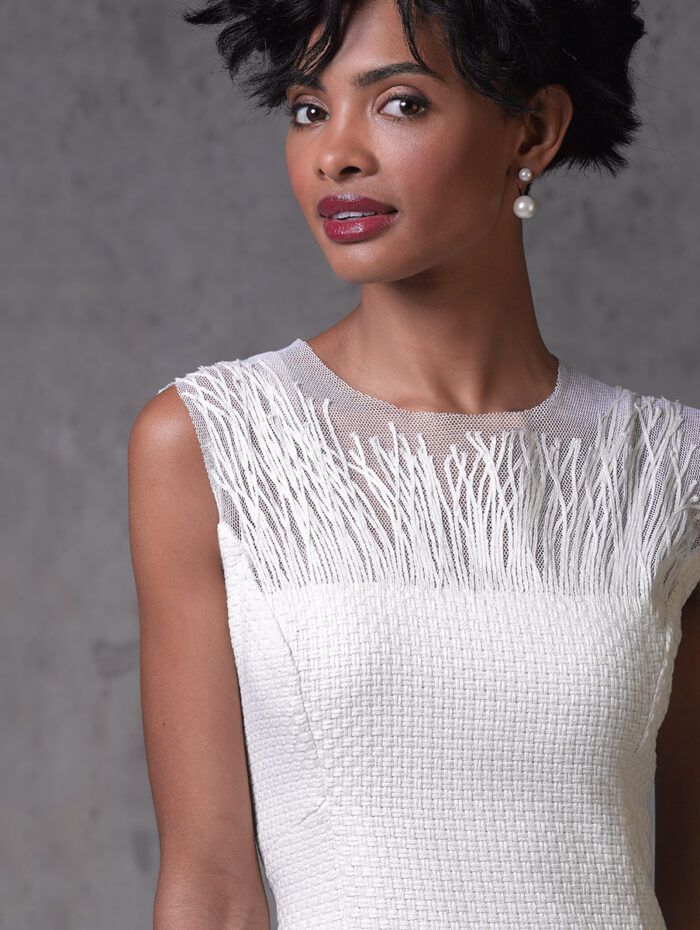 Some of the most beautiful embellishments are created through strategic removal of elements, rather than their addition. A stunning example of this concept is a deconstructed effect used by Karl Lagerfeld in a loose-woven tweed suit for Chanel's spring 2003 collection. The fabric's weave is partially unraveled from a garment's edge to remove yarns, leaving behind a loose fringe. The fringe yarns are stitched to a chiffon underlay that extends to the garment edge. This creates the effect of the main fabric melting away from the edges and being replaced by several inches of sheer fabric.
I experimented and devised a way to re-create this decorative deconstruction. It is surprisingly simple and ethereally beautiful. The key is to select fabrics that work well together. You can produce a controlled effect, as in the dress shown, by stitching the frayed yarns in place smoothly; or create a free-form effect by bunching, twisting, and making the yarns meander over the sheer underlay.
Select materials
To create the deconstructed effect, you need one fabric that you can unravel, and one for the sheer underlay onto which the main fabric yarns will be stitched. Consider the construction and care methods likely to be used for the finished garment when choosing fabrics. 
Main textile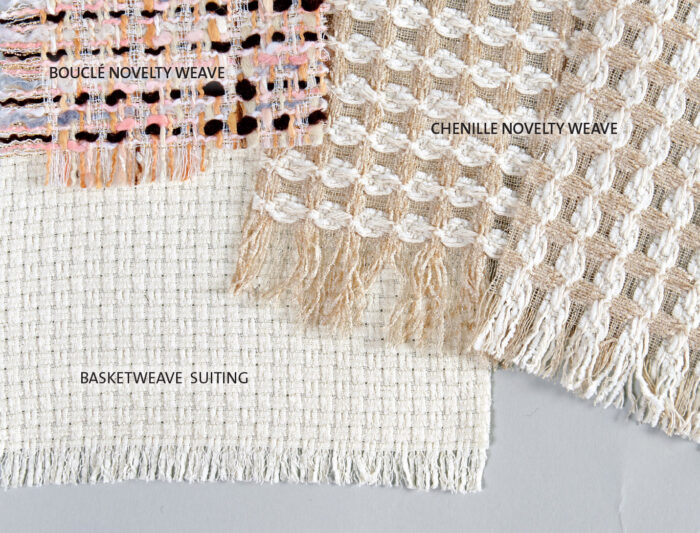 The main fabric should have thick and thin yarns in one or both directions. Bouclé, raw tussah silk, soft basket-weave hopsack or silk burlap, Linton-style tweed, and other novelty-weave suitings are good choices. The thinnest yarns in the weave still should be substantial to avoid tangles as you work.
Consider whether you will sew the frayed yarns by hand or machine. Some ideal main-fabric choices can be sewn easily by hand or machine, but some present challenges. Bouclé and novelty-weave fabrics, for example, may pucker and pull when sewn…
Start your 14-day FREE trial to access this story.
Start your FREE trial today and get instant access to this article plus access to all Threads Insider content.
Start Your Free Trial
Already an Insider? Log in