Add a Strategic Stretch Knit Panel to Wovens
Knit panels enhance the fit and feel of woven garments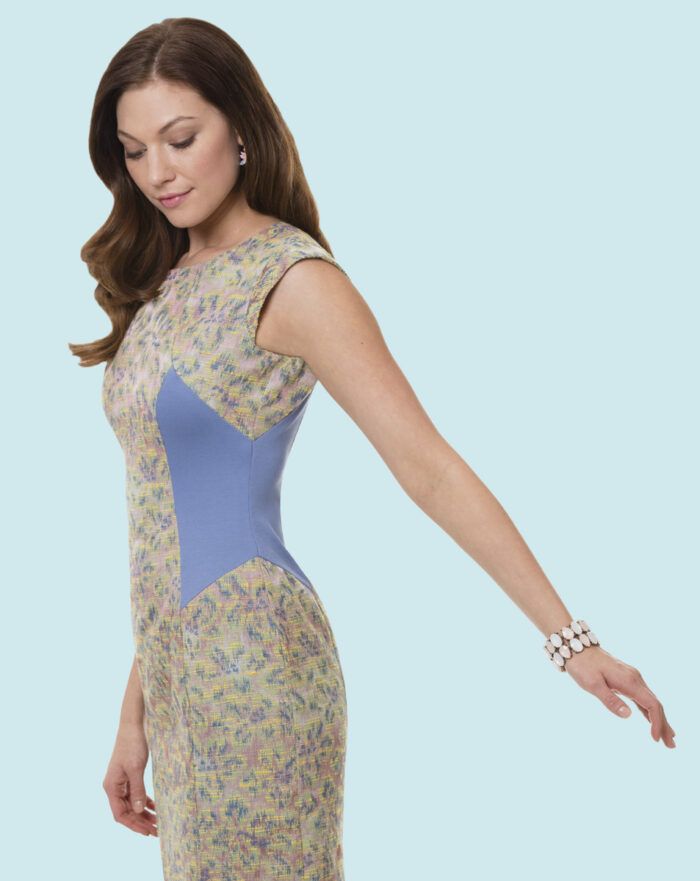 Plenty of garments designed for wovens would benefit from adding a bit of stretch panel here or there. Close-fitting styles, in particular, are easier to fit and wear if you build in some give through the inclusion of strategically placed knit panels. The finished garment has the comfort and easy fit of a knit, and the stability, drape, or structure of a woven. Depending on the garment design, you may be able to eliminate closures such as zippers and button plackets.
Most patterns drafted for stretch knits are smaller than those intended for stable wovens: The knit's give eliminates the need for much—or, in some cases, any—ease. If you want to substitute a knit for some parts of a garment, you need to resize those pattern pieces to accommodate the fabric's stretch. By strategically removing width from the pattern, you avoid sagging or excess ease, and ensure that the garment hugs the figure as desired. The challenge lies in knowing how much to reduce pattern pieces intended for stable fabrics to a size suitable for a stretch knit.
I'll show you how to proportionally resize a pattern piece to accommodate your knit fabric's particular degree of stretch. You'll first assess the stretch, then determine the desired percentage of decrease, and finally divide the pattern piece into subsections and reduce them individually. Smaller subsections are reduced less than larger ones, so the knit stretches evenly when inserted into the garment. This results in a close-fitting garment that still has the qualities of the woven fabric.
---
Choose a pattern and fabrics
Begin by selecting a design for woven fabrics that has internal style lines, or that can be adapted to include them. This creates suitable places to add knit fabric. Then, have fun picking coordinating…
Start your 14-day FREE trial to access this story.
Start your FREE trial today and get instant access to this article plus access to all Threads Insider content.
Start Your Free Trial
Already an Insider? Log in