Make It with Wool Winners 2015
Winning garments display creativity and craftsmanship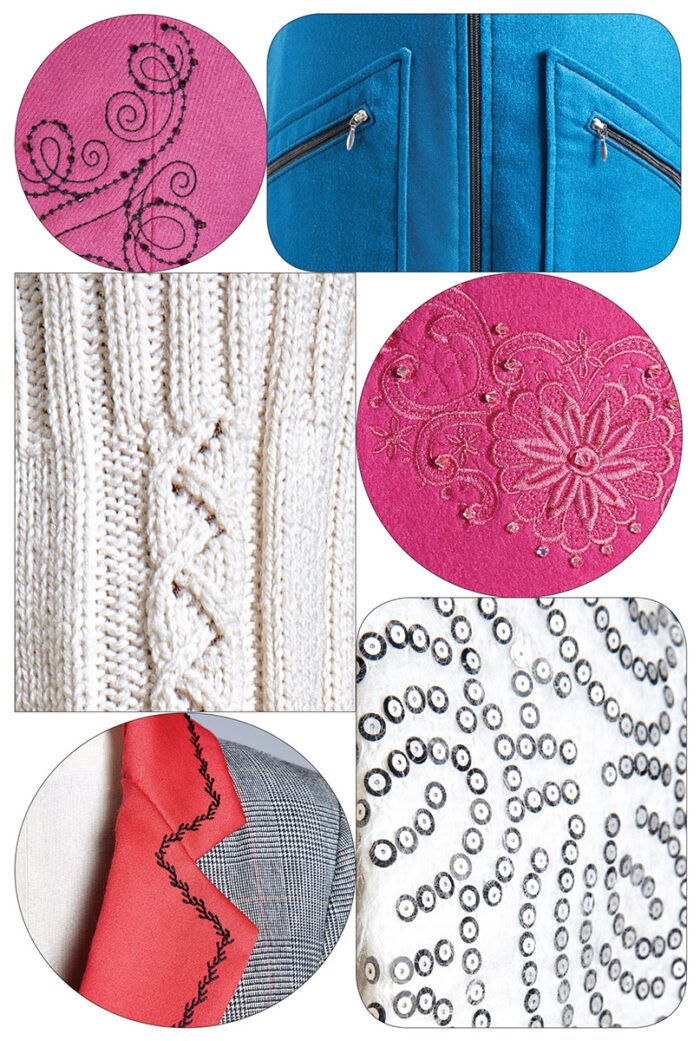 The Make It with Wool competition (MIWW) recognizes excellence and innovation in wool garment design and construction. Every year, sewers compete in age groups and in special award categories, and the state winners advance to the national judging round in January. As a change from previous years, during this year's National MIWW competition some category awards were given to both junior (ages 13 to 16) and senior (ages 17 to 24) winners. 
Garments must be made from fashion fabrics or yarns containing at least 60 percent wool fibers. Judges consider each entry's appropriateness to the contestant's lifestyle, the coordination of fabrics and yarns with the garment's style and design, as well as the presentation, construction quality, and creativity. Sponsors include: the American Wool Council/American Sheep Industry Association; the American Sheep Industry Women; Harper Livestock Company of Eaton, Colorado; Pendleton Woolen Mills; Brother International; Wild Ginger Software, Inc.; and many others.
Threads highlights National MIWW winners each year to recognize their hard work and skill, and find inspiration in their stunning garments. Here are the nine individuals who received awards in the January 2015 national judging round. 
---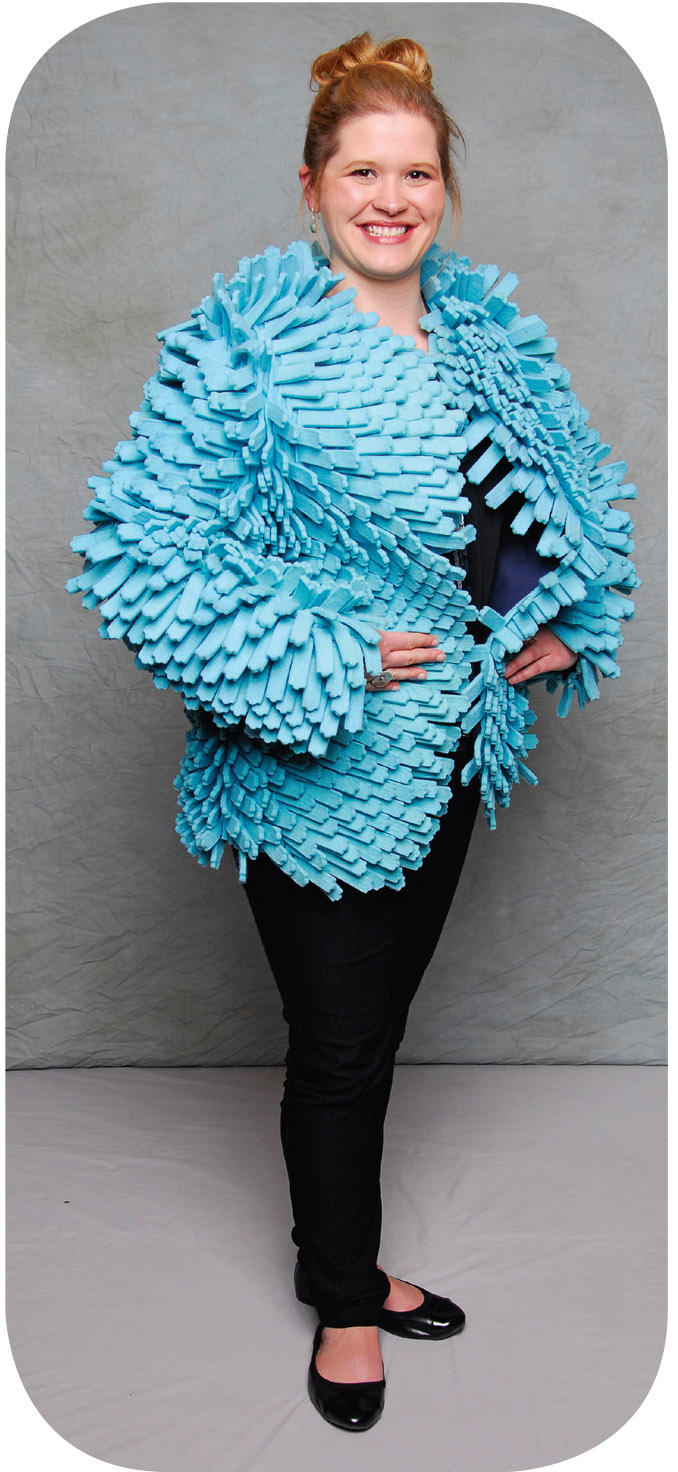 Fashion/Apparel Design Winner
Kristen Morris
Columbia, Missouri
Kristen is a doctoral candidate in the Fiber Science and Apparel Design department at Cornell University in Ithaca, New York. This year was her first time competing in MIWW. Her winning design is an extension of her academic research into the concepts of materials reuse and waste diversion. The dense coat, dubbed "Cilia" for its resemblance to the fingerlike organelles found in human cells, features strips of thick wool felt tabs she purchased as industrial waste from an industrial filter and floor-protector manufacturer. The 2-inch-long tabs create a spiky look but have a spongy texture. 
Kristen adapted a men's suit-jacket block for her coat design. She machine-stitched the strips 1⁄2 inch apart onto a cotton twill base. She hand-sewed the garment sections together because they wouldn't fit under a presser foot. Kristen then dyed the garment from natural white to a bright aqua. After letting the felt dry for nearly four days, she reinforced the coat's seams with more hand stitching and installed a cotton twill lining. 
The coat incorporates more than 70 feet of wool felt waste and weighs 9 pounds.
—Stephani L. Miller
---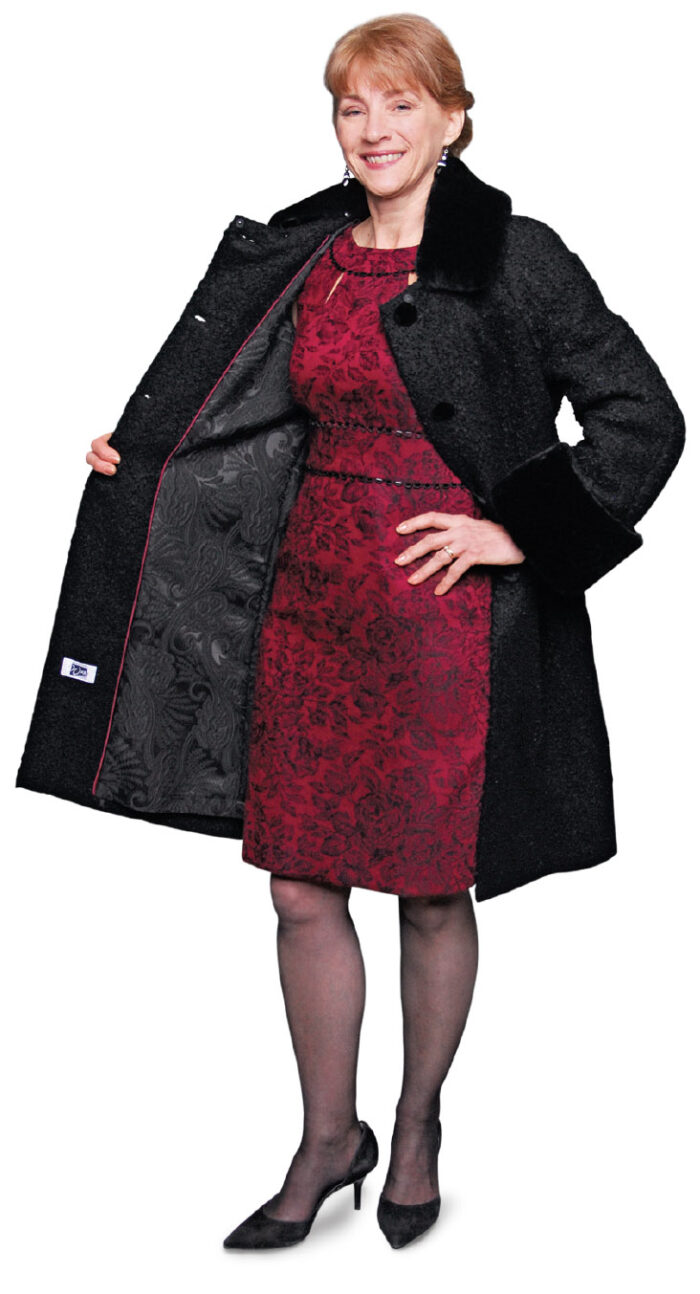 National Adult Winner
Dianne Galloway
Sandusky, Ohio
Dianne found a burgundy wool jacquard that cried out to become a cocktail dress with special details. She paired the dress with a luscious black wool bouclé coat trimmed in dense black mouton sheepskin. Dianne designed the dress based on two garments in her closet, adding a midriff band and creating keyhole openings along the princess seams at the neckline. She used an organza underlining as the pattern pieces to determine the most attractive pattern layout on the floral jacquard fabric. Dianne embellished the neckline and outlined the midriff with nearly 1,800 black glass beads. She used Marfy 2886 for the bouclé coat, constructing it with many tailoring techniques she learned through the years. She drafted a lining pattern for the coat and installed the black satin brocade lining by hand. A fabric from a men's silk tie covers the piping she inserted between the coat's facing and lining seam. Vintage black velvet buttons close the coat, while hidden embroidery in the pockets adds a touch of whimsy.
—Stephani L. Miller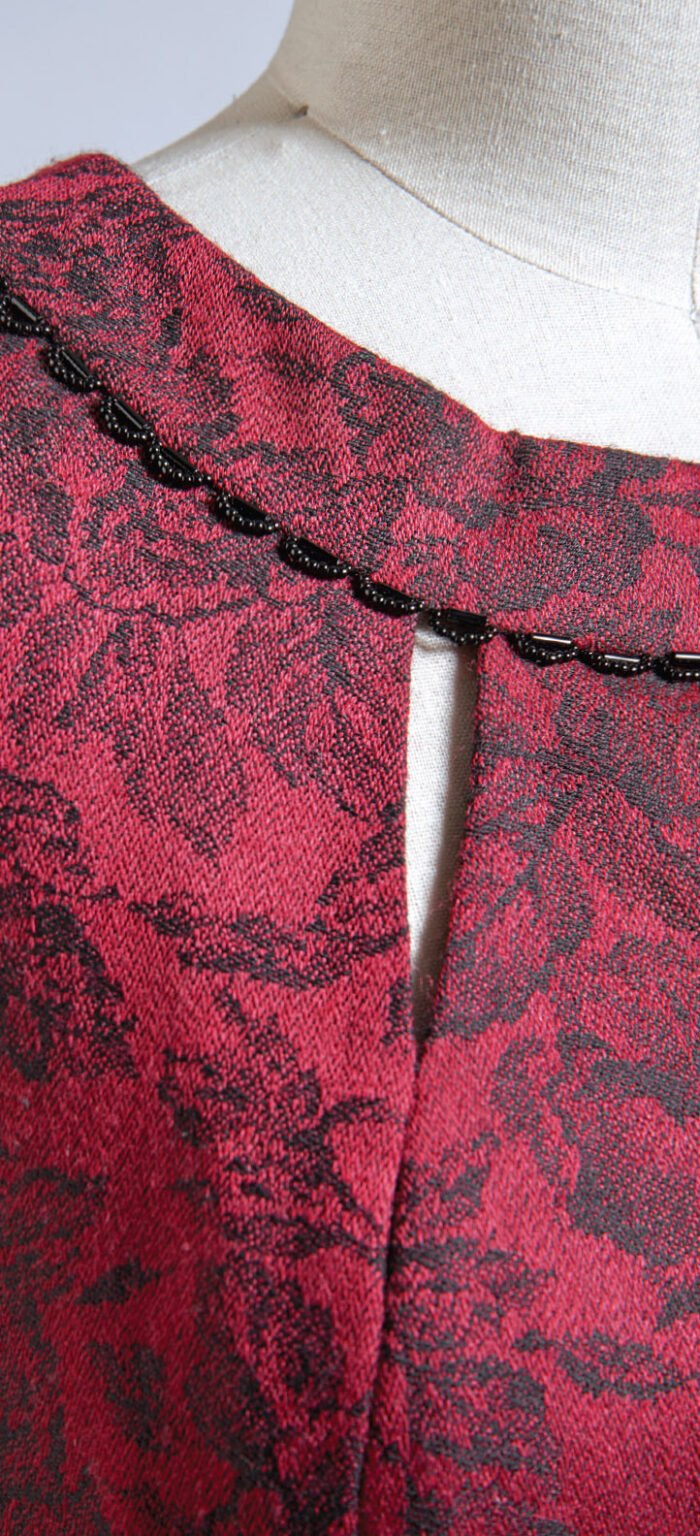 ---
Senior Winner & Mohair Award Scholarship Winner
Jenna Legred
Bricelyn, Minnesota
Jenna studied fashion business at the London College of Fashion for a semester in 2014, and her time in England inspired the design of her MIWW-winning coat and dress. She selected Marfy 3476 for her coat and Marfy 3067 for her dress. As a self-described "diva," Jenna likes to wear unique outfits. To create a fashionable and striking ensemble, she made the coat from ivory baby alpaca with a ruched collar and scarf drape of sequined mohair. Crystal buttons on the coat match the crystal belt buckle on the black wool crepe cowl-neck dress. The coat's ivory satin lining bears the Versace logo. Jenna enjoyed the challenge of figuring out how to construct and finish each garment, since Marfy patterns don't include instructions. Jenna says in the four years she has competed in MIWW, she has built self-confidence, improved her ability to think on her feet, and developed more patience.
—Stephani L. Miller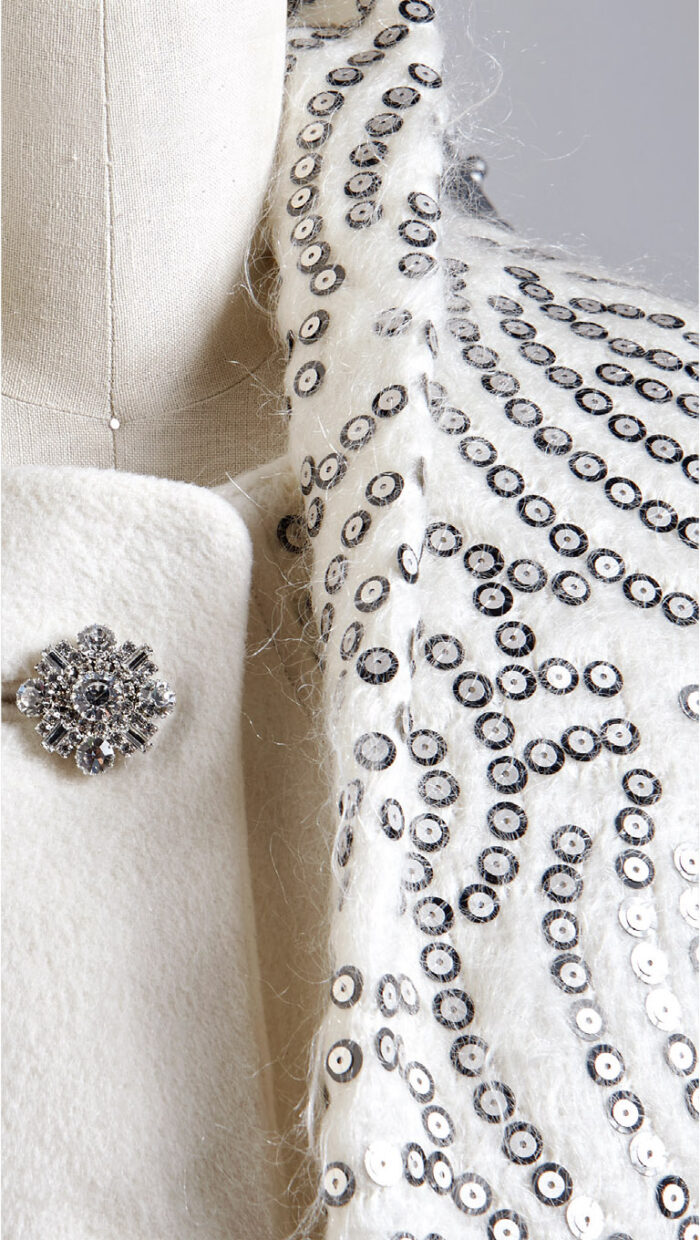 ---
Junior Winner and Junior Exemplary Construction Winner
Kris Puckrin
Sandusky, Ohio
Kris was inspired to create a look that is "young, fresh, and trendy," she says. She made her garments using Style Arc's Ziggi Biker Jacket, Mindi Skirt, and Tamara Top patterns. Kris's goal was to highlight the beauty of her chosen wool fabrics. She used jet-black wool flannel for the biker jacket and lined it with flannel-backed satin. Exposed metal zippers and a quilted design across the jacket's shoulder yoke and upper sleeves contribute to an overall edgy look.
She made the skirt from vintage brushed wool broadcloth from Pendleton and lined it with black Bemberg rayon. The top is black merino wool jersey with chiffon insets at the shoulders and chiffon sleeves.
Kris takes her sewing projects seriously. "Sewing to me is more than just making clothes; it provides me with an opportunity to challenge myself. I am all about challenges," Kris says.
—Melina Erkan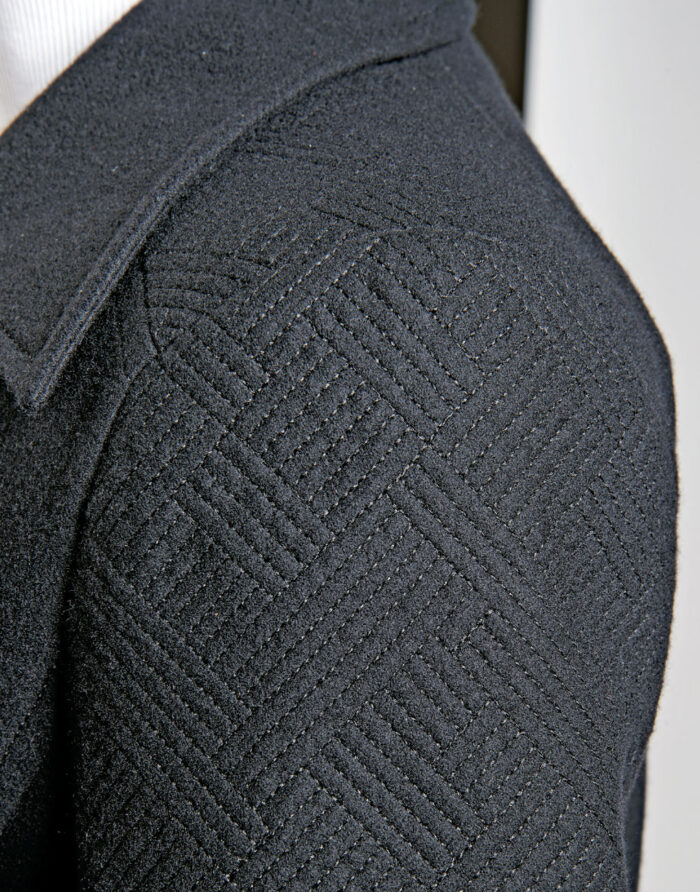 ---
Senior Exemplary Construction Winner
Gabrielle Augustine
Palmerton, Pennsylvania
Gabrielle won the Senior Exemplary Construction Award with her cranberry and plaid ensemble. She used Simplicity 2508 to create a black-and-white plaid, lightweight wool flannel coat, lined with a polyester-blend moleskin material that adds coziness. She inserted contrasting piping in the seam between the coat's lining and facing. 
Gabrielle made the dress using Simplicity 1798 along with some button and sleeve details from other Simplicity patterns. The dress is made from cranberry wool crepe, lined with Bemberg rayon. To further customize the dress, she added pleated sleeves, and vintage buttons. Her ensemble exemplifies her desire to create garments of a better quality than ready-to-wear.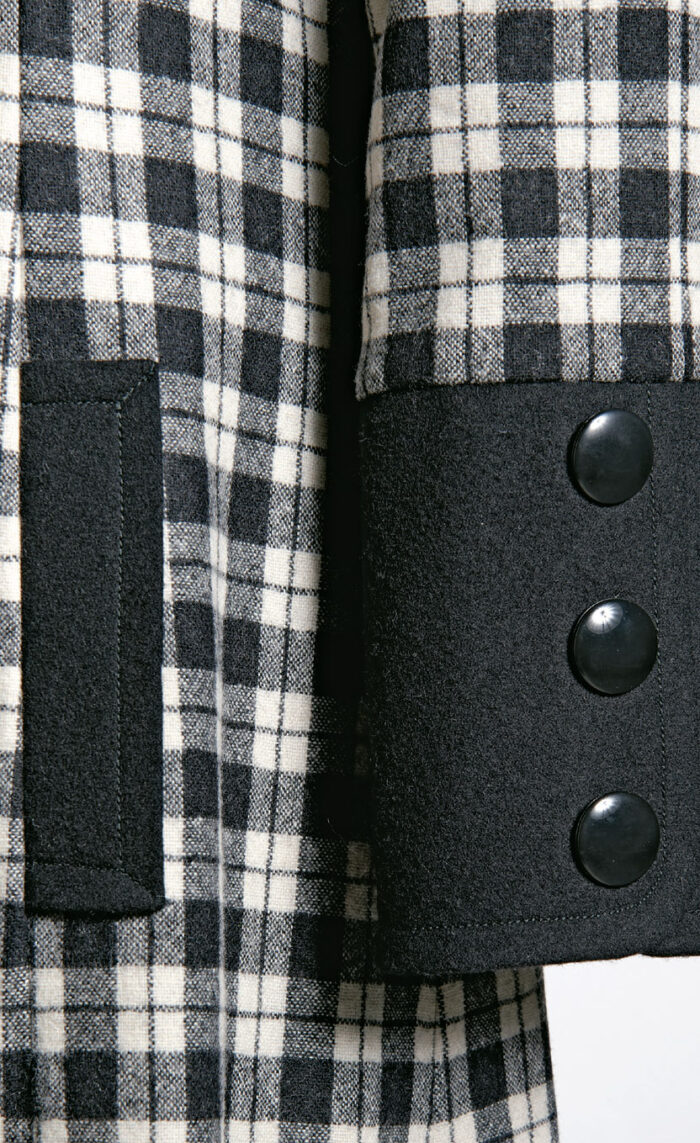 ---
Use of Claire Shaeffer Pattern Winner
Kelsey Clear
Niles, Michigan
For her first year competing in MIWW, Kelsey created a three-piece suit in her favorite color combination: black, red, and white. She chose a wool glen plaid with a thin red stripe for the suit jacket and skirt. The vest is in solid red wool. The jacket is Claire Shaeffer's Vogue 8333, the skirt is Donna Karan's Vogue 1324 (out of print), and the vest is Simplicity 8702 (out of print). 
Kelsey used the red wool for the jacket's collar and lapels, and she hand-embroidered feather stitching on the lapels and the vest front and back before constructing the garments. The vest's pocket bags and welts, which Kelsey added, are made in the glen plaid, too. Kelsey has been sewing for 15 years. With each project, she says she tries to incorporate new skills, like the hand-worked keyhole buttonholes she sewed on the jacket and vest. 
—Stephani L. Miller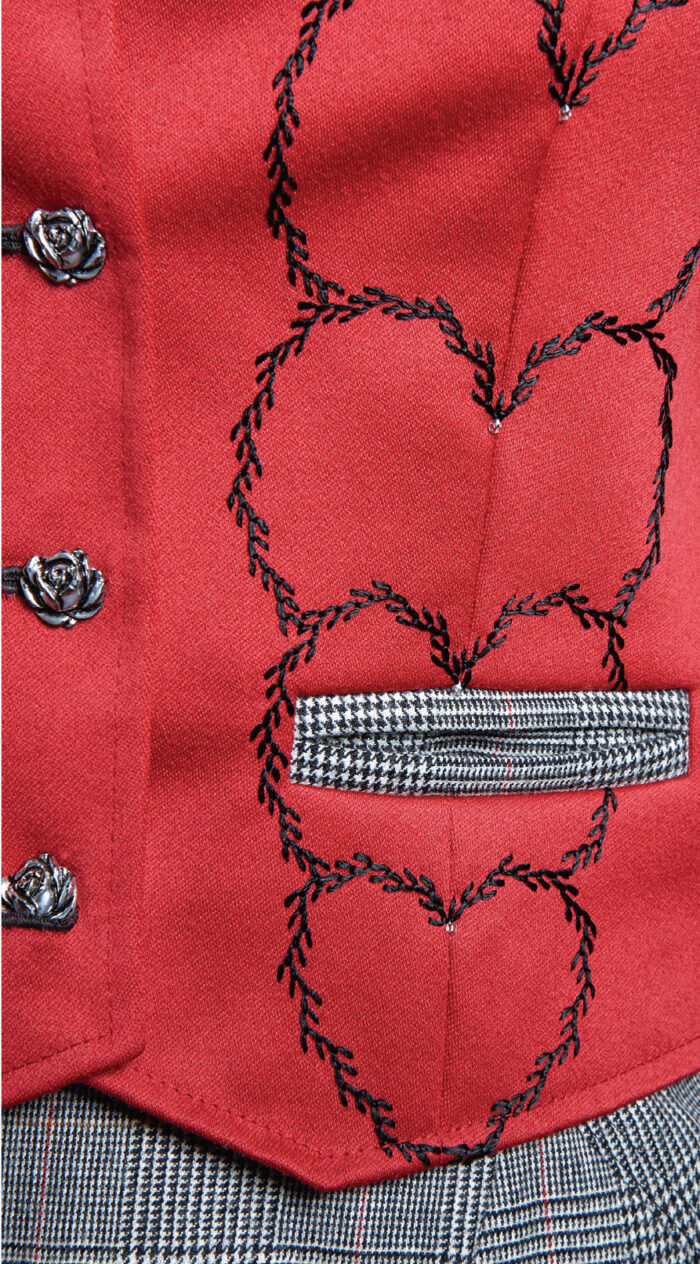 ---
Outstanding Needlework Award Winner
Kimberly Westenberg
Watertown, Wisconsin
Kimberly knitted her entire ensemble because knitting is her passion. She adds that seeing the other contestants' entries at MIWW has inspired her to become as good a sewer as she is a knitter. Each element of her ensemble can be worn with the others, or on its own. For the hooded, chunky cardigan, she used bulky-weight wool and followed the Aberdeen Sweater pattern from Love of Knitting's Winter 2013 issue. The skirt is DROPS Design's Fabel Skirt, and the stockings are Think Outside the Socks' Knit Lace Hose, both in fingering-weight wool. She knitted the skirt to be worn inside out, contrary to the pattern, so that its ribbing matches the stockings', and she altered the waistband construction for a better fit. Kimberly says that participating in MIWW has encouraged and driven her passion for knitting and sewing, taught her valuable lessons, and offered her character-
building experiences.
—Stephani L. Miller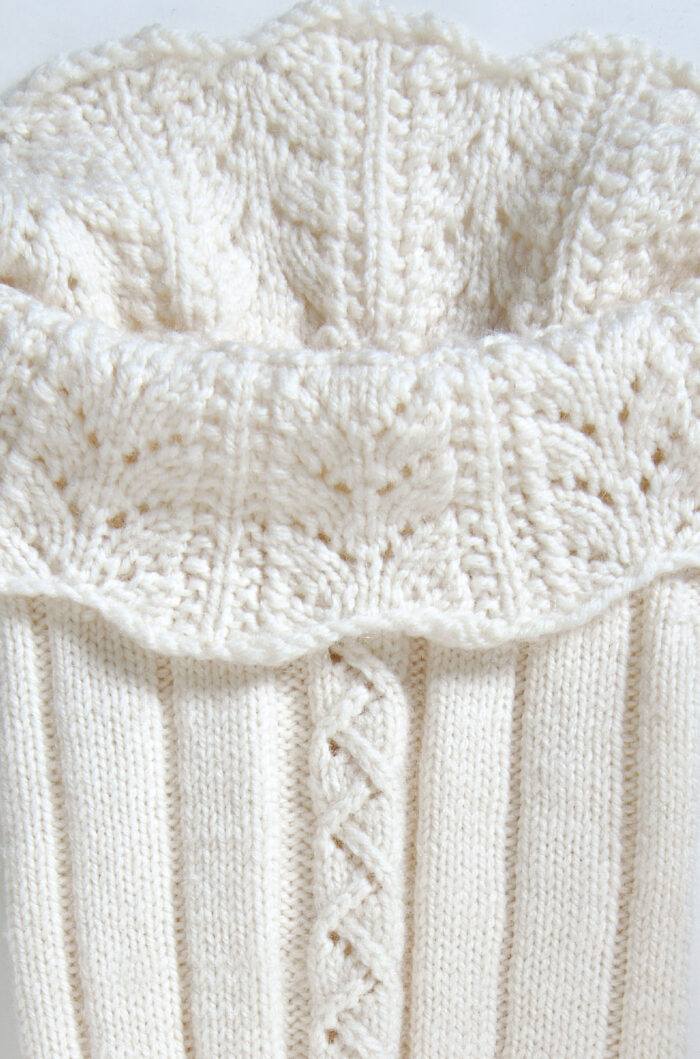 ---
Senior Creative Embroidery Winner
Lauren Parks 
Bloomington, Illinois
Inspired by the wool double-knit plaid fabric she chose, Lauren embraced a retro theme and created a 1950s look with a modern twist. She used wool/angora blend double cloth for the coat, based on BurdaStyle 6844. She lengthened the coat and gave it a flannel-backed satin lining to accommodate Illinois' cold weather. Lauren machine-embroidered the front and back yokes, and added her name to the coat's inside cellphone pocket. Then she hand-sewed Swarovski crystals onto the yoke embroidery. She created bound buttonholes and covered buttons for the coat. She made the plaid wool double knit into a drop-waist dress with a pleated skirt (Burda Young 6853), and added contrast-color tipping in rayon knit. Lauren says she sews to challenge herself: "Each time I try something more difficult, and I learn something new that I can add to my repertoire." 
—Danielle Agugliaro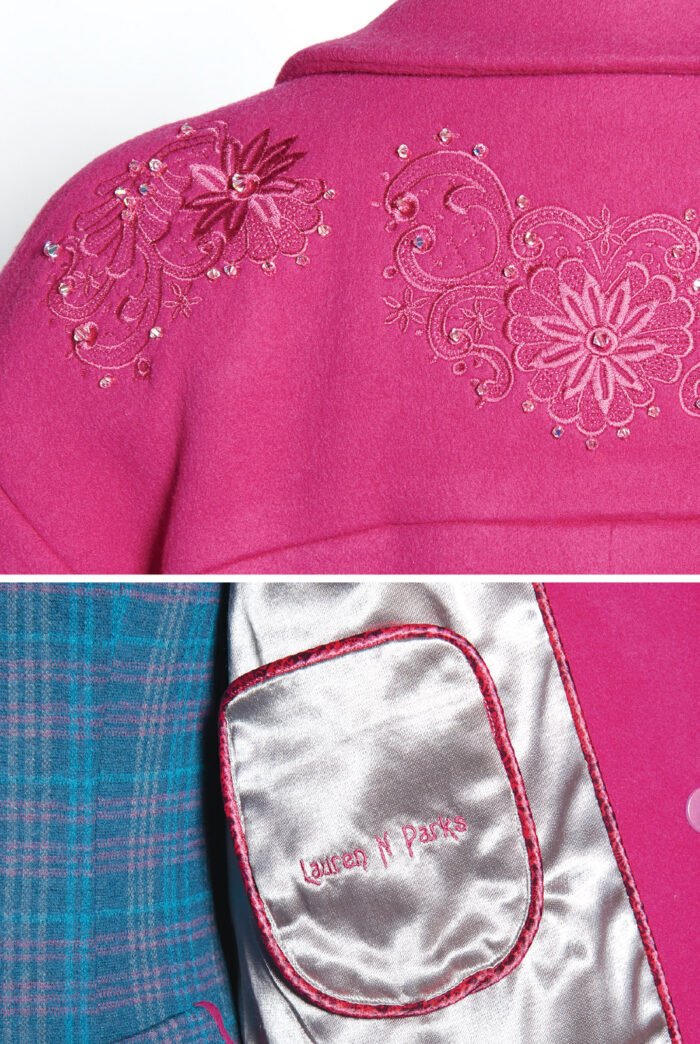 ---
Junior Creative Embroidery Winner
Andrea Dunrud 
Forest Lake, Minnesota
Andrea purchased a Bernina embroidery machine in 2014 and was eager to use it for her MIWW ensemble. She created a tailored jacket from fuchsia wool using Simplicity 4954 (out of print), and embellished it with machine embroidery at each shoulder in a paisley swirl design. Andrea hand-beaded black crystal seed beads atop the embroidery to add sparkle. A frog closure complements the embroidery and beading. Andrea also made coordinating black wool crepe pants using Claire Shaeffer's Vogue 8156 (out of print). Andrea plans to pursue a career in fashion design and tries "to approach each project with a professional and creative mindset in hopes of creating something that I will love and that inspires others to want to start sewing as well. I want to design a whole line of women's couture wool clothing in the future." Andrea says she looks forward to working hard next year and, hopefully, returning to nationals for the fourth time. 
—Danielle Agugliaro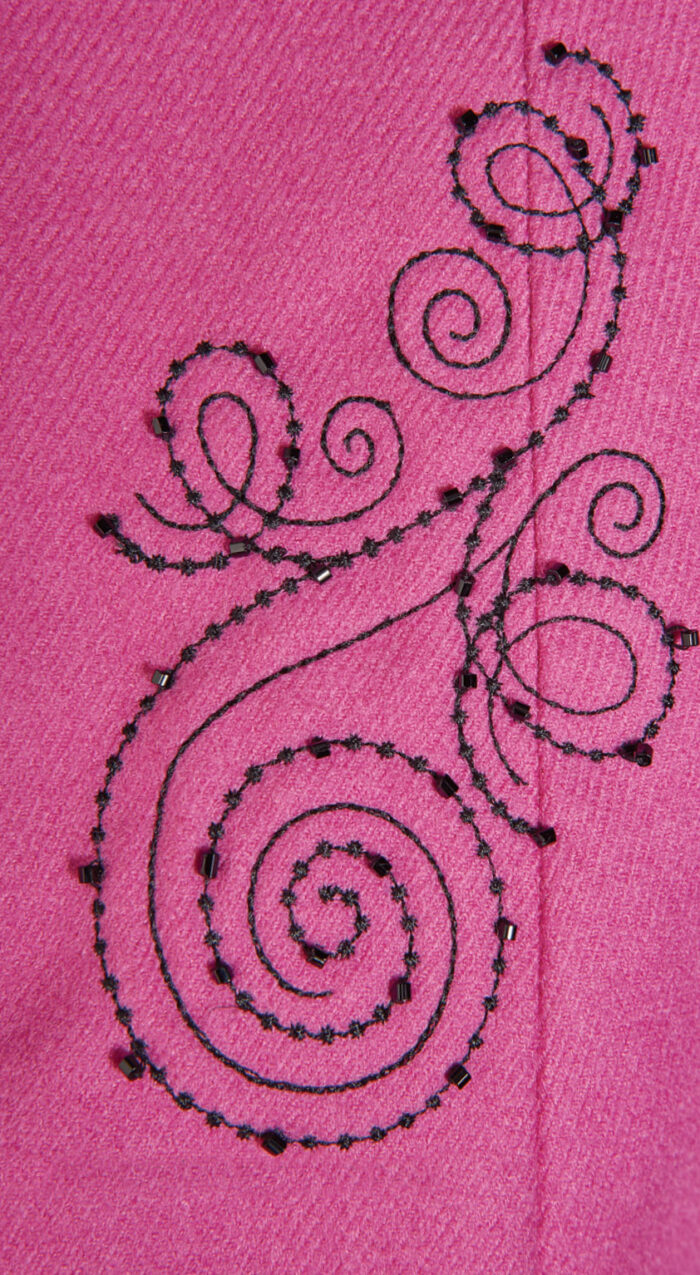 Stephani L. Miller is special projects editor. Melina Erkan and Danielle Agugliaro are Threads' editorial interns.