5 Sewing Questions with Ruth Collins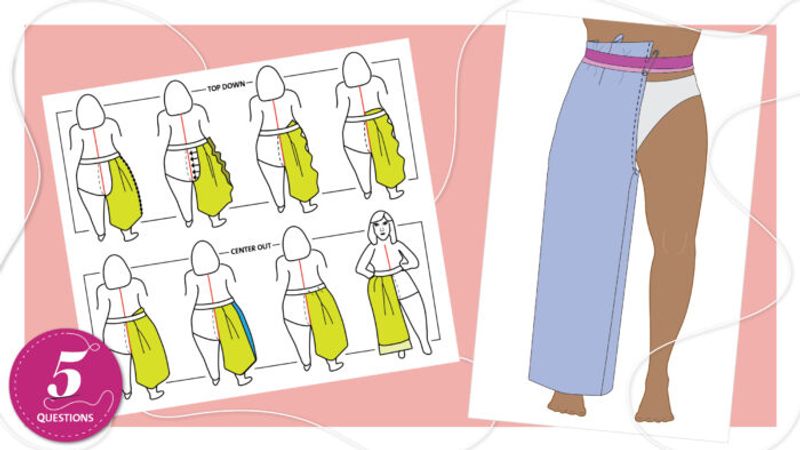 Video: Threads magazine
Pants fitting seems to have become an obsession for Ruth Collins. In "Logical Pants Fitting," Threads #218, Summer 2022, she explains her process for getting great-fitting pants. Her natural curiosity for how things work, and her need for having clothes that fit, led her to developing her Top Down, Center Out Method.
We get to know her better as she answers five sewing-related questions asked by Threads Senior Technical Editor Carol Fresia.
How did you learn to sew?
Ruth says she is "a classic example of the self-taught sewer in the internet era." She learned from online sources, books, magazines, and shows including the PBS series Sewing with Nancy, hosted by the beloved Nancy Zieman, and Fit 2 Stitch, featuring fit expert Peggy Sagers.
Ruth says she has also learned through sharing and conversation on social media. You can find her on Instagram @ithacamaven.
---
What are you currently sewing?
Her work continues on a pair of pants from a pattern designed by the new pattern company Daughter Judy Patterns.
Which fabric do you enjoy sewing the most?
"Fabric is superwonderful," Ruth says. "The fabric I like most is when cloth has two different colors in the warp and weft." She noted silk dupioni and chambray.
However, she describes another type of fabric she likes to work with that may be more functional and practical. Listen in to find out what it is.
Which sewing word or term is your favorite?
Ruth has two.
"Swirl," which she explains is the use of heat or steam to take something that's straight and make it curved.
"Cut" is the second word.
"When I was started sewing, people would talk about the cut of the garment. It sounded deliciously pretentious."
She wondered what is meant exactly. "I came to understand that it was literally what it states: the cutting of fabric in ways that allow it to be sewn back together again, and it creates the magic of 3D—the cut."
Please share what you love best about sewing.
"There's something for everybody."
If you are into engineering there are the machines, Ruth says. If it's chemistry, there's the polymers science of fibers. Of course, there is technology and there's information science, too.
"There are many great aspects to sewing," she declares.
Sewing is not just practical. It's artistic and creative, she adds. "It's like origami for adults, going from 2D to 3D with a more flexible substrate than paper.
"The outcome is the whole process. It teaches you self-reliance and perseverance."
---
Listen to more about Ruth's Top Down, Center Out Method to pants fitting in the Sewing With Threads Episode 51 podcast.