My Resourceful Mom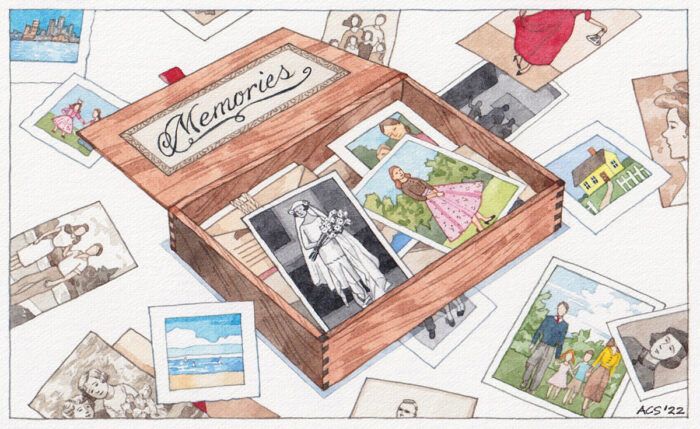 While growing up in a small farming community on Long Island, New York, I was continually amazed by my mother, Mae. Among her many skills were her abilities as a self-taught seamstress. I was the oldest of five children—four girls and one boy—and we were all outfitted in hand-sewn garments that Mom had designed to be practical, adaptable, and fashionable.
Mom started sewing well before we came along, often copying high-end, form-fitting outfits from magazines and newspapers. And she proudly made her own wedding dress, which then appeared in announcements in several newspapers. The year was 1927 and flapper styles, with short skirts, were all the rage. Before a wedding date was set, she found a spectacular shimmery silver fabric to fashion a dress from. However, once the date was set and Mom found a pattern she liked, she realized there was not enough material. Ever resourceful, she found a matte silver fabric and added godets to the skirt to finish the dress. A veil with a long train made from a piece of Belgian lace completed the look.
My father was an architect and, as the country moved into the Great Depression and salaries were greatly reduced, my mother's sewing skills became an asset. She devised ways of lengthening dress skirts with rows of binding. Seam allowances were left wide enough to be let out. I remember a time when someone gave her a discarded coat and she turned it inside out and altered it for one of us. She made all our special-occasion garments, too. There were Easter outfits, prom gowns, and more. Many had added details, such as rhinestones sewn into the print on a fancy skirt. Looking back, I think being able to provide us with nice clothes kept her sane during the troubled times.
I think being able to provide us with nice clothes kept her sane during the troubled times.
She was a remarkably resourceful woman. I fondly remember what I call her greatest coup. I had a special dance coming up, and Mom planned a skirt for me made from a light, smooth pink fabric with a small brown print, to be paired with a brown top. As she completed the skirt, she decided to add sequins in parts of the print, all hand-sewn late at night. When she began to put the remaining fabric away, she realized there was enough material to make a dressy sheath. Nearing the end of this project, Mom came across another material in her stash, a lightweight wool in bright green, and she decided to make a coat lined with the dress material to create a matching set. When there wasn't enough of the pink left, she went to the store where she originally bought the fabric, but sadly discovered they no longer had it. However, when they mentioned the New York City merchant where they sourced materials, Mom hopped directly on a train to the city. Amazingly, the merchant had more of the material. I ended up wearing this outfit for the first time on a trip to see the Boston Pops with my future husband. It was a rainy night, but when I appeared in that pink dress and green coat, he said that I was a bright flash.
Well into her 90s—she lived to age 101—Mom regularly kept up with the latest fashions and made adjustments to dresses being worn to her grandchildren's weddings. When my only daughter got married and decided to wear my wedding gown, it needed small alterations and some repair where lace had torn. Of course, my mom was happy to fastidiously sew the lace with nearly invisible stitches, jumping in to help as she had so many times before.
---
Mary Jeanne Hickey sews in Weymouth, Massachusetts.
Illustration: Alexis Seabrook
Do you have a sewing story to share? Email it to [email protected] and you could be our next Closures author.