Sewing Tips for Georgette Fabric
Handling instructions for this semisheer, lightweight textile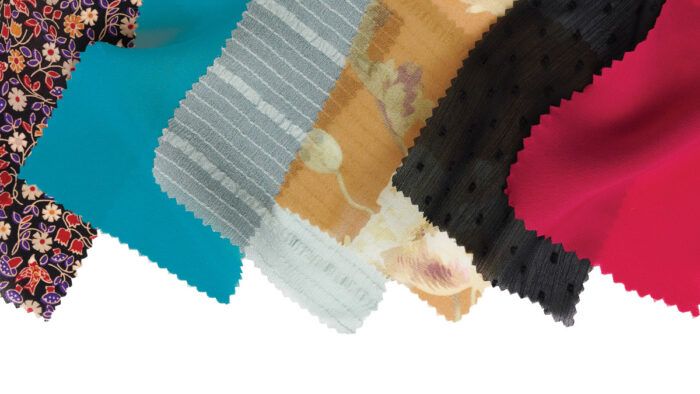 For drape, flow, and a hint of sheerness, georgette is a stylish and classic choice. It is a crepe fabric, woven with tightly twisted warp and weft yarns that create a slightly pebbly texture and matte appearance. Georgette is less transparent and more weighty than chiffon, and is available in polyester, wool, or other fibers, but the most well-known and desirable type is silk.
Georgette is an attractive option for evening gowns, as well as full pants, loose-fitting tops, scarves, and flowing dresses. It requires a lining, unless you are planning to wear it over a camisole or slip. Look for simple garment patterns without many seams and darts. Garment designs that are not generous enough could look skimpy. Full pants should be one-third to one-half larger than your hip measurement and tops or blouses should be one-quarter to one-third larger than your bust measurement.
Georgette also works well as a lining. Try it with burn-out velvet (see "Sewing Techniques for Burn-Out Fabrics," Threads #215, Fall 2021), and layer it as a self-lining. Line printed georgette with a plain georgette for wonderfully drapey, rich results.
---
Tip: Keep it light
Garment construction is typically done with three-ply, all-purpose—or sew-all—thread. Sew strong and discreet seams in chiffon and georgette with lightweight, two-ply embroidery thread instead.
---
Preparation and cutting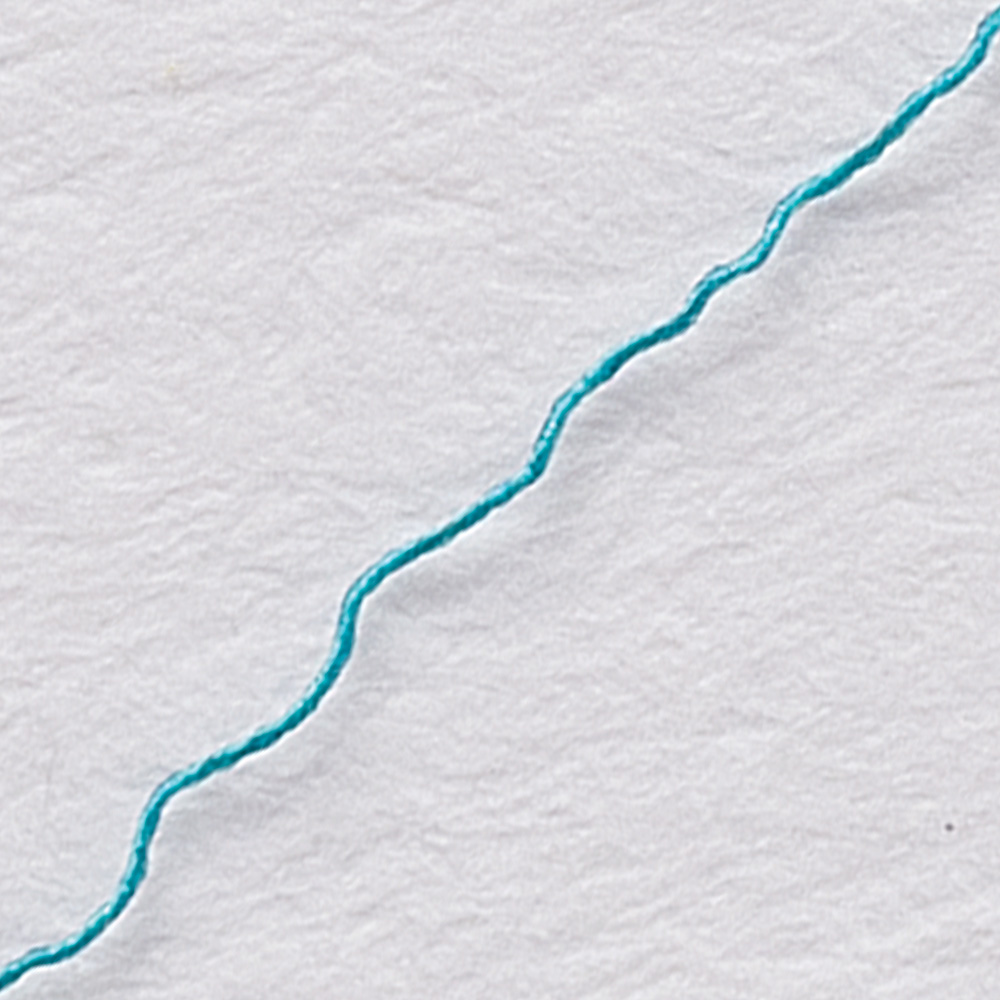 Preshrink:
To preshrink good-quality georgette, hand-wash it in warm water with 1 tablespoon of shampoo. Dry the yardage flat, then press lightly with steam. This treatment causes poor-quality georgette to lose its body. Try a sample before you commit to it. If the sample gets limp, do not preshrink. Plan to dry-clean the finished garment.
Press:
Use a dry iron on the temperature setting for silk. To get rid of stubborn wrinkles, lightly mist distilled water on the area to be pressed.
Lay out:
Use a without-nap layout and glass-head silk pins. To control the fabric and cut accurately, cover the cutting surface with tissue or medical exam-table paper. Pin the pattern through the fabric (double thickness is fine if called for) and underlying paper.
Cut:
With a rotary cutter or sharp scissors, cut through the pattern, fabric, and tissue paper.
Appropriate notions
Mark:
Good choices are the Clover Chaco Liner, tailor tacks, or a Pilot FriXion erasable ink pen. Do not use waxed chalk, as it leaves stains on georgette. Mark the wrong side of cut pieces with painter's tape.
Add support:
Don't use fusible interfacing. Choose a skin-colored silk organza or, for a softer effect, self-fabric to support key areas. Underline collars and cuffs, for example, so seam allowances won't show through.
Choose thread:
Choose fine machine-embroidery thread in silk or cotton. Polyester threads cause georgette to pucker.
Select a needle:
Use a new sewing machine needle meant for fine, densely woven fabrics. Good choices are microtex, sharp, or universal needles in size 60/8, 65/9, or 70/10.
Pick a presser foot:
Sew with a straight-stitch foot and single-hole throat plate to avoid pushing the fabric into the bobbin area. If you use a standard or general-purpose presser foot and throat plate, move the needle to the far left position to better support the fabric on three sides.
Technique advice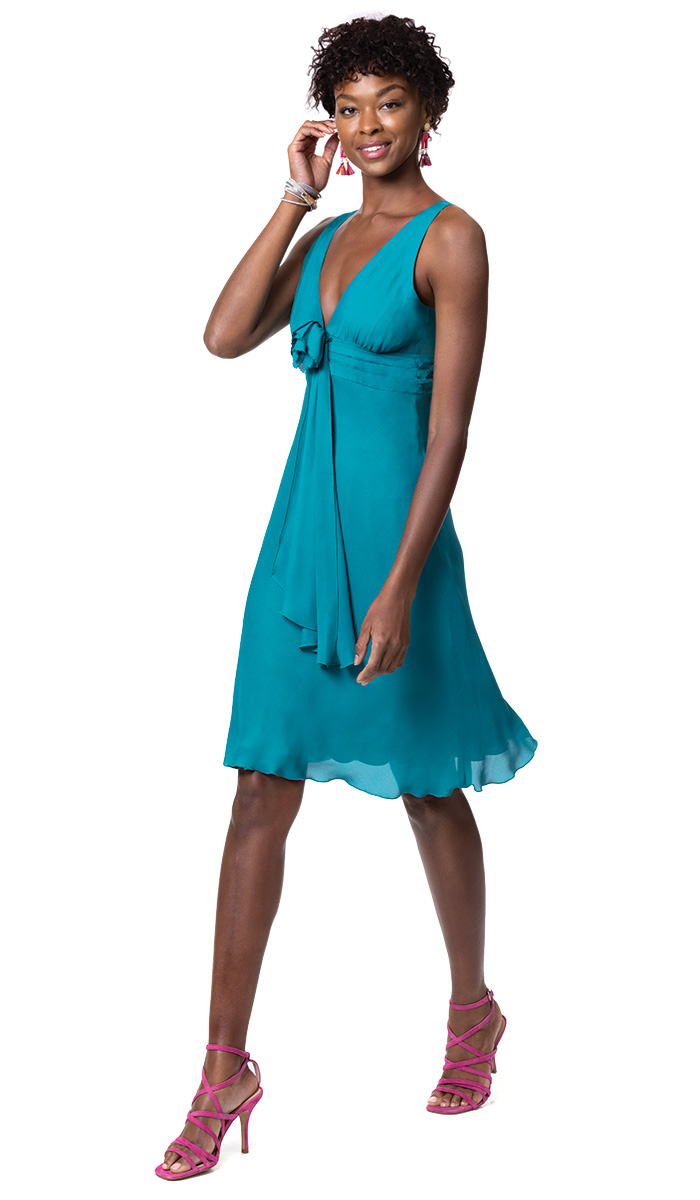 Set the stitch:
Use a straight stitch at a shorter length, from 1.5 mm to 2.0 mm, to reduce puckering.
Choose a seam finish:
French seams are ideal for georgette, as the fabric is see-through.
Start seams with care:
Hold the top and bobbin threads when you begin sewing to prevent the fabric from pulling into the throat plate.
Feed the fabric naturally:
Lift the presser foot periodically, leaving the needle in the fabric, to release any "bubble" buildup in the fabric.
Avoid backstitching and topstitching:
Additional stitching could result in puckers or jammed fabric, and it can be difficult to unpick in delicate georgette. Instead of topstitching, sew hand-picked stitches close to the project's edge.
Consider the closures:
Georgette has body and strength to support a variety of traditional closures. Self-fabric button loops are an attractive choice, but for something less time-consuming, stitch machine buttonholes with fine machine-embroidery thread and a piece of water-soluble stabilizer between the presser foot and the fabric. For zippers, interface the seam allowances with silk organza, or install a hand-picked zipper.
Make a narrow scarf-edge hem:
Trim the hem allowance to 1/8 inch. Roll it to enclose the raw edge, and hand-sew or machine-sew with fine thread. If using the sewing machine, keep finger pressure behind the presser foot to prevent the hem from stretching.
Serge a rolled hem:
First, staystitch along the hemline with at least a 1/2-inch hem allowance to be trimmed by the serger. At the serger, install fine serger thread and remove the right needle. Set the differential feed to 0.7 and serge, encasing the staystitching in the rolled hem stitches.
---
Sandra Betzina is the author of All New Fabric Savvy (The Taunton Press, 2017), from which this article is adapted.