Fashion Without Limits, with ChaCha N. Hudson | Episode 52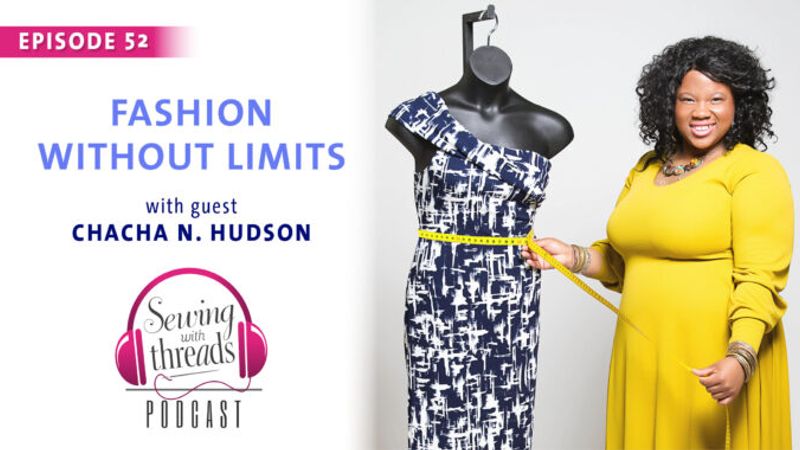 Video: Threads magazine
In this episode of the Sewing with Threads podcast, we welcome ChaCha N. Hudson, a professor at Syracuse University, who tells us about the fashion department's Fashion Without Limits program. ChaCha teaches a wide range of classes in design, construction, the business of fashion, and entrepreneurship. She has owned and run the Sewcial Café in Philadelphia and is the designer of the plus-size line Ace Blakley.
Fashion Without Limits program
ChaCha talks about the Fashion Without Limits program, established at Syracuse University in 2013 by supermodel Emme.  At Syracuse, professors Jeffrey Mayer and Todd Conover are also deeply involved in this global design initiative.
Its goal is to expose students throughout their university career to a fully rounded world of fashion design, in sizes 0 through 24. ChaCha explains that it's not just plus-size design. It's about shape, size, and other areas of inclusivity. The idea is that students learn, from the first day of their design education, that designing for a range of sizes and customers is important. Innovation can occur when young designers understand this, and that in turn leads to commercial success and better choices for customers. She notes that many students come into the program with no experience with plus-size clothing and are unaware of the challenges for plus-size shoppers.
You'll hear the business reasons that larger brands and manufacturers don't bother to offer size-inclusive collections. Smaller companies are, in many cases, doing a better job of accommodating a diverse clientele.
Size-expansive sewing patterns
In the home-sewing market, independent pattern companies are working to expand their size ranges, as they recognize there is a demand within the buying public. Muna and Broad and Cashmerette are two companies that focus on fit for plus-size and extended-size sewers. ChaCha explains the challenges of creating larger pattern sizes from "straight" size originals: This process is complex and requires a lot of research and development.
You can find patterns by ChaCha at ChaChaNKole.com. She offers size-inclusive designs for versatile and sexy dresses, from mini to maxi.
Ace Blakley fashion
ChaCha reveals the origins of her own fashion line, Ace Blakley, and tells how she decided to move from a full size range, straight and plus, to focusing on plus sizes only. Although she doesn't regret this decision, today she understands that it is more inclusive to create designs that work for all sizes.
The line offers contemporary womenswear. ChaCha likes to show curves, feature classy peek-a-boo areas, and bring in color and texture. She has learned from designing her line that you should design for your aesthetic, not for a particular size. Authenticity and a point of view are essential to a successful collection.
The Sewcial Café
ChaCha established the Sewcial Café in Philadelphia as an incubator and sewing studio for aspiring fashion designers. It thrived from 2018 through the start of the pandemic in 2020. She still regrets that she had to close the café during the pandemic, even after making thousands of masks with her sewing community there. A rotary cutting accident led her to realize it was time to put the café project on pause. However, she hopes to open a new iteration in Syracuse. Her goal is to support people working in the sewing, crafting, and content creation communities.
But first, ChaCha is working toward a doctorate degree in fashion design. Is there anything this talented and energetic designer can't accomplish?
---
We have created a podcast survey to help guide our content. Please take a moment to answer a few questions.