What Kenneth D. King and FIT Students Are Wearing Now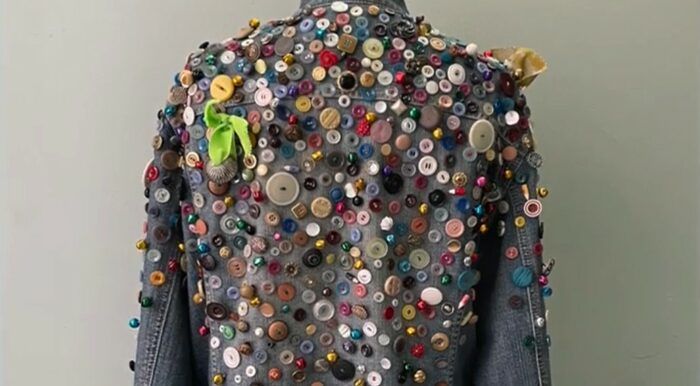 Editor's note: Threads Contributing Editor and adjunct professor at FIT Kenneth D. King appears in this video of fashion design students during Fashion Week in New York City. He shared the story of his button jacket in this exclusive post for Threads.
---
As a professor at the Fashion Institute of Technology (FIT), I love seeing the creativity of my students. Each spring, I teach Haute Couture Sewing Techniques, and it's especially gratifying to see the finished results in the big senior fashion show in the spring, which was May 11 this year. The fashion crowd and media people were out in force.
I was on campus that day, and since I always say that the operative word in Fashion Institute of Technology is fashion, I like to dress for class—usually in something I've made, just to show that I still do it.
So there I was on that Wednesday afternoon, headed out after class, looking good in my new button jacket and cool jeans. As I walked away from the building, this nice young man asked if he could ask me a few questions on video about what I was wearing. This is the video he produced. (His interview with me starts at 7:28.)
Making the button jacket
I worked on the button jacket bit by bit all last summer and fall. I found the jacket at the Salvation Army, and the buttons came from Lorie, my favorite cousin. Lorie was planning on visiting me in 2021, but the pandemic pushed her trip back. That summer, Lorie was cleaning out her storage unit and sent me my Aunt Helen's button box.
I see many jars and boxes of buttons in the flea markets, and have often wondered what stories these could tell. When I was growing up, everyone's mom or grandma had either a jar or box of buttons.
Lorie's box has a family history—she told me of the times she and her brother Rick played with the buttons, pretending they were money, or just picking through them on rainy days. I remember the two of us playing with them as well, pretending they were dishes for Barbie and her friends.
I started sewing the buttons on my jacket. I began to realize this would take longer than I imagined and thought it might be a big mistake. But after running into Valerie Steele, director of the Museum at FIT—who pronounced it very cool—I decided to keep sewing.
I finished the jacket in late November and sent Lorie a video of the jacket on my dress form, showing her what she had helped me create. We spoke the next day—Thanksgiving. She told me that her breast cancer had returned, and that she was refusing any more treatment.
Lorie passed the following Monday. When I wear the jacket now, I feel I am carrying Lorie's memory with me, and showing her around New York. It made it meaningful and bittersweet to see it in the video above, along with the work of my incredibly creative students.
If your family has a box or jar full of buttons, why not put them to use in a jacket, hat, or handbag, something that will enable you to carry these memories around? Get those buttons back out into the world. Over time, people have asked me about the spacing of the buttons: How did I get it to appear so random but also even? Here's a short video on my method. Try it.
---