5 Sewing Questions with Karolyn Kiisel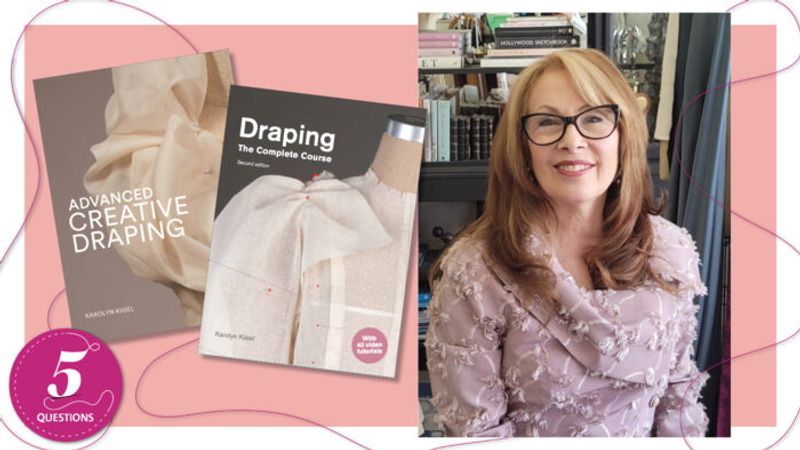 Video: Threads magazine
Draping expert, educator, and designer Karolyn Kiisel sits down and talks about herself after releasing her second book, Advanced Creative Draping (Laurence King, 2022). This book follows her comprehensive guide, Draping: The Complete Course (Laurence King, 2013).
How did you learn to sew?
Karolyn says her mother sewed and she would play with all the leftover fabric scraps "making doll clothes, and (I) moved on to string bikinis and . . . started working with patterns as I grew up."
What is a technique you've never tried but would like to take on?
Karolyn was inspired by a needle felting project some of her students completed. Plus, now that she has been given some alpaca fibers, she says, "I am studying alpaca fiber and how I might work with that with needle felting."
What aspect of design do you enjoy teaching most?
As a teacher of 25 years, Karolyn finds draping the most  enjoyable.
"I find that draping helps the students to define their own aesthetic . . . I enjoy watching the students develop their own look and their own signature style."
What has been your favorite design project ever?
"Working with Cirque du Soleil costume designer Dominque Lemieux has been such a high point in my life," Karolyn says. The designer was a guest in one of the classes Karolyn taught at Otis College of Art & Design. During one session, the designer talked about the "energy" in a student's design. "It was just a wake-up moment for me." Typically, designers think of attitude or look, Karolyn explains. "But she would always talk about the energy in the clothes and how you are expressing the energy."
In hindsight, what is some sewing advice you wish knew when you started to sew?
Karolyn admits she "took a lot of shortcuts" in her early sewing days. But "my advice is to learn the classic methods."
She refers to learning how to make a facing, proper understitching, clipping, and other techniques. Many of those methods are explained in commercial patterns, she says. For more detailed instructions, she recommends Claire Shaeffer's Couture Sewing Techniques (The Taunton Press, 2011 revised and updated).
"Learning all those classic methods is something you can fall back on and rely on, especially when you are working with trickier fabrics or complex styles," Karolyn says.
---
Editor's note: Find out more about Karolyn Kiisel and listen to her discussion about draping, dress forms, and organizing a sewing space on the Sewing With Threads Episode 53 podcast. Plus, you can find her on Instagram,@karolynkiiseldraping; Facebook, drapingbykkiisel; or her site, KarolynKiisel.com.