@readywriting | Sewing Influencer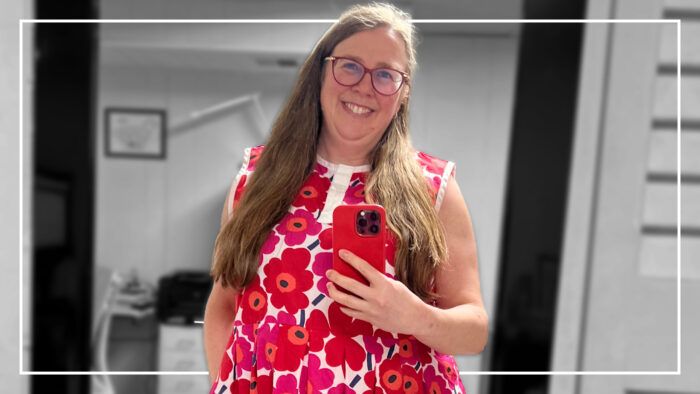 Lee Skallerup Bessette, who goes by the handle @readywriting, is a writer, blogger, educator, sewist, and podcaster, living with Attention-Deficit/Hyperactivity Disorder (ADHD).
I first encountered Lee when a friend recommended I listen to the podcast All The Things ADHD. In one episode, Lee tells her cohost, Aimee Morrison, about her adventures in sewing. Somehow, it all clicked for me—why some sewing projects work for me, why quilting is simultaneously more and less rewarding, and why I have so many boxes of projects.
Since then, her Instagram account has inspired me to approach sewing in a new way. I hope you enjoy meeting this Canadian, who now resides in Virginia, as much as I have.
---
How did you learn to sew?
We had to take Home Economics in Grade 8. I made a black pencil skirt. Looking back, I'm amazed at what I accomplished—pleats, lining, hidden zipper. I have zero memory of the process. And I had no interest in sewing beyond that, save for using my mom's old machine to taper my jeans. I was a tomboy in the grunge '90s, who also swam competitively. Clothes generally held little interest for me.
When my daughter was 7, she decided that she wanted to be a fashion designer and learn to sew. My mother indulged her and bought her a Singer Simple sewing machine, and they sewed a circle skirt together. My daughter and I tried to sew another skirt, but we messed it up, and the sewing machine lived in our attic or basement or storage space (depending on where we were living) from then on.
Until the pandemic.
A friend of mine sewed for herself and her kids and she just seemed to have so much fun sewing. So I put my daughter's Singer Simple on an old TV dinner table that used to belong to my grandmother, got my daughter to teach me how to thread it—she  remembered—and started sewing.
Now, here's the thing you need to know about me: I have ADHD, and so sewing became my hyperfocus. I watched YouTube videos, read and reread pattern tutorials, joined online groups—just basically got obsessed with sewing. I started collecting patterns, fabric, sewing machines, even. Now, I have a full, dedicated sewing space in my basement, with a proper cutting table, machine table, and fabric and pattern storage.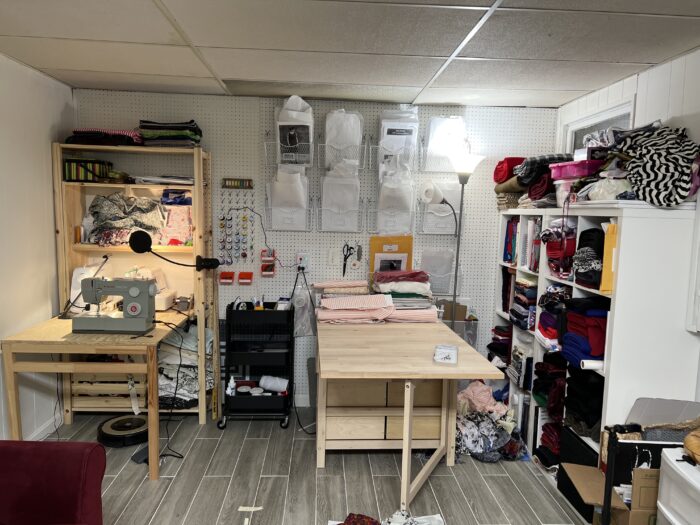 If you had told me in eighth grade that 30 years later I would be obsessively making all of my own clothes, and mostly dresses at that, I would have never believed you. Heck, the me from the beginning of the pandemic wouldn't have believed you either. But here I am, with a closet filled with me-made garments.
Which sewing word or term is your favorite?
Flounce. I'm not even sure I know what the word means in sewing terms, but I just love the word so much. Lately, I've been making all these floral floofy dresses that are all the style right now, and I feel like I can flounce around in them.
Which fabric do you enjoy sewing the most?
It's less about the fabric itself for me, and more about the color and pattern. Because I started sewing during the pandemic, I was limited to buying fabric online with little knowledge of what I was buying in terms of fabric type, weight, drape, etc. So I would choose almost exclusively by what the fabric looked like. And so I go through phases. Right now, it's all about floral prints, be it knit or woven. Previously, I was into '60s- and '70s-style prints. And then I went through a solid phase where it was all just one color for each outfit. I'm still learning about fabric in terms of what each fabric does well, how it drapes, etc., so I'm still working out which is my favorite to work with.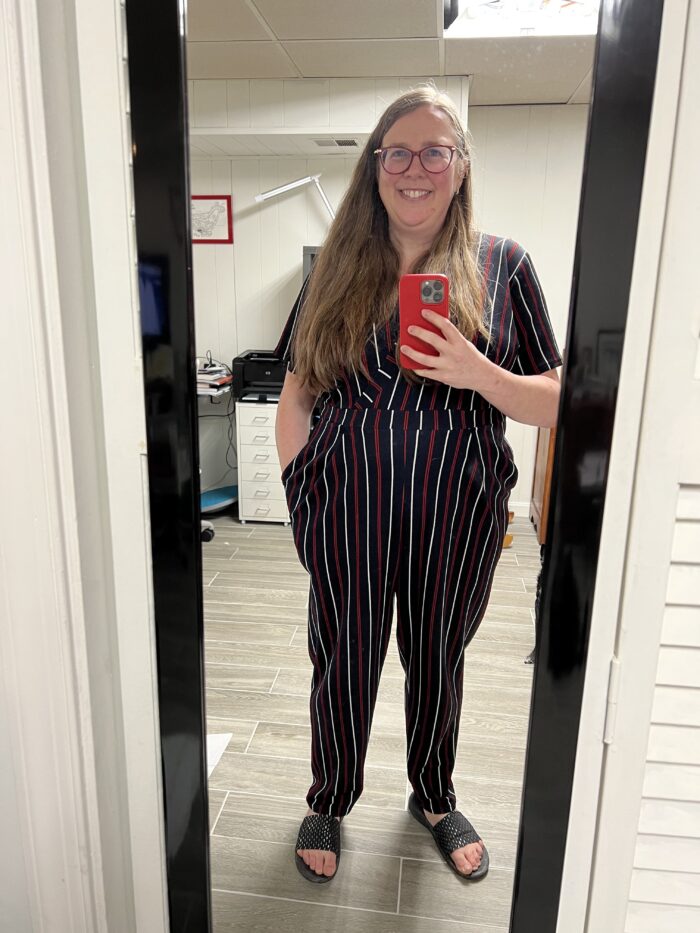 What are you currently sewing?
I have a Helena Wrap Dress from Just Patterns that has been cut out in a peach-striped cotton fabric I got from our local buy-nothing group. I'm also planning an I AM Irma shirtdress using a Liberty print I got on sale, and a silver linen Zadie jumpsuit from Paper Theory Patterns. I am never only working on one thing.
Please share what you love best about sewing.
There are so, so many things I love about sewing that I am discovering. At first, I didn't even understand why I had suddenly become obsessed with sewing.
The first is that it suits my ADHD fantastically, which came as a surprise to me, but upon reflection, makes sense. One of the things that can come with ADHD is poor fine motor skills, as well as inattention to detail. So I just always assumed I wouldn't be good at sewing. However, there is a lot of novelty, creativity, and variety in sewing to keep my ADHD brain engaged. Plus, I can listen to podcasts or binge-watch TV while I sew. Also, in terms of attention to detail, I realized that the only person who would really notice said inattention to detail, in most cases, was me. Ultimately, I've learned to be more patient; better at dealing with mistakes (people with ADHD also often have this thing called Rejection Sensitive Dysphoria where mistakes and criticism feel like the end of the world); and caring about nice finishes, neat seams, and hems alongside other fine details.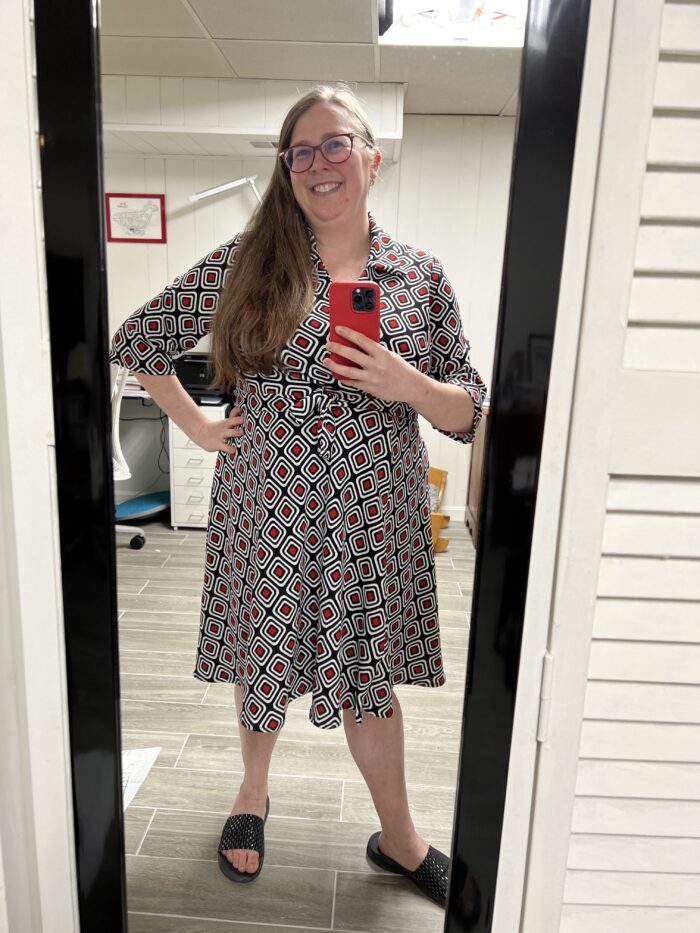 And other times, I just want to get the dress done. So I can do that, too, and no one notices because everyone is too busy telling me how impressed they are that I sew my own clothes.
I named my sewing blog Comedy of Errors because I wanted to embrace sewing as a beginner and as someone who is not neurotypical. I struggle reading and following directions. Plus, I don't have the greatest fine motor skills. I want to throw my machine or garment out the window sometimes. I am so frustrated sometimes, I cry. But on my site, the background image is stitch-rippers, to remind myself (and anyone visiting the site) that it's OK to start again. I wanted to share my failures (and there have been a few) as well as my successes, my frustrations, and lessons learned—and relearned and relearned. I spent too much of my life trying to compensate and hide just how different I was because of my ADHD, trying to hide my failure at being "normal", being ashamed of who I was, that I wanted to create a space for myself to fail and let others know that it is OK, too.
As someone who is plus-sized, the plus-sized sewing community has been a tremendous help to me in coming to terms with my own deep-seated body issues. Being able to sew my own clothes, seeing others who have sewn the same garment at the same size, seeing just all different body shapes and sizes wearing me-made clothes has inspired and helped me along in my journey, not just in sewing, but toward a more body-positive attitude.
I also feel a deep connection with my grandmother, who did sew out of necessity way back in the day, but I knew her as a prolific painter. When she was forced to quit smoking when I was a girl, she started painting. Over 20-plus years, she painted hundreds and hundreds of paintings, mostly oil paintings of landscapes. She painted more paintings than could ever be displayed in all of our houses, more than she could even give away. I look at my sewing habit, and it reminds me of her painting habit.
Sewing, for me, as well, is a deeply selfish act. I don't sew for anyone else other than myself. Neither my kids nor husband is interested in me sewing anything for them, nor do I have any close friends in the immediate area who would ask me to make something for them. I get immense personal satisfaction from sewing. I realized that there was almost nothing in my life that I had for me and only me, not as a mother or wife or coach or writer or employee or educator (I wear a lot of hats). Sewing is mine and only mine, and I really needed something like that in my life. It's great that other people like and compliment my me-made outfits. But at the end of the day, as long as I like it, that's all that matters.
---
Photos courtesy of Lee Skallerup Bessette, @readywriting. 
---
For more of the most followed and admired sewers on Instagram, check out the Threads  Sewing Influencers collection.