The Mesh Butterfly Challenge: Quilted Mesh Suit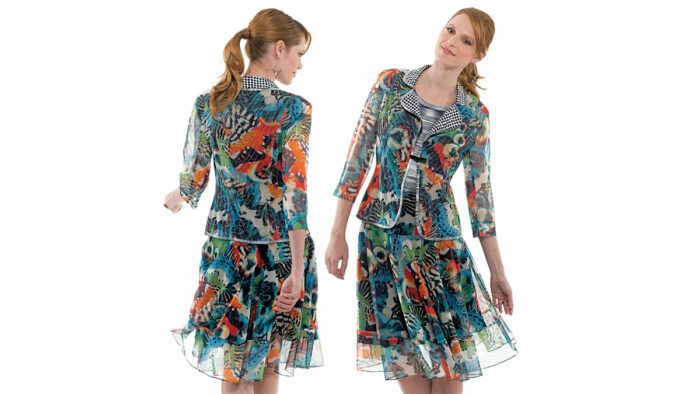 Fabric inspires me to work in two distinct ways. First, I like to listen to the fabric, play with it for a while, and let it tell me what it wants to do—more or less. Second, I like to force it to comply with my design and turn it into a garment that contradicts the fabric.
This translucent butterfly mesh fabric doesn't lend itself to a structured garment. It screams soft and flowing. But I like to make fitted little jackets with seams and darts that create shape. I like to quilt layers together to build soft structure. And I love to combine fabrics, especially prints, in the same piece.
I envisioned a jacket with a notched collar—a look that never seems to go out of style, and the V-neck is flattering for most everyone.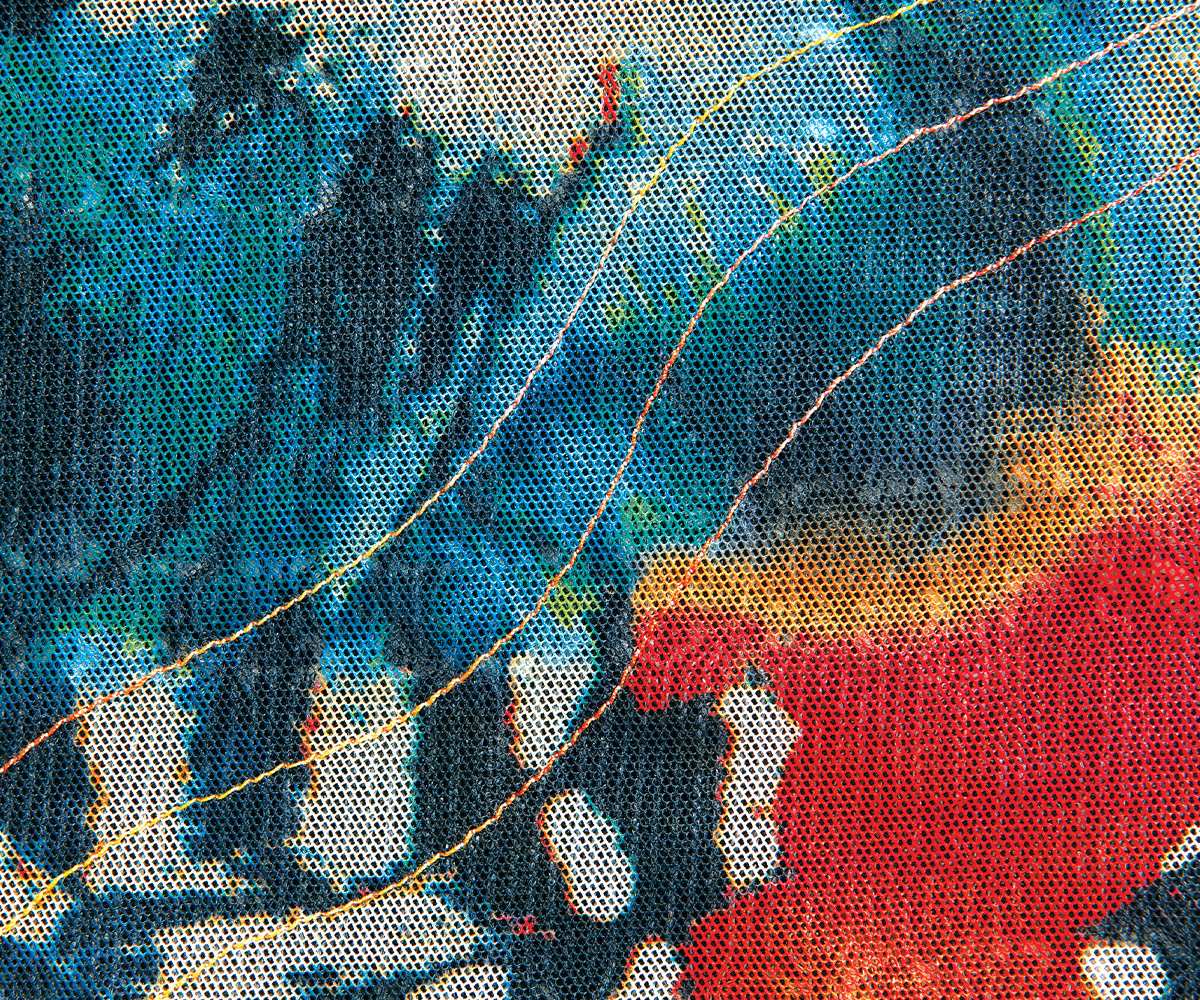 I started by playing with the mesh fabric over batting. Then it occurred to me to use a knit fabric in place of traditional batting. It would add the soft structure I wanted, but the finished garment would still have stretch.
Next, I collected compatible prints to use for the backing, which would also be the exposed part of the lapel. I ultimately chose the dots for the backing, but tea-dyed it to make it just slightly less white. I wanted to use the wood grain patterned knit for an edge binding. I chose a fine sweater knit for the batting layer and did a small stitch test with various threads, stitch lengths, and tensions to get the right stitch for the quilting, which also added to the surface design. For this, a 30-weight variegated cotton thread was used for the top and a fine white polyester embroidery thread for the bobbin, which is visible on the lapel.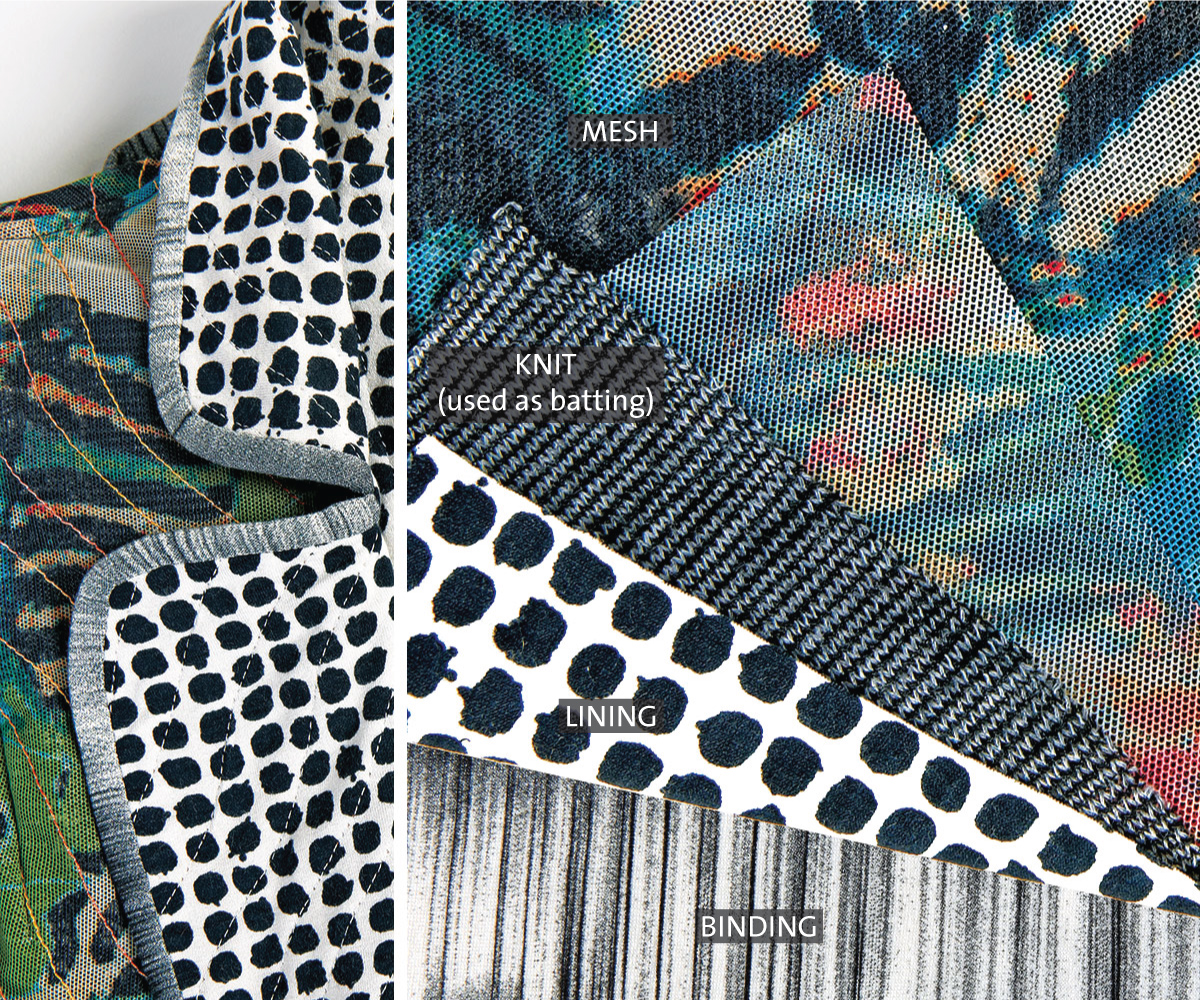 When I machine-quilted each section, I stretched the fabric layers as I sewed in order to build stretch into the piece. I wanted the garment to look like a structured jacket, but feel like a soft sweatshirt. I am happy with the results of this suit. It looks smart and fresh, will move in and out of air conditioning comfortably, and successfully mimics the feel of a sweatshirt.
---
Mary Ray teaches workshops around the country and at Appalachian State University. MaryRayDesigns.com.