Add a Side-Dart Pocket to Knit Pants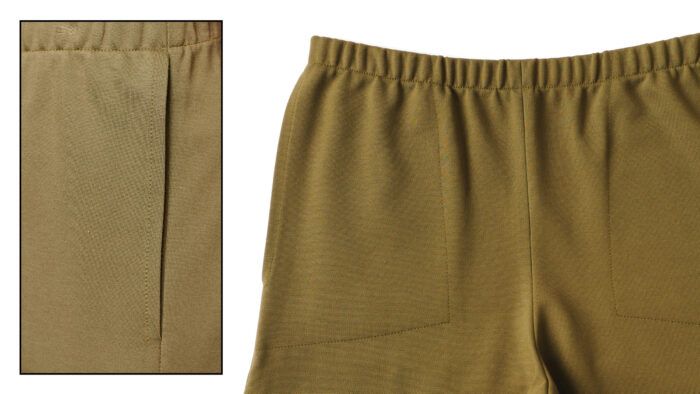 Knit pants (and skirts) are quick and easy to sew, especially if the pattern has no side seams. But what if you want to add a pocket? Follow these instructions to add a side-dart pocket to your knit pants. With just a few extra steps—and the pattern below—you can add function and convenience to a garment you'll reach for again and again.
For more detailed information on how to make the best ponte knit pants, check out "Chic Knit Pants" by Christine Jonson, in Threads #219 (Fall 2022). You'll find out how to choose fabric, select the right size pattern, and plan appealing waist treatments that are comfortable. 
Professionally drafted for knit fabrics
Christine, the designer and patternmaker behind CJPatterns.com, is an expert in sewing with knit fabrics. Her patterns are perennial favorites for crafting a great-looking, easy-to-fit, and simple-to-sew wardrobe. Even better, the line includes a selection of separates and dresses in extended sizes, up to 5XL, with a focus on creating a beautiful, controlled silhouette.
Side-dart pocket instructions
In the PDF below, Christine shares her professional method for building a flat, unobtrusive side pocket into a pattern that has no side seam. She also includes directions for creating a similar pocket in a side seam. Download and print Christine's complete instructions and pattern, and upgrade your knit pants.
Take it a step further
Once you've mastered the knit pants (with pockets), why not make them part of a full seasonal wardrobe? Christine shares her strategy as a pattern designer for planning and sewing a closetful of pieces that add up to an endless assortment of different outfits. When you invest in sewing with a plan, you enjoy the benefits of never wondering what to wear.
View PDF