Atelier Mima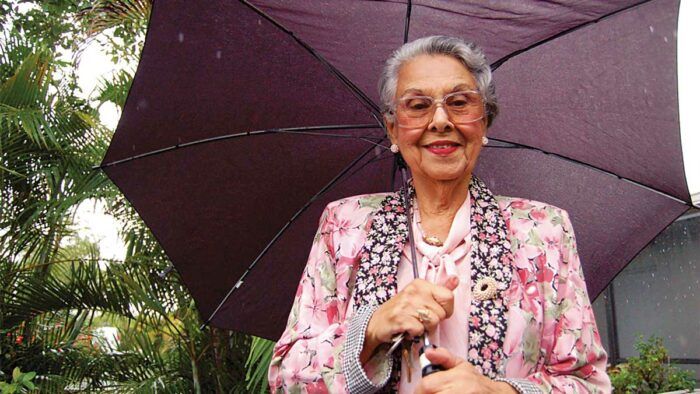 My grandmother, Mima—a 70-year-old Jehovah's Witness—and I—a reticent fourth-grader—were unlikely best friends. We had inside jokes, and we told each other all our best stories. She taught me how to sneak into movies, and how to sew. But no matter how much she insisted I'd look great in her church power suits, I always drew the line at sharing clothes. I may have had no cachet at school, but even I knew looking like a 4-foot-tall Attorney General Janet Reno would have been social suicide. 
By my 20s, I'd moved 1,200 miles away to Brooklyn. Still, we'd developed a routine. 
"Are you sure you don't want anything?" Mima would ask on every call, or during my visits. "I have this little jacket that would be so cute on you." Always, I'd say no. Sometimes I would indulge her and try them on and, as expected, the blazers would hang off me like a David Byrne big suit in '90s secretary tweed. This went on for nearly a decade.
A couple years ago, Mima fell ill. It was leukemia, my other grandmother told me. Mima was 95 and still lived alone. I thought, however naively, that it wasn't the end. But it was.  
Months passed, and there was the matter of the house. Most of her belongings were, unsurprisingly, clothes. It fell to me to sort through them. 
I piled them by the armful into her spare room: a mountain of dowdy floral dresses. Some were beautifully patterned and brightly colored. Others were edgier, fashionable in an ironic way. They were a hodgepodge of 1990s modesty, all low hems and tall collars. These would sell at vintage shops in hip Bushwick, Brooklyn, I thought. Maybe Mima had a point. 
Sorting through her closets took days, and my brother joined in at one point, adding dresses to the growing pile. "Just tailor them," he said. By then, Mima's lessons had helped me land a job as a seamstress and develop a habit of altering and making my own clothes. Tailoring those clothes wasn't out of the question.

It just seemed daunting to reconstruct 30-year-old dresses. Still, they were Mima's, and maybe that was enough. So I packed my suitcase, and they came with me to New York. Mima would have been thrilled. 
Weeks, then months, passed before I could turn to the pile. Finally, I picked up a paisley print prairie dress I thought I'd make look like a designer number I'd been coveting but wouldn't pay $500 for. I raised the waistline, took the whole thing in at the sides, and braced myself to adjust the shoulders, something I've never been good at. 
As I looked closer, I saw her telltale hand stitching. Mima had already done it for me. I examined the other dresses and realized she'd made her way through the pile long before I had. She'd left behind little favors: a snap where a button-down top would otherwise gape, a safety pin just where I needed it, sleeves rolled and set just so, as if she knew I was bound to do it myself. 
Each stitch or snap or safety pin was a reminder of her care and attention to detail. If God is in the details, then Mima was in the hand stitching, the raised welts on a lapel left by a dozen safety pins, the buttons she'd moved on my grandfather's cardigans, unexpected comforts and joys. Little signs of my grandmother were evident in all the garments. Now, every time I wear a piece, I carry her with me, on my shoulders, against my chest, her sweaters warming me in winter, They're part of what I've called Atelier Mima.
While I'd never have admitted it at the time, a lot of the pieces not only fit; it was as if she'd held onto them just for me.
---
Krysten Chambrot sews and alters her own clothes in Brooklyn, New York.
Photo: Krysten Chambrot.