Valentino-Inspired Adornment
Add dimension with petals and crystals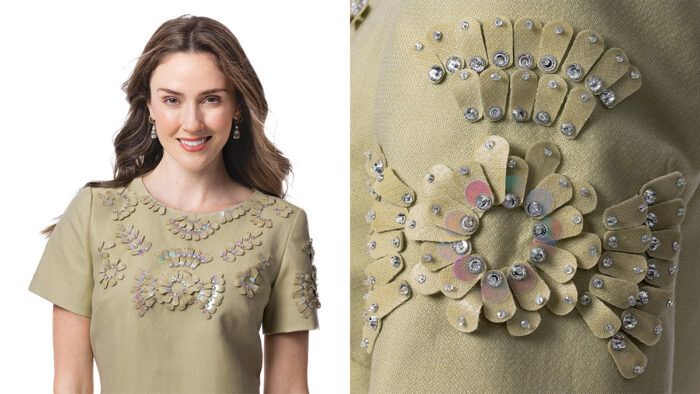 On an outing in the Big Apple, a well-photographed member of a royal family appeared in a simple shift dress that was elevated by a stunning embellishment. Her Valentino original featured self-fabric flower motifs, attached to the dress with crystals and paillettes. The petals are given a lift by beads hidden beneath their tips, and paillettes add shimmer. The tone-on-tone effect looks lovely up close and subtle at a distance.
You can re-create this decoration—or your interpretation of it—on any garment. I used a die-cutting machine to create the petals, but you could hand-cut them if you prefer. You'll need a fabric with body, and a treatment to prevent undue raveling of the raw-edged petals. Then you're ready to select crystals, beads, and paillettes. Follow the design I derived from the Valentino dress, or devise any daisy-like floral motif you wish. Attaching the petals is a matter of straightforward hand sewing. Set aside time so you can enjoy the process of cultivating this garden.
Tools and Supplies
You'll find that most of the materials and notions you need are readily available in craft stores or online. Work with a tone-on-tone palette as we did, or experiment with color and value contrasts.
Fabric and sealants
Opt for a textile that resists raveling and is of medium weight and thickness. Thin fabrics are too flimsy; thick ones may overwhelm the embellishment. To prevent fraying at the petals' edges, apply a sealant. I tested many and recommend Fabric Mod Podge (applied in a thin layer with a foam brush), or Mod Podge Ultra spray (both available on Amazon.com).
Beads and paillettes
There are three petal sizes in this design, and I used four crystal sizes to anchor the petals: 3 mm to 6 mm loch rose crystals (like rhinestones with a hole in the center; BeadAndTrim.com). To top the crystals and to lift the petals' outer ends, I used #10 and #11 rocaille beads. Added shine comes from clear paillettes (CCartwright.com).

Needles and thread
The crystal beads have sharp edges, so I used monofilament thread that won't abrade. Choose a fine needle that can pass through the beads.
Cutting tools
There are many manual and computerized die-cutters available. Look for one that has interchangeable dies or that allows you to download the desired petal shapes. I used a manual die-cutting machine, the Sizzix Big Shot Pro (Sizzix.com), with steel rule dies to cut assorted size ovals. Alternatively, cut the petals by hand with sharp scissors.
Stencil and transfer tool
You'll need card stock, tracing paper, pencils, and a FriXion erasable pen for fabric to create and transfer the embroidery design to the fabric.
Visualize the Design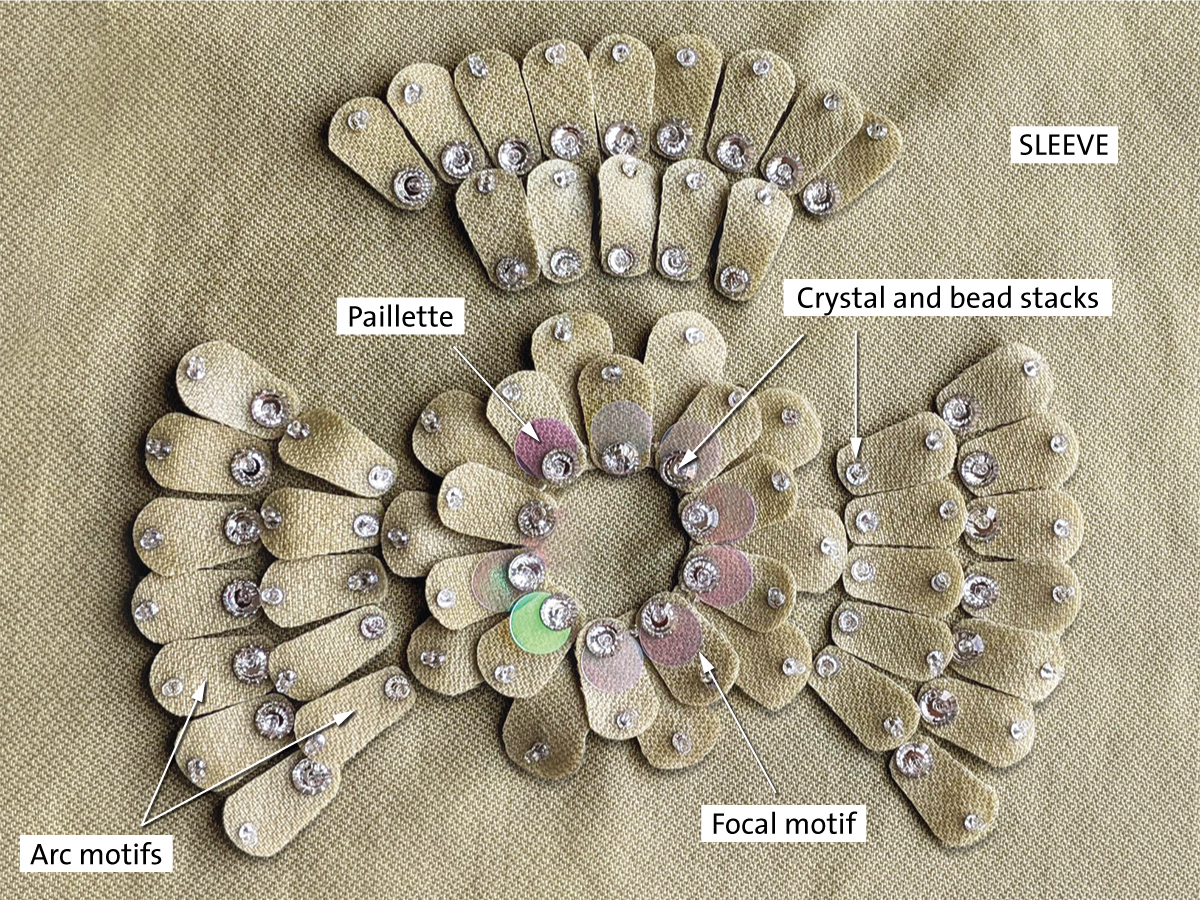 The overall design consists of three motif shapes, visible on the facing page: circular, focal motifs; an arc-shaped secondary motif; and a feather, or chevron, pattern used as a filler. These are arranged into a larger design. Three petal sizes appear throughout the design, layered to enhance the motifs' dimensional effect. The crystals and beads anchor and support the petals.
---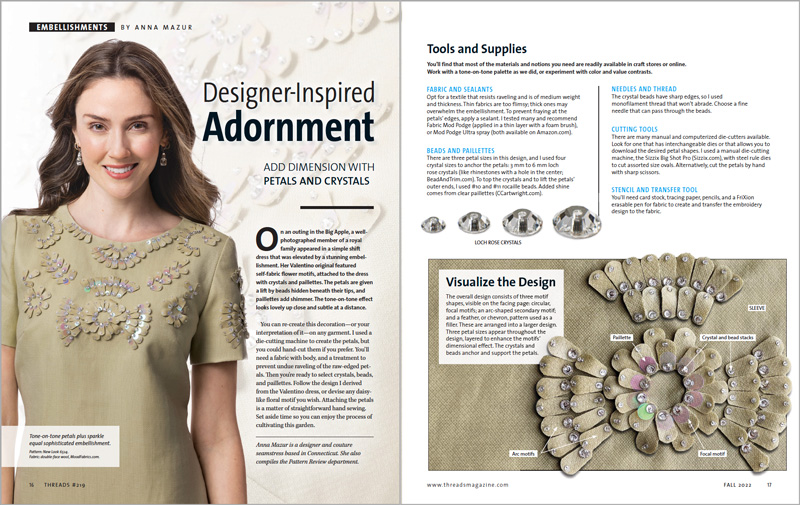 Anna Mazur is a designer and couture seamstress based in Connecticut. She also compiles the Pattern Review department.
Photos, except where noted: Mike Yamin