@marispacifica_foundnmade | Sewing Influencer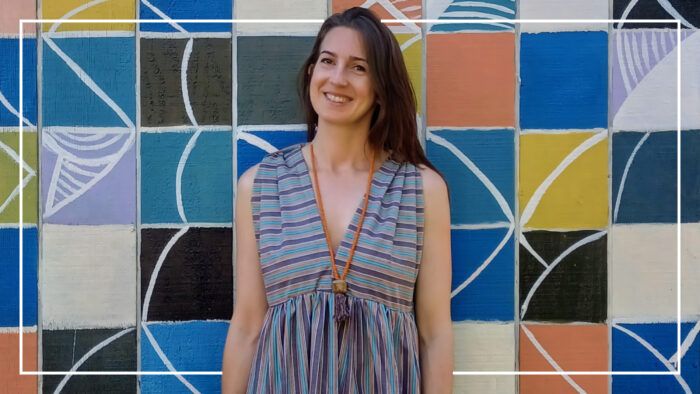 Meet Maris Kaplan, who had me at "Clothes/Crafts/Quilts" and her upcycled makes just about did me in. Sewing and upcycling out of Sacramento, California, Maris shows a warm and wonderful sense of design and style and shares them on her Instagram feed @marispacifica_foundnmade.
---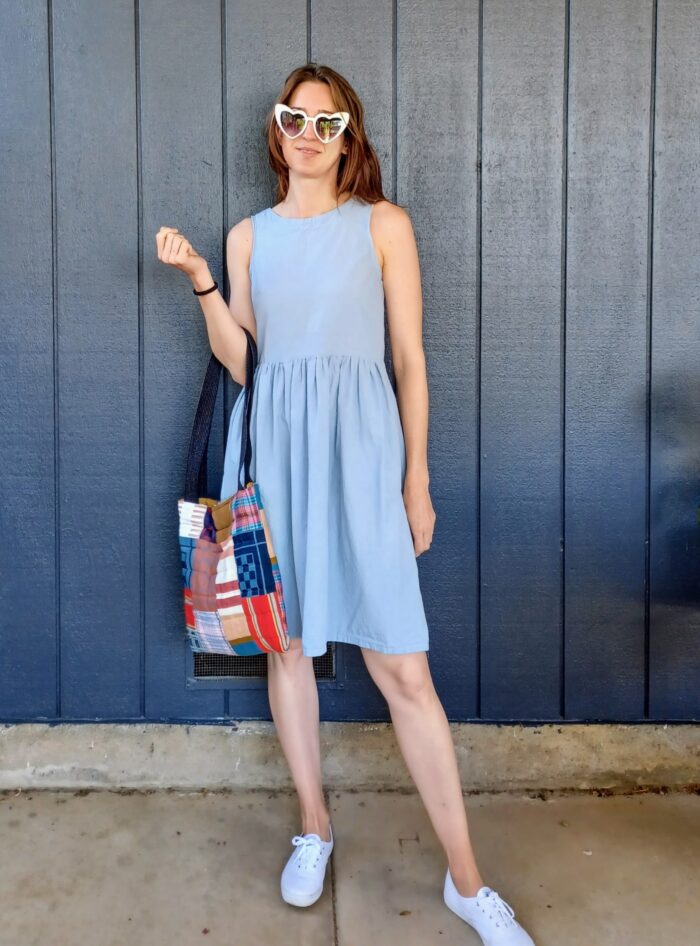 ---
How did you learn to sew?
My journey has been very slow and piecemeal. It mostly started after college when I was living a very scrappy life in Oakland, around 2009. I had friends who had machines and they showed me some basic stuff, and I enjoyed little DIY projects like turning T-shirts into (badly made) pillowcases. Sometime after that, I found a 1960s era Singer at a thrift store and I dabbled some more, making pot holders and place mats, and I got into quilting. At some point, I took an evening class on basic alterations since I wanted to tweak clothing I found at thrift stores. It took a few more years before I signed up for a class to learn how to make clothing from a pattern. Discovering the sewing community and the world of indie pattern designers on Instagram was the real turning point for me, though. Like many others, sewing then became my main pandemic hobby, and it kept me surprisingly connected to others. It probably saved my sanity.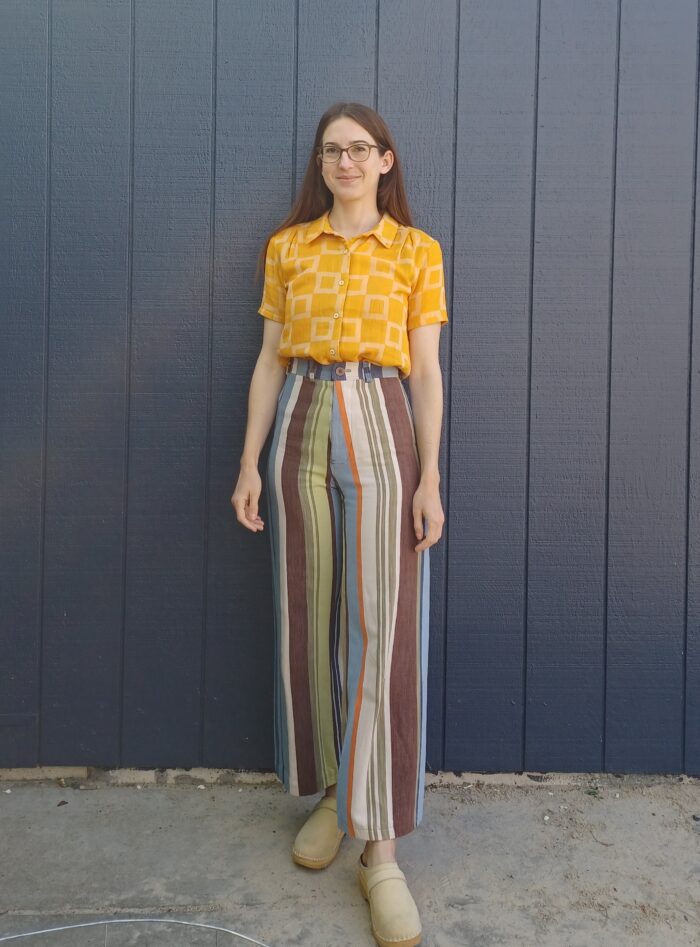 Which sewing word or term is your favorite?
It's hard to choose. Maybe "confident beginner"? Ha! That's not really specific to sewing, but it seems to be the level of difficulty for all my favorite patterns, and it's how I will continue to describe myself as a sewist because I still have a lot to learn. Other terms I really like include "upcycle" or "rework" as well as "dopamine dressing" and "slow fashion." Those terms together kind of hit that sweet spot where self-expression, creativity, and sustainability can all overlap in a really cool way.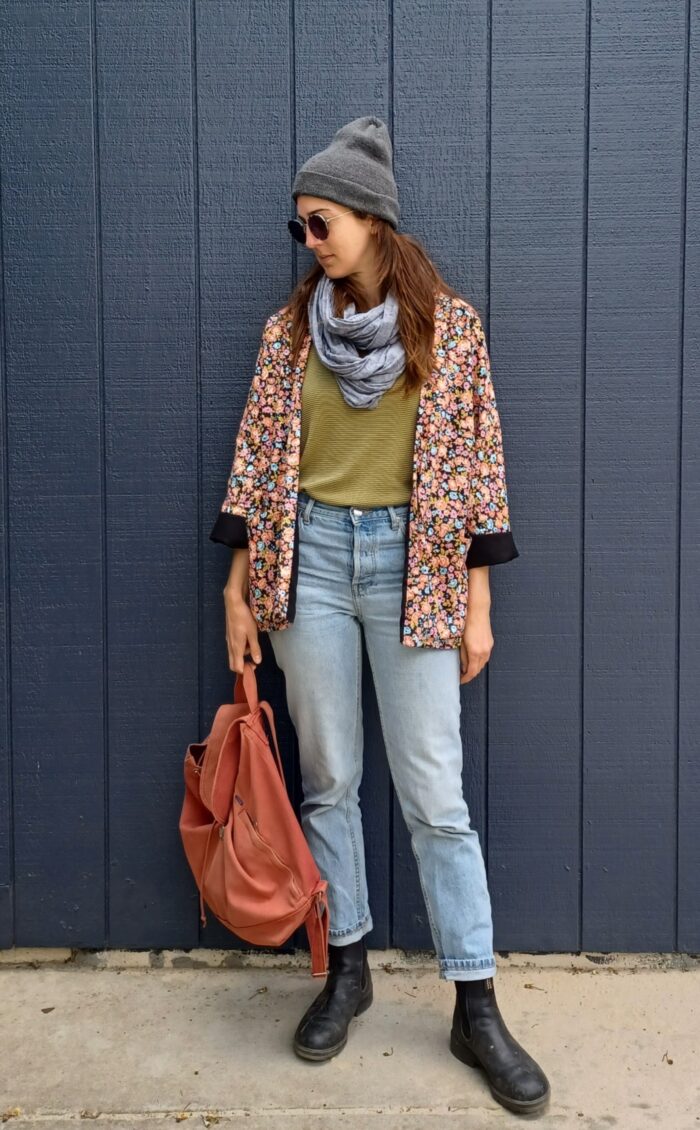 Which fabric do you enjoy sewing the most?
Maybe a little basic, but I have to say cotton. Fabric is a topic I am a not-so-confident beginner with and cotton seems to be the most easily available as well as easy to work with. I use a lot of thrifted bedding to make toiles and quilt backings, and scraps go toward making other smaller items like bags and pillows. Once in a while, I will splurge on new beautiful fabrics, though. A few years ago, a friend and I signed up for Sewtopia's Color Collective which was fantastic; the range of color choices for Kona cotton is just unbelievable and it was a great way to expand my palette as well as learn some new game changing techniques. Definitely worth it.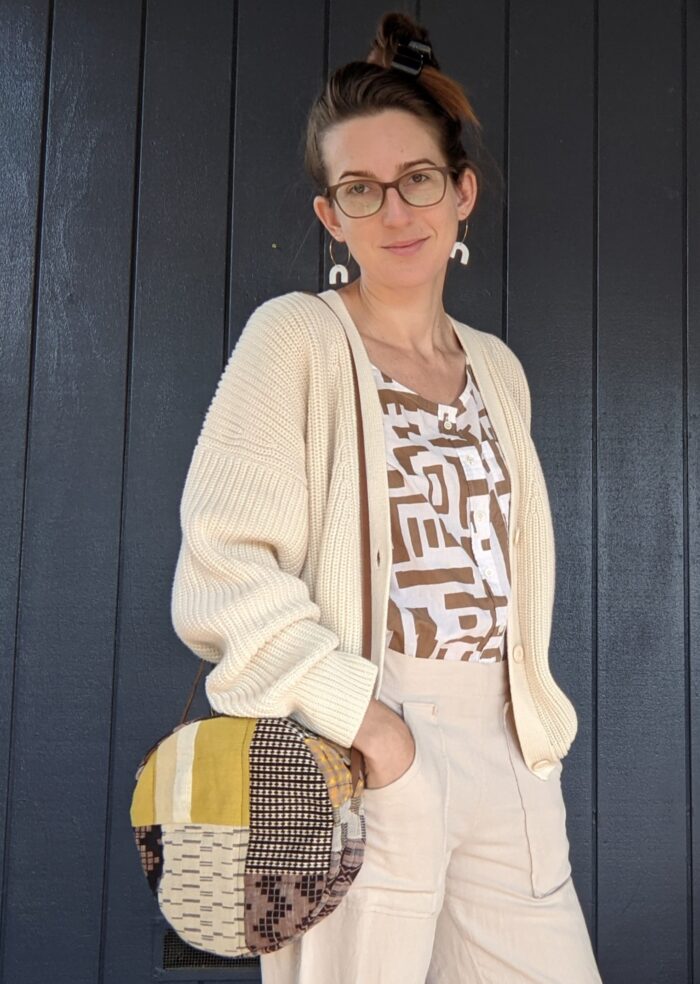 What are you currently sewing?
Right now I'm working on creating a collection of quilted wall pieces for a city-wide open studio event that's taking place here in Sacramento in September. I'm using up a ton of scraps and can't wait to see how it all turns out. Of course, I always have an endless list of clothing items I'd like to make as well. Some of the patterns that have been on deck for a while include the Gilbert Top from Helen's Closet, Burnside Bibs from Sew House Seven, the Elodie Wrap Dress from Closet Core Patterns, and the Marlo Sweater from True Bias.
Please share what you love best about sewing.
Sewing combines several things I love: working with my hands, beautiful colors, soft textures, and solving puzzles. More importantly, I love how accessible and empowering it is. You don't have to have a lot of money or highly specialized materials to get into it. You can make all sorts of things, and if you make clothing you can learn how to tailor to your body's unique needs. And, similar to a canvas that you can paint over, you can take something apart and redo it. The endlessness of possibilities is addicting—it's both a blessing and a curse, really!
---
For more of the most followed and admired sewers on Instagram, check out the Threads  Sewing Influencers collection.