Fabric Lab: Strong and Plush Velveteen
Sew easy-care garments that look and feel luxe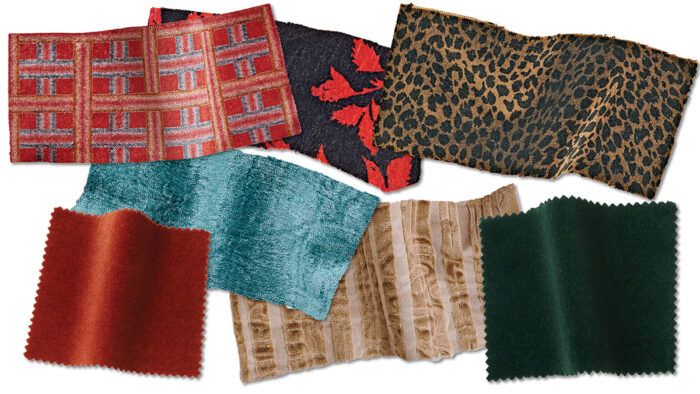 Velveteen is a woven fabric with a short, dense pile on the right side. It has a surface similar to velvet, but velveteen does not have the same sheen and fluid drape. A key difference is how velveteen's pile is created by weaving and then shearing weft loops. In velvet, the pile is created with additional warp yarns, woven between two fabric layers that are cut apart to create two velvet pieces. Because velvet's pile yarns are on the warp, it has more drape when it hangs with its straight grain vertical; velveteen tends to "break" along the cross-grain instead.
It is easy to sew with and maintain velveteen. It is made in cotton, cotton blends, or polyester, and it is a strong material that holds its shape. Velveteen is appropriate for structured garments such as vests, straight skirts, jeans, jackets, and evening coats. It makes adorable and hard-wearing children's clothes. It is also a versatile home décor fabric, suitable for luxurious but practical draperies, pillows, upholstery, and floor cushions. With velveteen, you can create durable, easy-care pieces with a soft surface and appealing depth of color.
Preparation and Cutting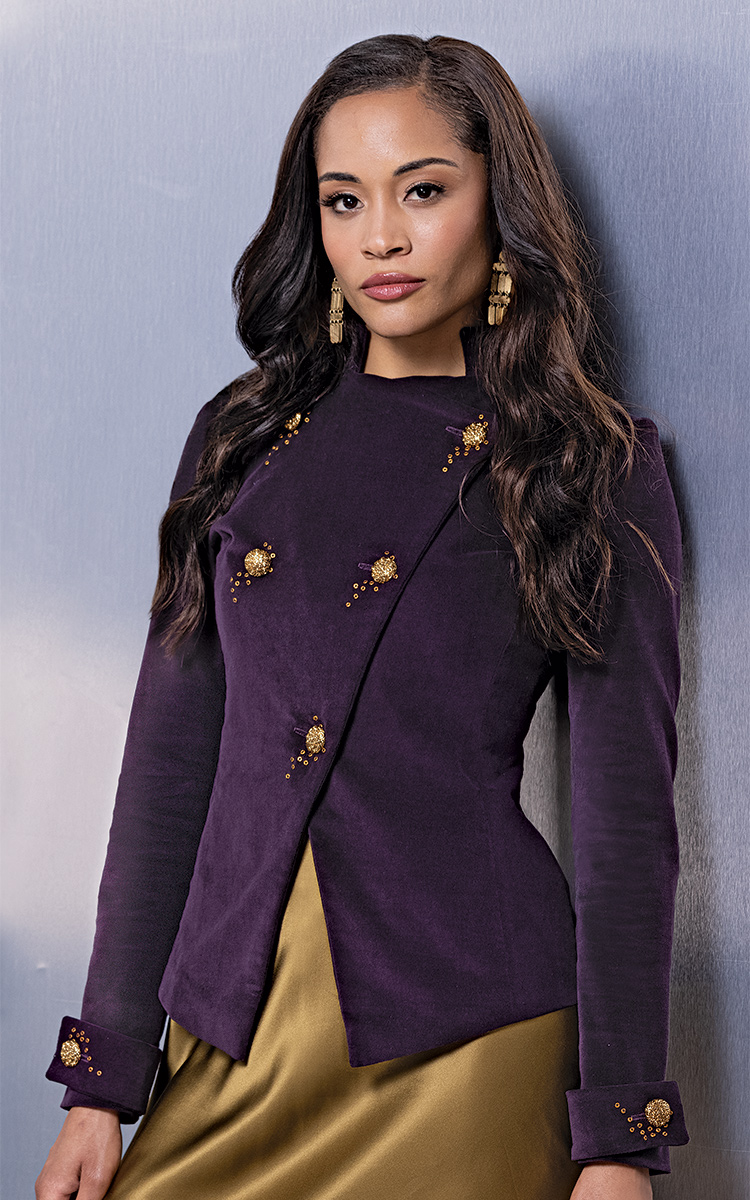 Preshrinking:
If you plan to dry-clean the completed garment, steam the yardage with an iron held 1⁄2 inch above the fabric's surface. If you intend to wash the finished project, fold the yardage with the right sides together, align the cut ends, and stitch to create a ring. Then, machine-wash the fabric on the delicate cycle, and machine-dry it at low or medium temperature. For home décor projects, no preshrinking is necessary.
Layout:
Follow a with-nap layout, double thickness. Place the fabric with the wrong sides together for accuracy while cutting. Velveteen wears better if the pieces are cut with the nap going down. Alternatively, to make colors appear richer, cut pieces with the nap running up. Plan to cut facings from smooth cotton to reduce bulk.
Cutting:
A rotary cutter or scissors work well. Keep a lint roller handy to pick up lint from the cut pile.
Pressing:
Use a steam iron on the cotton setting. To preserve the velveteen's nap, cover the pressing surface with a fluffy towel, self-fabric, or work on a Velvaboard or needle board. Press lightly, with the point of the iron in the seam allowance, and avoid pressing on the right side of the fabric.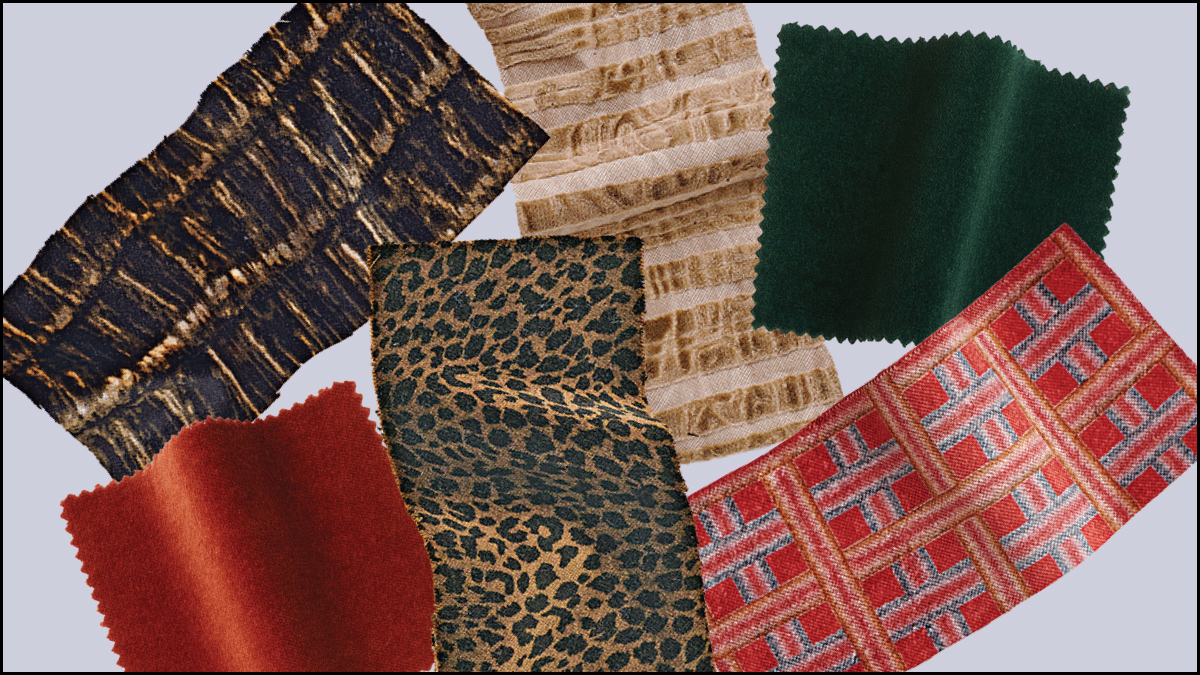 Appropriate Notions
Marking:
Options include the Clover Chaco Liner or a Pilot FriXion erasable ink pen. White pencils are an appropriate option for dark colors. Tailor tacks in contrasting thread make clearly visible references that are easy to remove.
Interfacing:
Velveteen is sturdy, but for added stability, try a lightweight knit option such as Sewers' Dream fusible knit interfacing or Fusi-Knit interfacing.
Thread:
Select a good-quality cotton or polyester thread for strong, durable seams.
Needles:
Choose a universal or ballpoint needle intended for medium- to heavyweight fabrics.
Presser foot:
Install a walking or roller foot on your sewing machine to effectively move the fabric. Loosen the needle thread tension slightly.
Technique Advice

Stitch length:
Sew with a 2.5 mm straight stitch.
Seam finish:
Serge pieces separately to reduce fraying and lint, or use a flat-fell seam.
Topstitching or edgestitching:
Install a topstitching presser foot if you have one, and stitch close to the edges or details.
Closures:
For buttonholes, use a 70/10 denim needle and fine machine-embroidery thread to reduce bulk. Lengthen and widen the buttonhole stitches slightly, and wrap the buttonhole area with a water-soluble stabilizer to prevent the stitches from sinking into the pile. Consider using snaps on sportswear and children's clothes.
Hem:
Finish the raw edge with a Hong Kong finish or with a serger before hemming. Hand-hem adult clothes to avoid a visible stitching line. A topstitched hem is acceptable on children's clothes.
Cleaning and Care Tips
Cleaning:
Turn the item inside out. Machine-wash and machine-dry on the delicate cycle. Dry cleaning keeps garments looking new longer.
Restore the pile:
Fluff flattened pile by tumble-drying the garment with a damp towel of a similar color for 10 minutes. Remove the velveteen garment immediately and hang it up.
Avoid lint transfer:
Add a towel to the dryer to catch velveteen lint. Machine-dry dark velveteen with a dark towel and light velveteen with a light-colored towel.
Prevent hanger damage:
Place hanging loops inside the waistband of velveteen pants or skirts, to avoid crushing the pile with the pinchers on a hanger.
---
Adapted from All New Fabric Savvy (The Taunton Press, 2017) by Sandra Betzina.