Teacher David Blaeser Shares His Excitement for Making
This creative teacher shares his passion for making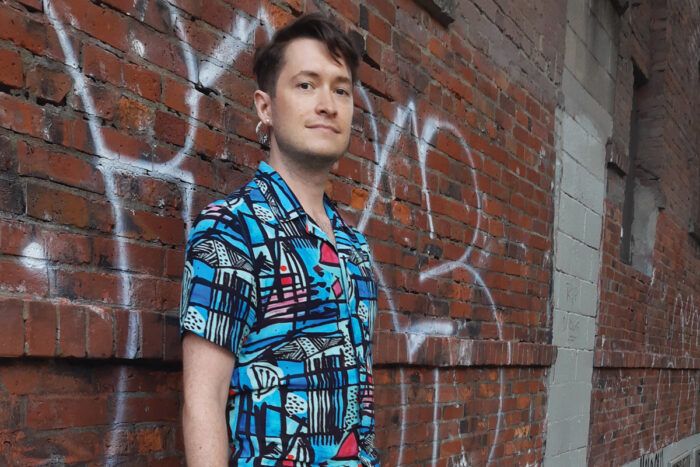 High school home economics teacher David Blaeser says "Success in my class is not based on perfect seams." Being open to making mistakes is a mindset he thinks is good for everyone to consider. An accomplished sewer with a social media following, David frequently posts about inspiring projects on his Instagram (IG) account, @moonprismmagic. He encourages all in his sphere to make and remake projects and learn during the journey. He puts a priority on it in his own life.
Largely self-taught, David began sewing in his teens. His first project was the lower half of a faun costume he wore to a Halloween dance party. Now 35, he's stretching his skills. "I finished a couple of new shirts this summer that I'm happy with," he says. "I've also been doing a lot of embroidery lately. I'm interested in exploring embroidery and textile collage."
David was raised on Vancouver Island, British Columbia, in a beach town called Parksville. "The area has a largely retired population and long sandy beaches," he says. "I moved to Vancouver, on the mainland, to complete my teaching degree in 2012, and apart from a few years moving for jobs, I've been here since." He met his husband at a grocery store 10 years ago, and they share their home with their "matching" black-and-white dog and cat. 
Sewing can take a back seat to knitting in the cooler months, David says. He follows advice from his grandmother, an avid knitter, who stressed the importance of working "on projects you're excited about." Whether that means a simple or a difficult design, knitting or sewing, her advice resonates in David's classroom and the digital content he shares, one project at a time.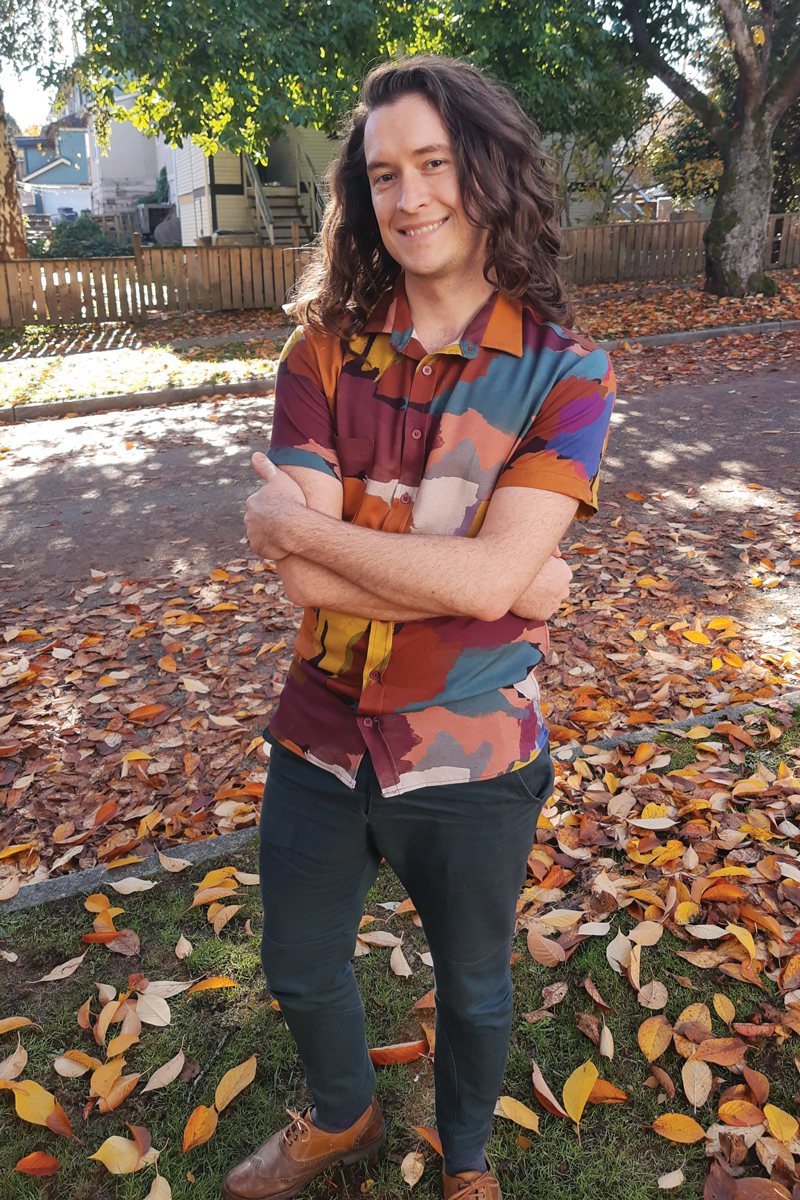 Threads: You've gained a following on social media. Would you tell us why you share your projects?
David Blaeser: I don't really have a goal. I like documenting my projects and participating in the community of other makers. I get a great deal of inspiration from what I see others working on—especially from male and nonbinary folx.
TH: What inspired your IG handle moonprismmagic?
DB: It's a Sailor Moon [Japanese manga series] reference. When she transforms into Sailor Moon, she says "Moon Prism Power, Make Up!", but when I joined IG, @moonprismpower was taken, I think. Sailor Moon was a big inspiration to me, growing up—the style, the Nineties girl power, the LGBTQ+ representation, and generally, its embracing of gender nonconformity.
TH: How does it feel to help students realize their projects?
DB: It's a great joy. I love seeing what they come up with and witnessing their growth as makers. I try to instill in them an appreciation for the process as much as the product. In my practice, I start projects I don't finish, and I finish projects that I don't like or end up wearing, but I learn just as much from those as my successes, so I leave room for that in my class, too.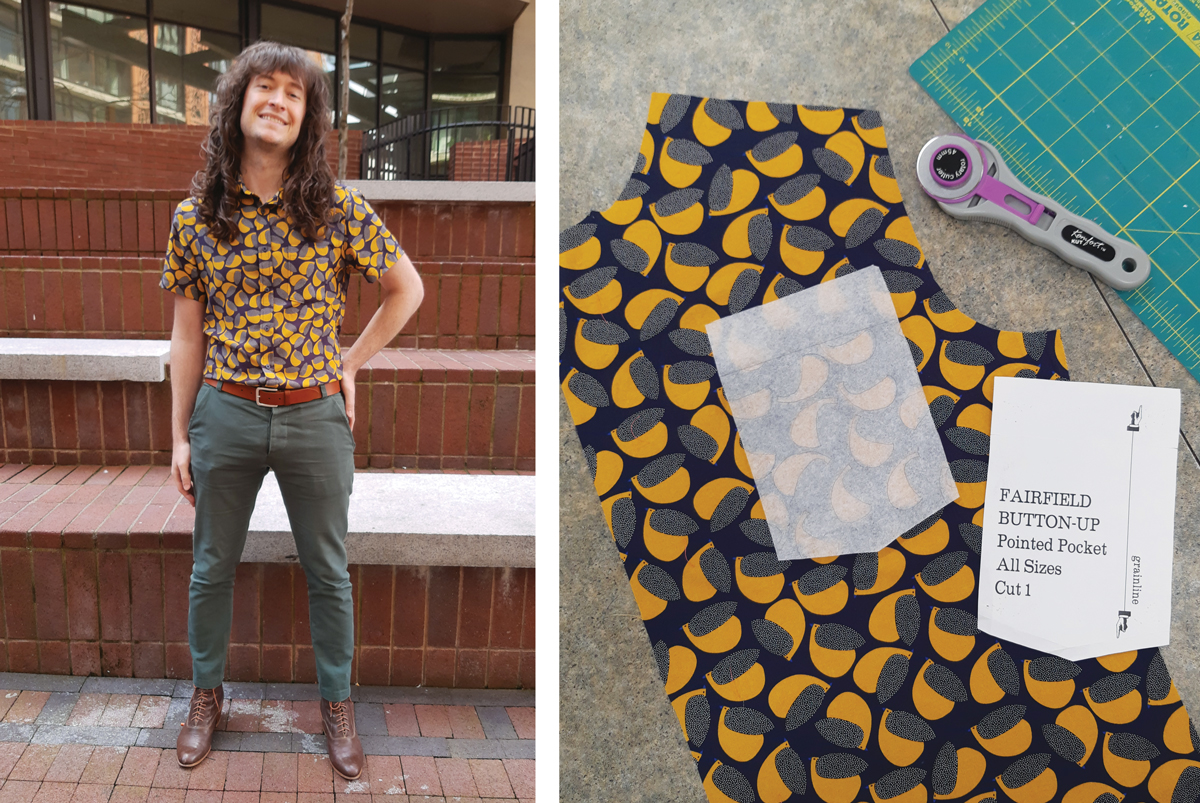 TH: What's been most rewarding to share with students?
DB: Sometimes, the most exciting learning has to do with topics that are adjacent to the skills anyway. My students are learning about the environmental costs of textile production, learning to see the labor that goes into every garment they wear, and learning about their responsibility as consumers. These are powerful lessons, too.
TH: What advice do you have for beginners?
DB: I would advise you to figure out your learning style. Can you learn from videos? There is a lot on YouTube and TikTok, but many people need in-person instruction or a combination of both. Get comfortable with the idea of practicing new techniques on samples, rather than with your expensive dream fabric, because it's unlikely your first try will be perfect. Skills take time to develop and just like learning anything else, you need to practice.
TH: What kind of feedback do you receive from your social media audience? 
DB: The interaction with other makers is the part of social media that keeps me on, I think. We inspire each other and help each other grow. After I share a project, other makers often have questions or critiques for me. I receive questions about patterns or techniques I've used. Once, after sharing a photo of a shirt front, another maker challenged me to work on my pattern-matching, and I've taken it much more seriously since. I often see projects by other makers that inspire me to try new things, and I've lately been filling my feed with embroiderers and textile artists to encourage me to be more experimental.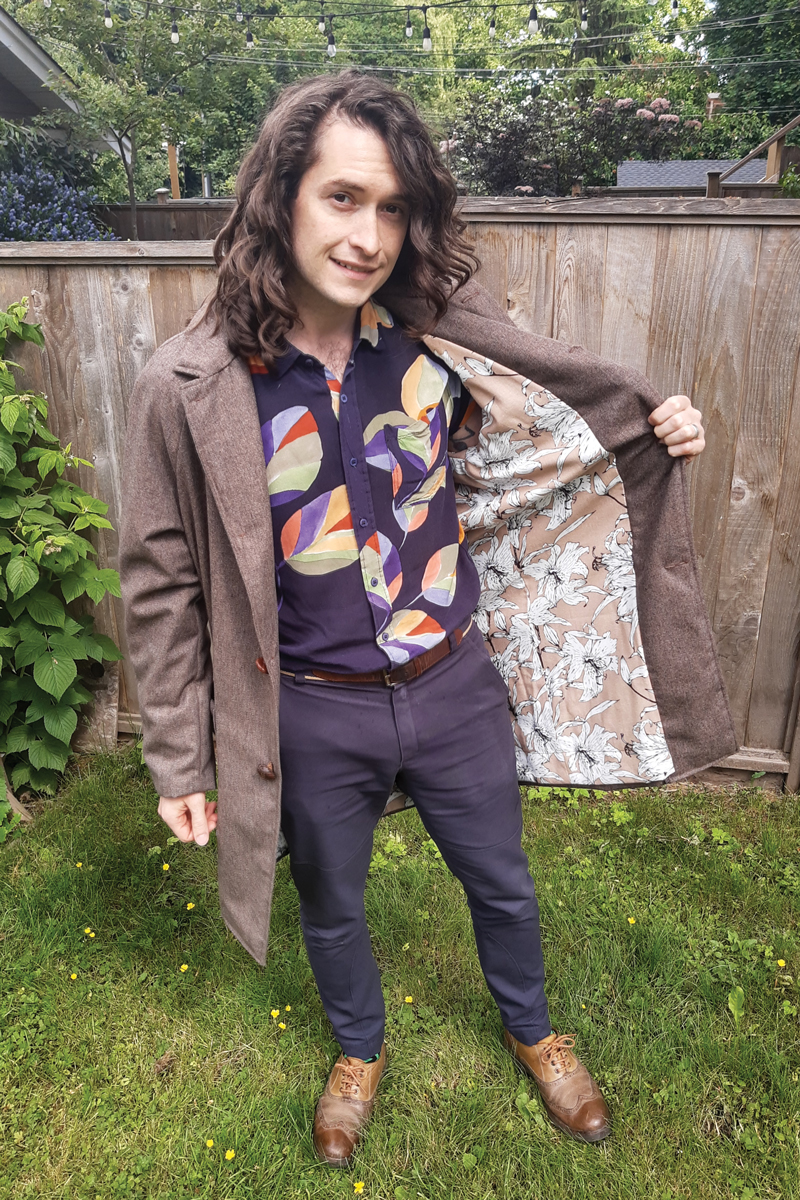 TH: What has been your most challenging project to date?
DB: I think at the time, Thread Theory's Goldstream Peacoat was the most difficult project I'd attempted. It would all be more familiar to me now, but I chose a thick wool and the machine I was using just couldn't handle more than two layers of it, so I ended up hand-sewing more of it than should have been necessary.
TH: What's your favorite sewing technique? 
DB: I love a tiny pin (or baby) hem, even though they're fiddly. 
TH: What is your favorite tool?
DB: As a lefty who's never been able to make left-handed scissors work, I would be lost without my rotary cutter.
---
Sarah Opdahl is a writer and editor based in Connecticut.