Pattern Review: Itch-to-Stitch Sentosa Tank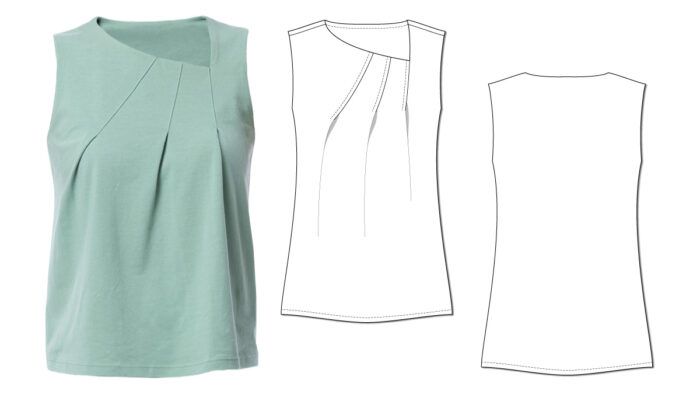 Go-to Pleated Knit Tank Top
Skill Level:
For a beginner sewing with knits. The instructions are detailed, well diagrammed, and include many tips. They cover the options to use a regular sewing machine, a serger, and/or a cover-stitch machine. If using a sewing machine, our tester suggests clipping and grading seam allowances to reduce bulk, as needed and depending on the fabric weight.
Size Range and Fitting:
The pattern includes separate pattern pieces for regular and full busts. Sized 00 to 40 for regular busts 31 inches to 60 inches and full busts 34-1/4 inches to 63 inches. It has a slight negative ease through the upper bust, then falls with a more relaxed fit through the body. The length, reaching the high hip, can be worn tucked or untucked. The design was planned for wearers with a height of 5 feet 6 inches.
Fabrics:
Use a lightweight knit fabric with good recovery and 50 percent horizontal stretch, such as jersey, double-brushed polyester knits, or viscose French terry. To reduce bulk, choose a lightweight coordinating fabric for the facings.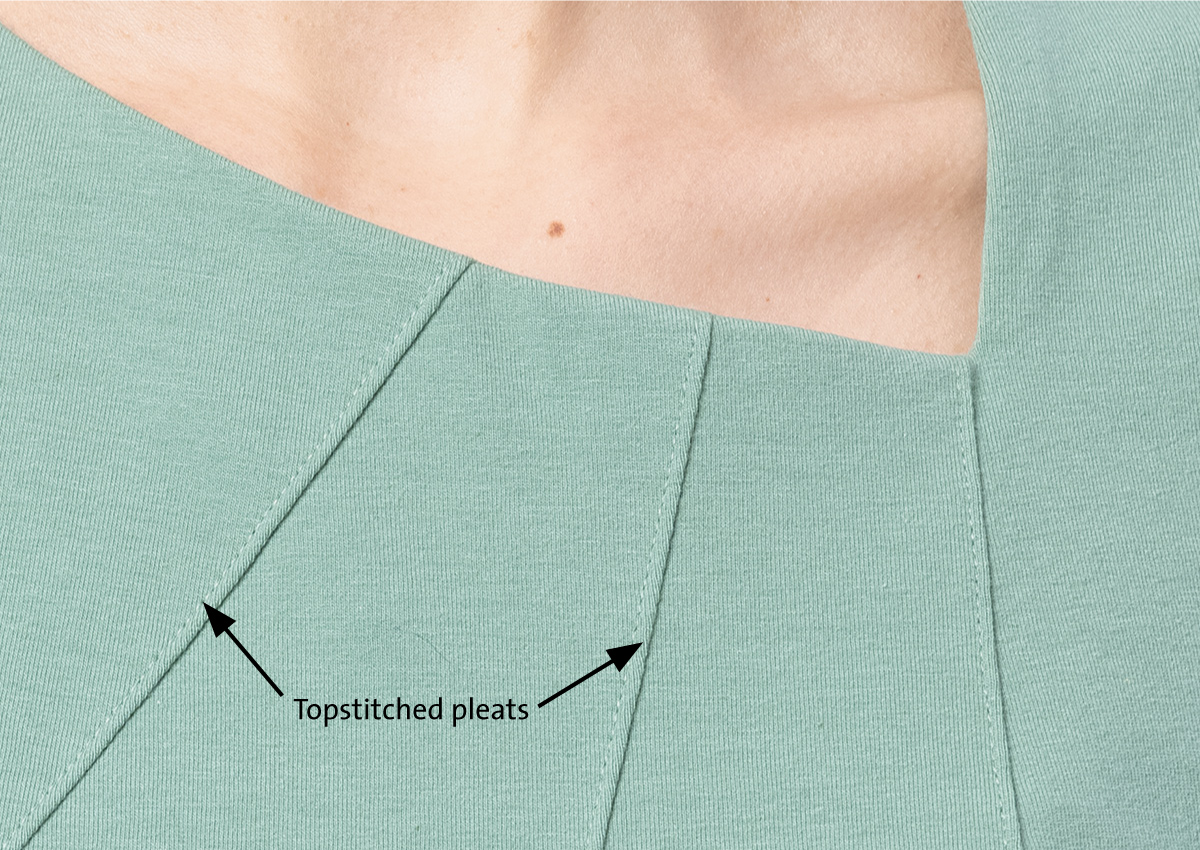 Style and Sewing Details:
This sleeveless knit tank top has an asymmetrical angled neckline. It features three diagonal pleats across the front and an all-in-one-facing. It is bound to become a summer staple with jeans and shorts, or a base layer under jackets or cardigans.
The pattern uses the "burrito" method for attaching the all-in-one facing to the armhole. The instructions make the process clear. For a demonstration of this technique, watch the video "Attach an All-in-one Facing to Sleeveless Garments" at ThreadsMagazine.com.
To determine if you need the regular or full-bust pattern versions, measure your full bust and your overbust circumference. If the difference is 3 inches or less, work with the regular bust pattern in your size. If the difference is greater than 3 inches, use the full-bust version of the pattern in your size.
Our tester found the instructions some of the best she has seen. It is a well-drafted pattern as well, with matching seamlines and no inaccuracies noted.
Make your tank one of a kind with piping inserted into the neckline and armhole seams.
Achieve perfectly topstitched pleats by using an edgestitching foot, along with an offset needle position.
Lengthen the design into a summer dress style.
Create a long-sleeved version by drafting a sleeve pattern and a new neckline facing pattern.
This review was originally published in Threads #221, Spring 2023. Have you made this pattern? If so, be sure to share pictures in our Readers Closet gallery.
Photos: Jack Deutsch. Illustrations: Cassandra Bernier.