@Jack_Sews | Sewing Influencer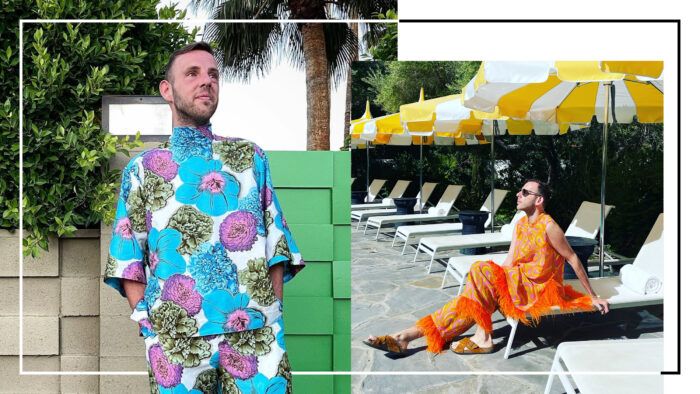 Meet Jack Schmitz, also known as @jack_sews on Instagram. His feed is indeed an evolving and colorful archive of gorgeous makes, often using vintage materials. Jack can also be found on his blog at jacksews.com.
Jack and I have exchanged a few messages now and again, mostly focusing on mutual adoration of caftans. I love his use of vintage textiles and the way he has shifted that use to embrace life in Palm Springs. We hope you enjoy his feed as much as we do.
---
How did  you learn your craft?
My introduction to sewing was a home economics class in middle school— and I didn't really sew again until I went to college. Both my undergraduate and master's degrees are in Costume Design and Technology, so I spent my college years learning patternmaking, drafting, sewing, draping, textile dyeing, millinery, etc. After that, I moved to New York and spent the first few years working as a first hand in a Broadway costume studio, and working at a millinery studio making pieces for Broadway, film, and television.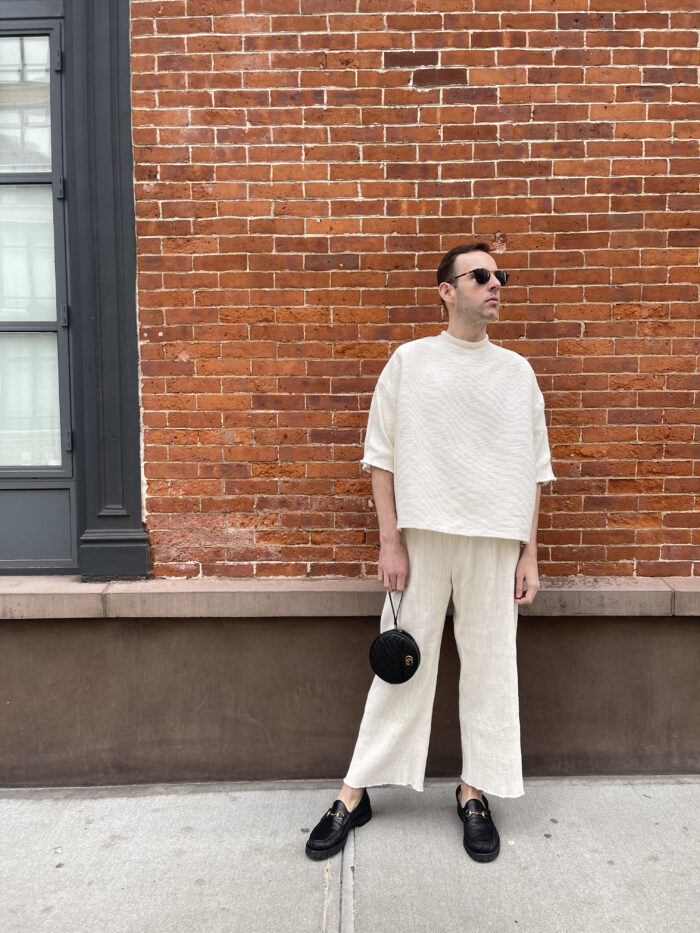 What is your favorite project you've made?
It is incredibly difficult to pick a favorite project— it's like choosing a favorite child! I think if I HAD to pick, it would be a series of matching pieces I made for my wedding. I made a shirt for my husband, and for myself a long-sleeve tunic top, wide-leg pants, and a caftan. The fabric was a gorgeous black Italian cotton eyelet that I embroidered with black raffia, and then between the four garments I applied over 16,000 faceted crystal rhinestones. Photos don't do them justice! The sparkle isn't blinding or obnoxious, I think that they are incredibly elegant and subtle.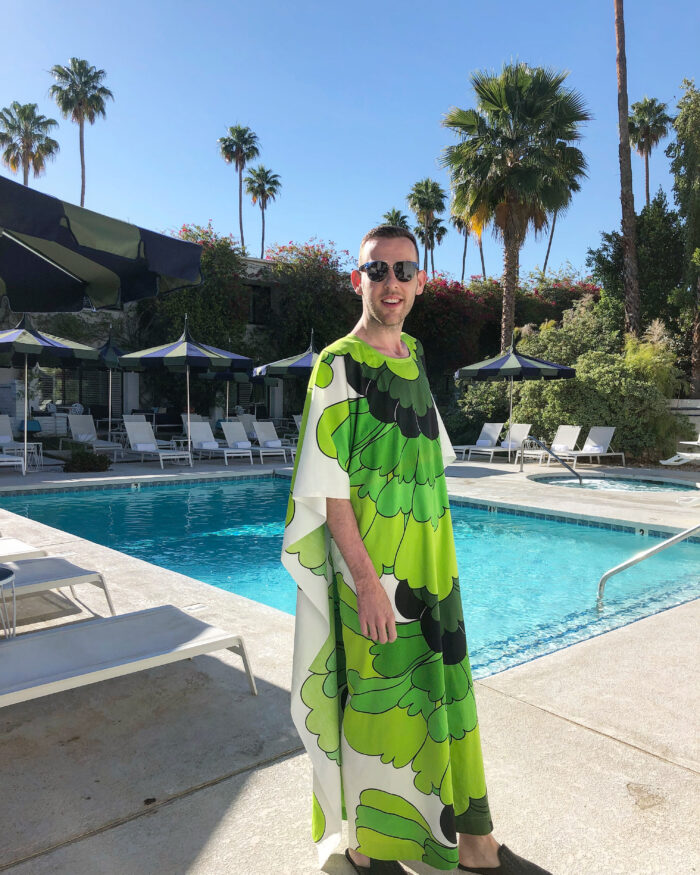 How do you handle mistakes or setbacks when you are working on a project?
Mistakes happen all the time— what project wouldn't be complete without one? All mistakes are an opportunity to learn, and sometimes the lessons are bigger than others. If it's a silly/sloppy mistake, I will sometimes pack up the project until I'm in the right headspace to tackle it again— but I try not to work on things when I'm pressed for time or frustrated. It often just makes things worse. If it is a simple mistake, I will take a break, grab a cup of coffee, or take the dogs for a walk to give myself a quick reset— other times it's best just to totally walk away. If the error is drastic— then I'll pack it up and save the project until I can figure out how to recycle/reuse it for another project. I work predominantly with vintage textiles, so I do my best to proceed with caution, because they aren't things I can run back to the store and buy more of.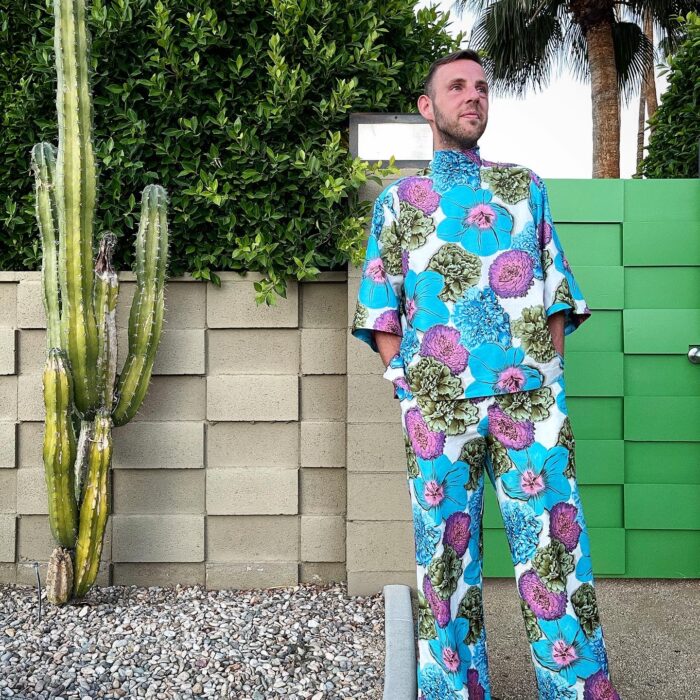 What are you currently making?
I am currently finishing up a caftan, pant, and necklace ensemble that has been in the works for a couple months. The caftan is asymmetrical, and trimmed in ostrich feathers I custom-dyed to match. The pants underneath are made in the same fabric, and the necklace is made from self-fabric covered cording, complete with macramé knots and vintage ceramic macramé beads. I predominantly sew projects for warmer weather, and my to-do list features some shirts out of vintage terry cloth (perfect for poolside), a few caftans, and some short-sleeve shirts for my husband.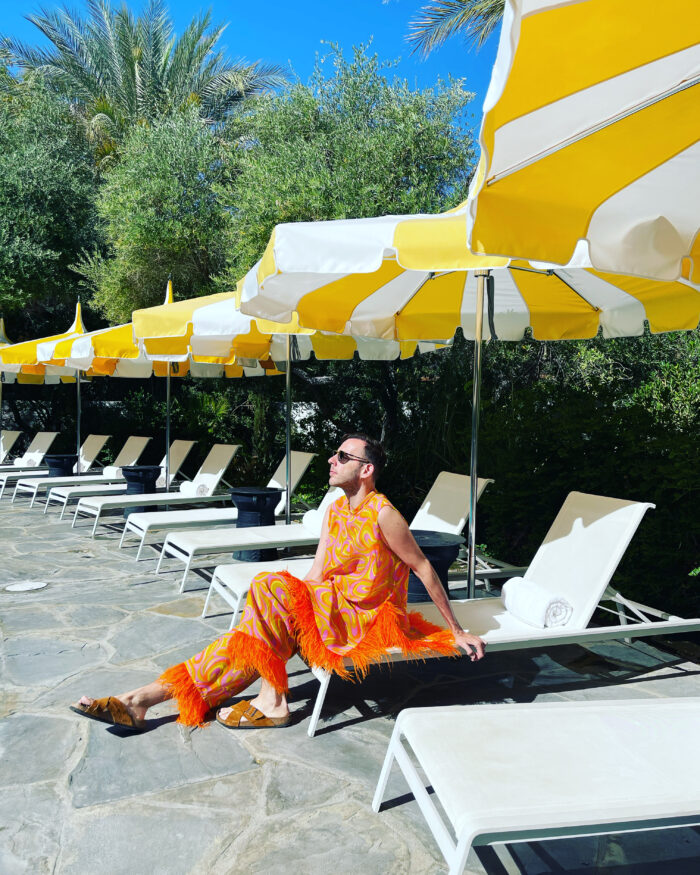 If you could have anything in the world to support your craft, what would it be?
If I could have anything, I would want a permanent dedicated workspace to have all my materials neatly stored, complete with good lighting, and equipment at the right height (I'm 6-foot-3) to prevent strain. That's not a big ask, right? If I couldn't have that, the other thing I would ask for is the resources to reproduce vintage textiles from my collection. That being said, I absolutely loathe most modern digitally printed fabrics—vintage textiles tend to feature much more interesting (in my opinion) colors, patterns, and textures.
---
Photos by Christopher Thompson.
For more of the most followed and admired sewers on Instagram, check out the Threads  Sewing Influencers collection.