Easy-to-Sew Lace
Go ahead౼take on this special occasion fabric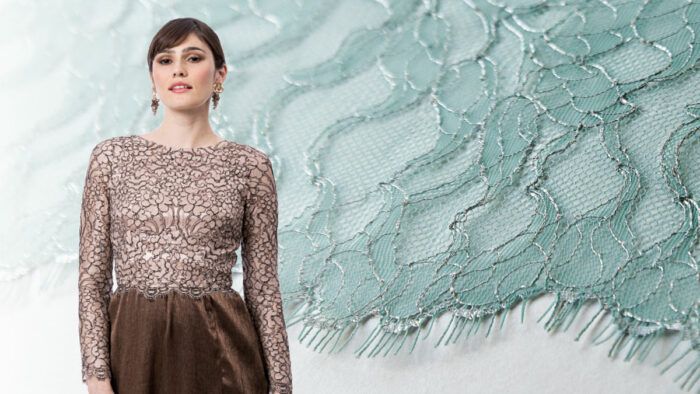 Lace can be worn anytime of day and for any occasion. Make it professional as a blouse under a tailored jacket, casual as a top with your favorite jeans, formal as a wedding gown, or make it an accent on lingerie. 
Lace is an ornamental, open-weave textile available in wool, cotton, rayon, and synthetic fibers, and it can be purchased as fabric or trim. It is an unexpectedly forgiving material. Because lace doesn't ravel, it lends itself to piecing. 
The three most familiar laces are chantilly, alençon, and guipure. Usually the least expensive of the laces, chantilly is lightweight and comes in hundreds of patterns and colors. The lace is formed on a net ground and is sheer. 
Next comes alençon, a re-embroidered chantilly—its motifs are outlined by a stitched-on cord—and can have additional. embellishment such as sequins, beads, or rhinestones. The embellishment adds body to the lace, making it suitable for use with or without an underlining.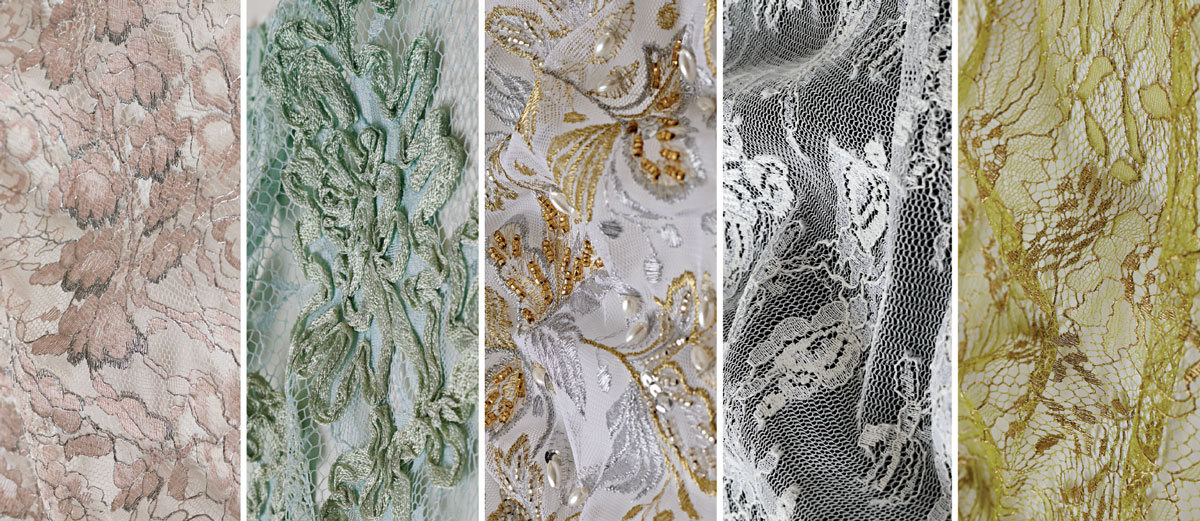 Preparation and Cutting
Preshrinking
Most laces are washable. To preshrink, hand-wash the lace in warm water and air-dry. Even polyester lace can shrink. If you plan to dry-clean a lace garment, steam the wrong side of the lace with a towel underneath to prevent flattening the design. 
Layout
Use a with-nap layout, single thickness. Spread lace on a contrasting cutting surface so you can see motifs. Position pattern pieces so prominent motifs are balanced. Try to place scalloped edges at the neck or hem. If this is not possible, scalloped edges can be cut off and reapplied after the garment is completed. If the lace doesn't have definite motifs that need matching, simply lay it out as for solid fabric.
Pressing
Cover the pressing surface with a towel. Place the lace right side down. Hold a steam iron 1⁄2 inch above the fabric. Steam the lace and pat it flat. Never touch lace with an iron.
Cutting
Cut out along the motif line if you plan to sew lapped seams. Cut along the pattern cutting lines if the lace has an allover pattern that doesn't require matching and you intend to use conventional seams.
Lace Details
Ground
Net forms a backing for the lace's decorative motifs and embellishments. 
Selvage edge
Some lace has the straight, utilitarian edge that we normally think of as a selvage. But lace yardage frequently features a decorative scalloped edge that can be used along hems, around cuffs, and at other edges.
Galloon
This is a lace trim that has the decorative selvage on both edges. It comes in various widths. If you cut down the center, you get mirror images of the border motifs. Galloon doubles the value of your purchased yardage. Some lace is manufactured in "sets." You can buy the lace in a fabric width as well as matching narrower widths and trims.
Appropriate Notions
Marking
Use tailor's tacks or safety pins. Thread-trace actual seamlines and motif outlines in different colors for accurate seam overlap.
Interfacing
Tulle gives body and retains transparency. Skin-toned silk organza, Swiss illusion, or stretch mesh as interfacing looks the most natural. Avoid fusibles.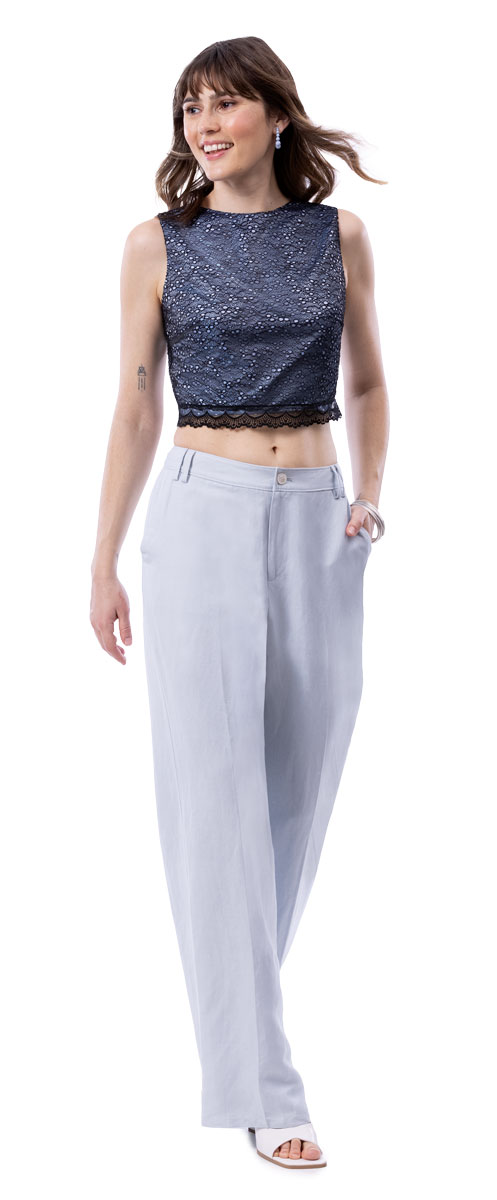 Underlining
A layer of fabric placed beneath the lace yardage supports the lace. The underlining, like interfacing, can be sheer illusion or organza, but can be more opaque, too. Consider silk charmeuse or another lightweight fabric. Because underlining shows through, it adds color and definition. During garment construction, treat the lace and underlining as a single layer. 
Thread
Choose good-quality cotton or polyester.
Needle
Select a 75/11 stretch needle unless the lace is heavily embroidered, in which case a 70/10 Microtex or jeans needle produces a better-looking stitch. 
Presser foot
Pick a presser foot with a flat bottom.
Technique Advice
Select Stitch Length
Make small zigzag stitches, 0.5 mm wide by 1.5 mm long.
Stabilize the lace
Support the shoulders and waistline seams with stay tape or 1⁄4-inch-wide selvage cut from lightweight lining fabric or flesh-toned silk organza.

 

Chantilly and guipure often need an overall underlayer to stabilize them; alençon can be underlined with a nearly invisible sheer; stretch lace should be lined with stretch mesh.

 
Sew Unobtrusive Finishes
To avoid cutting through prominent motifs, superimpose the seamline of one piece onto the seamline of another. Hand-stitch close to the motifs' edges with a fell stitch or zigzag-stitch by machine over the prominent motif on the top piece. Trim the excess lace underneath and on top.
Eliminate facings whenever possible by using the lace edge or binding with bias satin or bridal tulle.
For allover pattern lace like chantilly, sew French seams or four-thread serged seams.
For an unlined garment, you can bind the seam allowances with skin-toned organza, mesh, or lining fabric to keep them unobtrusive.
Hide the Darts
Thread-trace the dart legs, snip the dart open following motif edges, lap one side over the other, aligning the legs, and appliqué the upper layer. Trim the underlayer. You can use this technique for alençon and guipure. Alternatively, catch darts in an underlining by stitching the darts through the lace and underlining. This works well on lightweight lace like chantilly.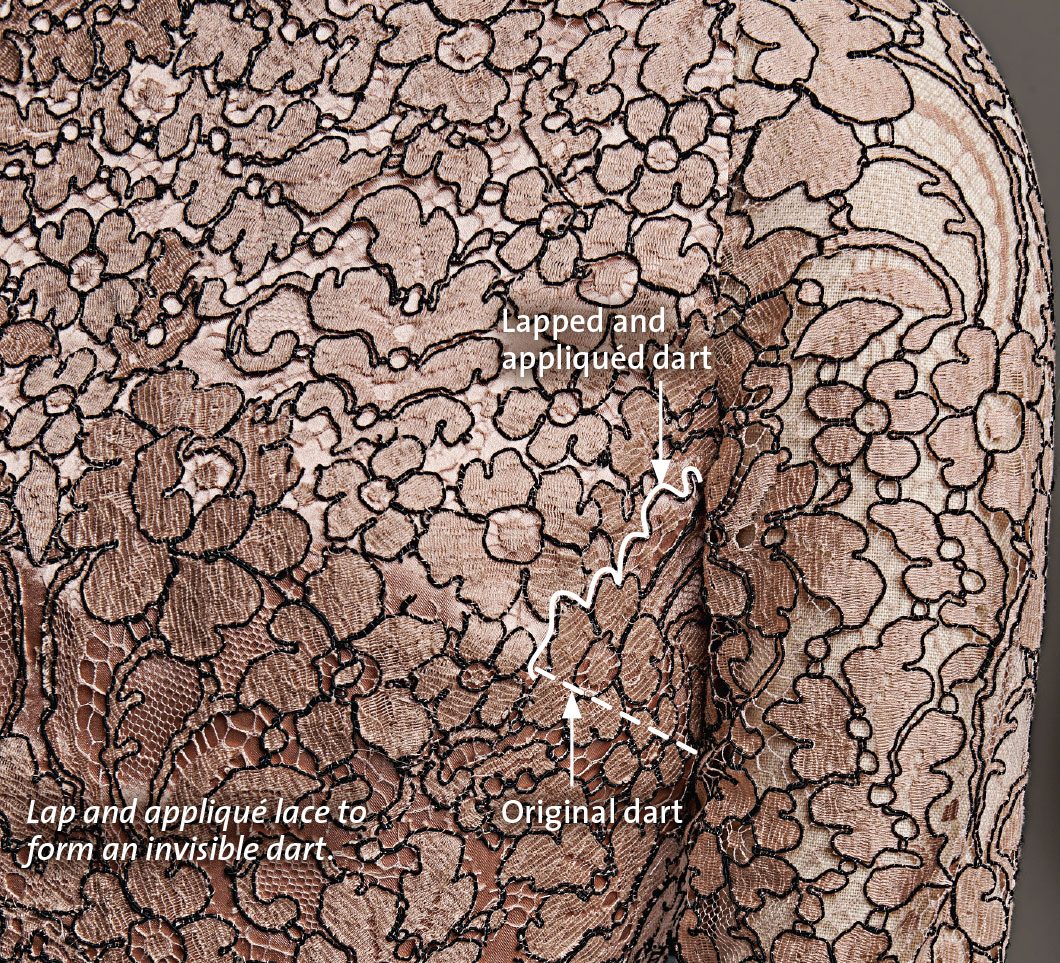 Choose a Closure
Consider closures such as button loops or in-seam buttonholes.
For a concealed zipper, sew a lapped zipper application through the lace and underlining on the underlap side and through the underlining on the overlap side, leaving the lace free along the overlap edge. Start by cutting a large seam allowance on the lace overlap edge to include full motifs. After the zipper is sewn, hand-tack the loose lace layer to the lap, then trim the lace to cover the zipper and extend over the fold.
Add snaps to secure the lace motifs. Use small metal snaps or clear plastic ones to keep them from showing through the lace.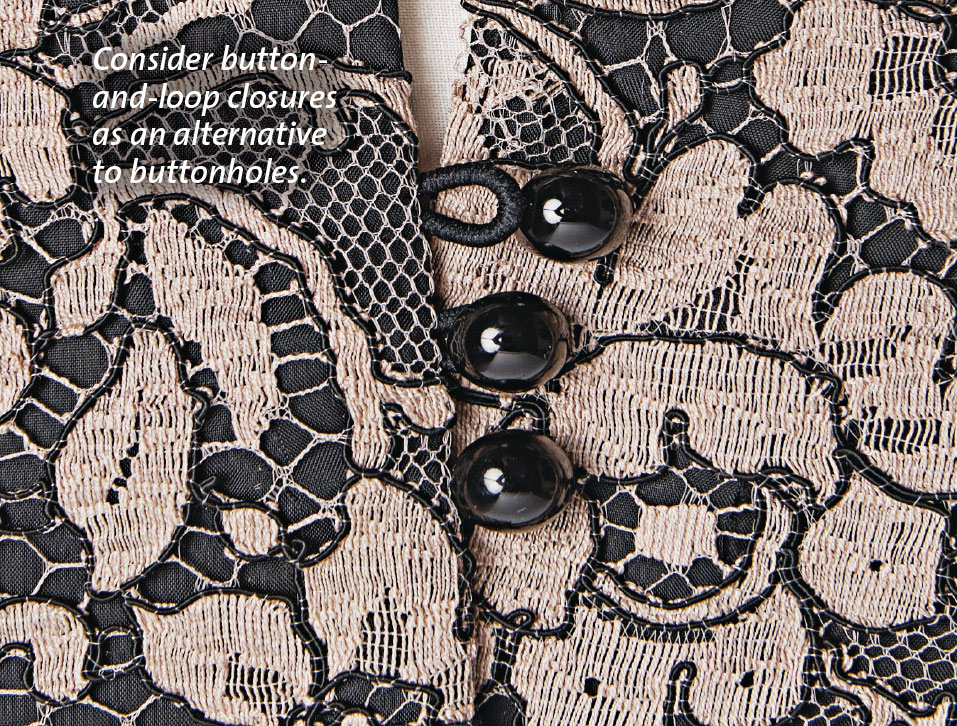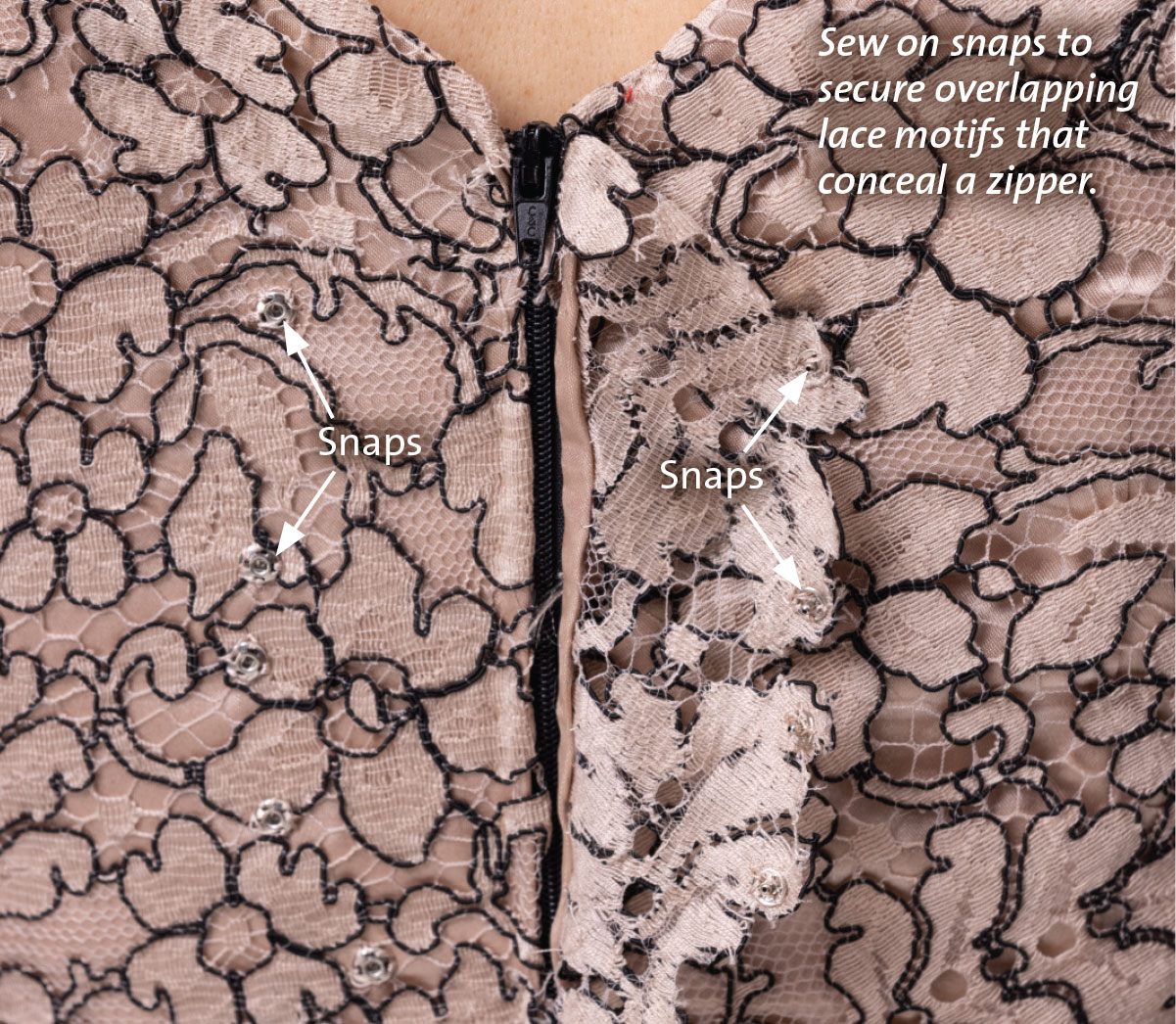 Hem

 
Since lace does not ravel, a decorative cut edge can become a hemline. Cut pieces of lace can be applied as trim by hand or machine; use a satin stitch of 3.5 mm wide by 1.0 mm long with tightened tension. 
Tip
Color-coordinate your lace. Cotton lace can be dyed with coffee, tea, and purchased dyes to get the color you want. Always test-dye on a small piece first, keeping track of the dye bath time.
---
Adapted from All New Fabric Savvy (The Taunton Press, 2017) by Sandra Betzina. and "How to Sew Lace" (SewStylish Spring 2017) by Judith Neukam.