Pattern Roundup: Cargo Pants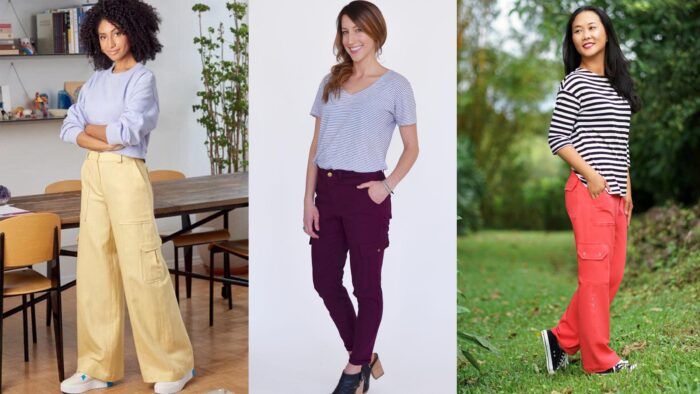 Pants are the item of the season with cargo styles at or near the top of the list. These pants aren't your typical hiking garb. If you whip up a pair in silk twill, and pair them with a crisp white blouse, you've got a new office look. Or, go the travel-ready route with ponte di Roma jogger-style pants loaded with pockets. Complete the look with a classic, Barbour-style quilted jacket.
---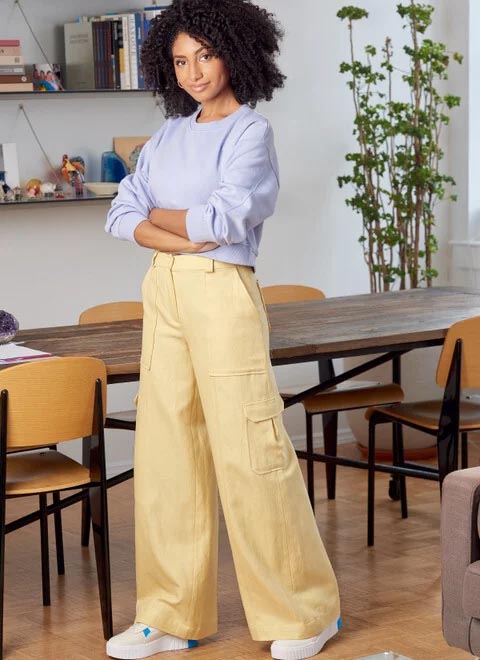 This design is easy to sew and on trend for spring and summer. This pattern for women's pants has three styles: carpenter (with a hem circumference of about 26 inches), cargo (with the hem gathered into a cuff), or wide-legged color-blocked pants. Choose pant-weight woven fabrics such as chino, denim, or twill. It comes in women's sizes 6 to 24 (waist 23 inches to 39 inches, hip 32 1/2 inches to 48 inches).
---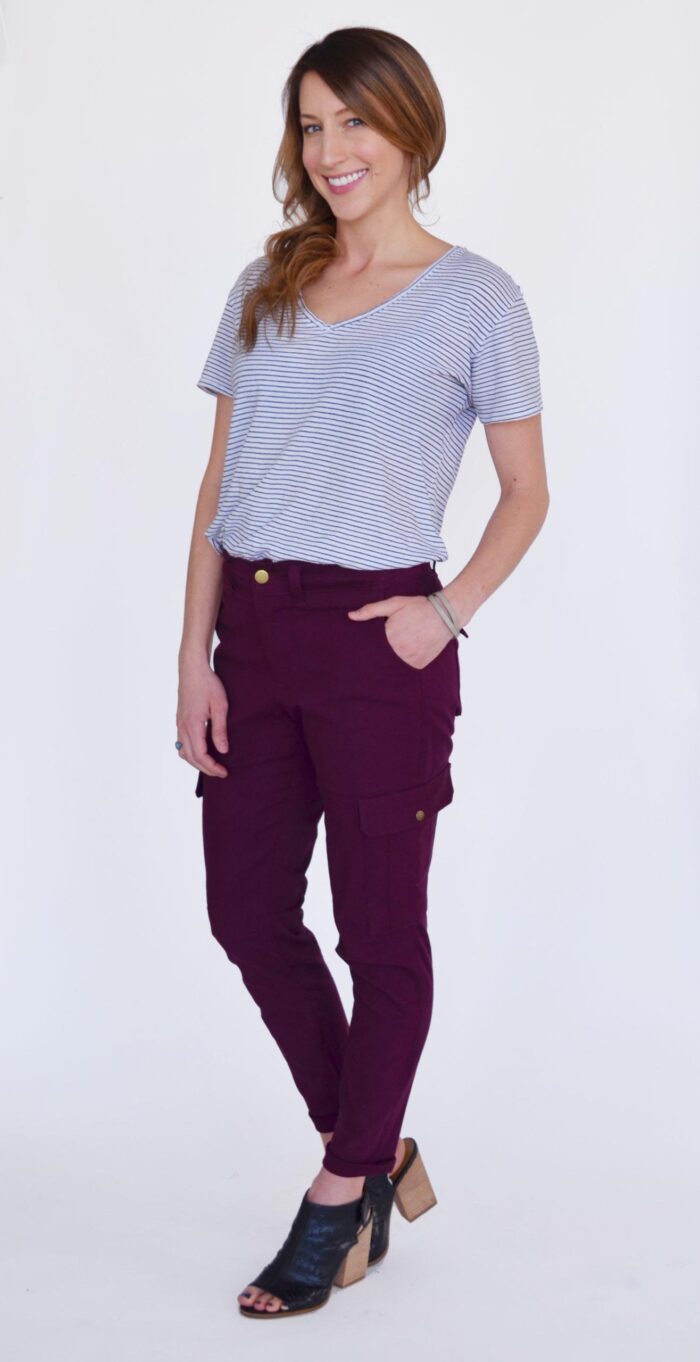 These midrise, slim-fit, ankle-length pants feature pleated cargo pockets  with pocket flaps on the sides, slant-opening hip pockets, back flap pockets, and darts at the knee for extra shaping. They have a fly zipper with a button or snap and belt loops; and are intended for stretch woven fabrics. The pattern is sold in women's sizes 2 to 22 (waist 25 inches to 37 1/2 inches, hip 35 inches to 47 1/2 inches).
---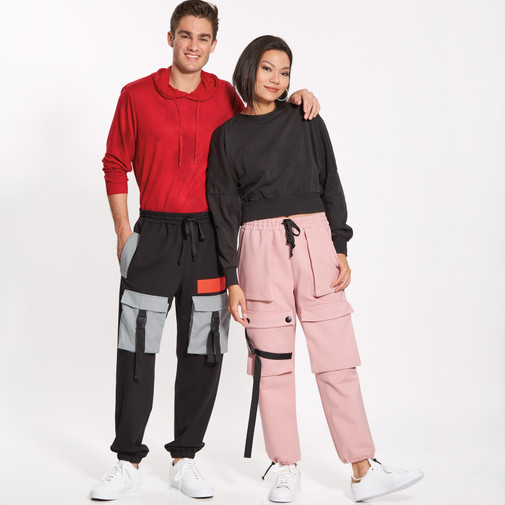 Unisex cargo pants have comfortable drawstring and elastic waistbands, plus many pockets. In addition to bellows pockets on the front thighs, the pants have back patch pockets with flaps, and your choice of side-seam pockets or pleated patch pockets in front. Choose from a drawstring or elasticized hems. Flat webbing straps with clips serve as pocket closures. This design is suitable for wovens or stable knits. This pattern is available in unisex sizes XS to XL (waist 31 inches to 53 inches).
---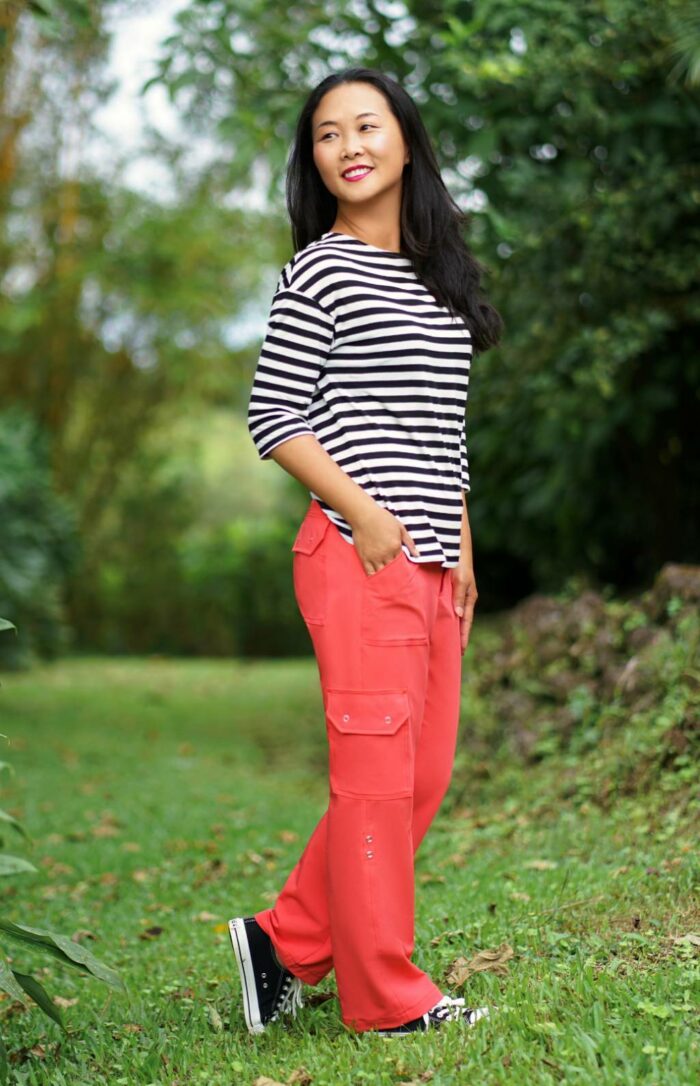 This pattern features an elasticized waistband and loads of pockets. A functional and casual design, it includes a fly zipper with snap closure, relaxed- and straight-leg silhouettes, medium rise, and an option for shorts. If you like to roll up your long pants, these include straps to hold up the legs. The pattern is for woven fabrics only and is sold in women's sizes 00 to 20 (waist 25 3/8 inches to 40 1/2 inches, hip 33 1/8 inches to 48 1/4 inches).
---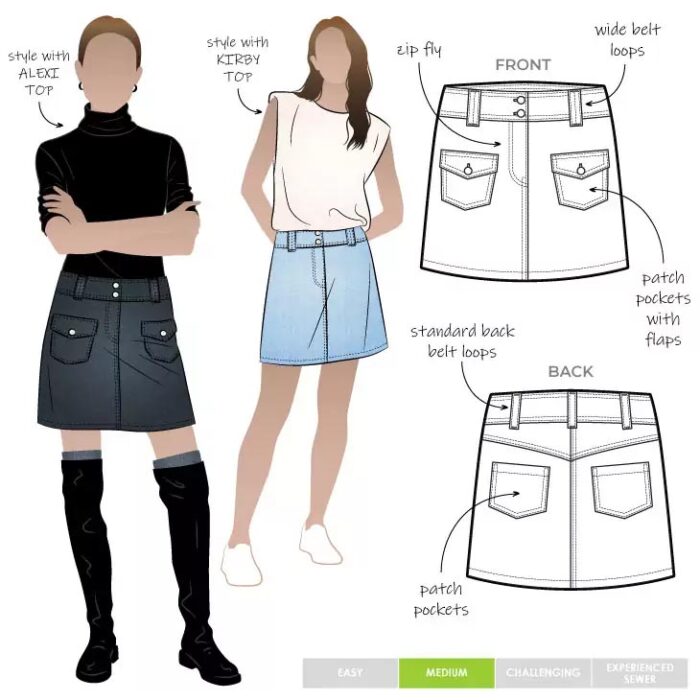 How about this adorable twist on cargo pants? Try this mini hipster skirt with patch pockets on the back and front. Style Arc's pattern instructions tend to be terse; find professional advice on jeans construction in our project guide. This design is sold in women's sizes 4 to 30 (waist 23 1/2 inches to 40 1/2 inches, hip 50 1/2 inches to 61 inches).
---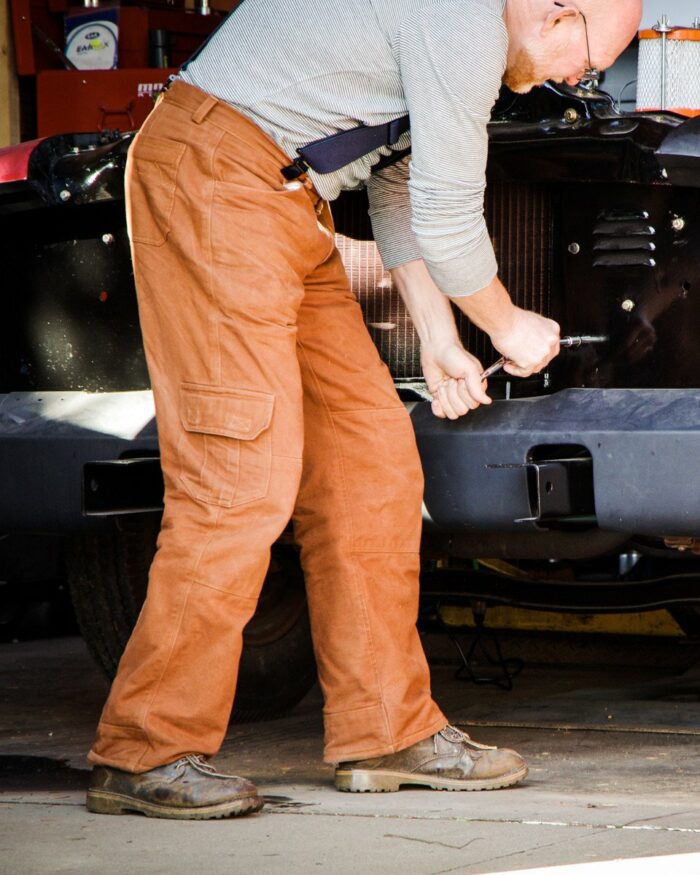 These relaxed-fit, straight-leg trousers are designed for maximum functionality. The pattern is the perfect base to create styles ranging from denim jeans to another essential—water-resistant hiking pants. Variations and options include single-welt or patch pockets, curved front pockets, optional cargo pockets, and optional reinforcement patches to add durability to knees and hems. Add an optional lining for warmth or as a protective layer. For expert advice on making welt pockets, read Duane MacLeod's detailed instructions. The pattern is sized for 32-inch to 45-inch waists.
---
If you've made any of these, we'd love to see your work. Please consider submitting a Gallery post or or tag us on Instagram with #memadethreads.