Joyful Dressing: AI, Spoonflower, and the Prints of Joy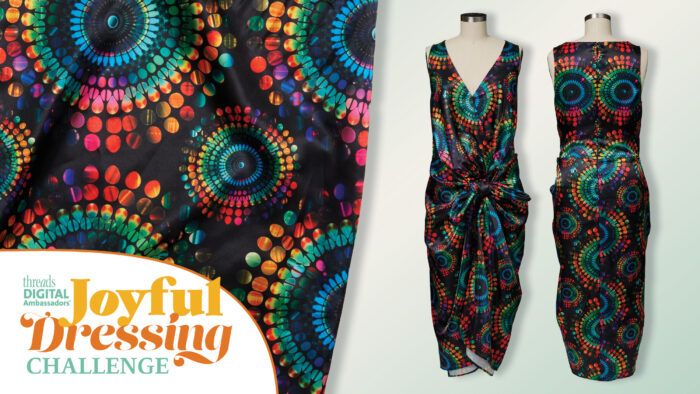 Years ago, I taught myself how to dye fabric. I got good at duplicating colors and creating interesting patterns and repetitions on the surface of the fabric just through manipulating folds or dye baths. However, as I created fabric, I realized I was lacking a level of graphic design that always attracted me to commercially printed fabric. For years, I've drawn and doodled little motifs and designs that I wanted to have printed on fabric. When the technology to have your own fabric came about, it was  expensive, and I remember thinking, "I can't afford that and there's probably something close enough to this that already exists in a store."
One fabric printing service and how it works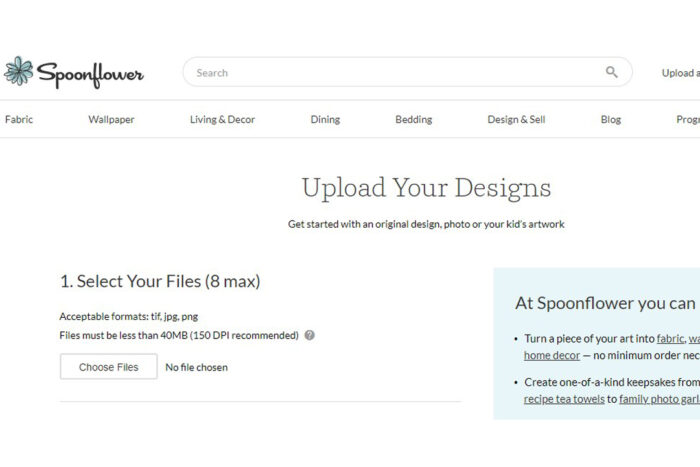 Fast-forward to today, and I have fallen down the printed fabric rabbit hole—specifically, the Spoonflower rabbit hole. Spoonflower is a fabric printing service anyone can use. You can design your own prints and have them produced on a variety of textiles.
Sublimation printing
For synthetic fabrics, Spoonflower uses a process called sublimation printing. This is a heating transfer technique that changes the design from a printed ink into a gas, briefly, and the gas is injected into the fiber making it a permanent bond. Sublimation printing can only be done on synthetic fibers because the chemistry behind the fiber allows for the adhesion.
Inkjet printing
For natural fibers, Spoonflower uses an inkjet printing process that prints the image directly on the fabric. The inks permanently bond with the textile to produce bright, vivid designs on the surface.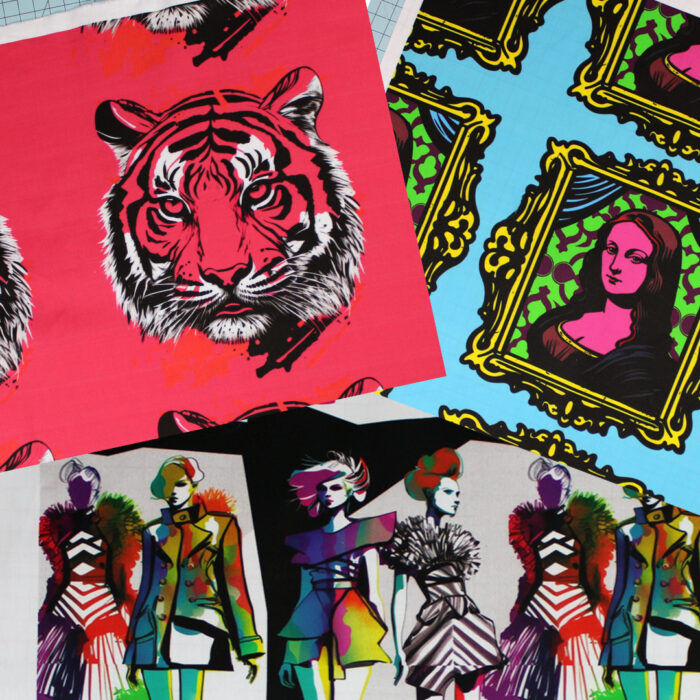 Applying AI
As with most ideas, an evolution occurs. My recent explorations into artificial intelligence grew and I realized I could work with AI-generated images to produce fabric designs. I asked Midjourney, an AI aggregator, to produce a series of images based on prompts I had in the back of my mind, one of which was the fabric I used in my challenge piece.
I fed some prompts into Midjourney and harnessed the generated images to design a repeatable print I could have executed on different fabrics. There are several ways you can go about creating your AI-generated images to be printed on fabric. The first is to generate an image then use Photoshop, an image editing program, to further change it into what you want. The second is to utilize the built-in "tile" feature Midjourney has recently implemented. This takes all the guesswork out of having to design a repeatable fabric image. Keep in mind that you're still going to have to run this through some kind of graphic design program, like Photoshop, to get the refined design you want.
The Spoonflower process and fabric design options
Once you're happy with your design, you can upload it to Spoonflower. I suggest you have an understanding of how Photoshop works, because it's easy to miss something in your repeatable design. Since the fabric is costly, it's better to make sure your design is perfect before you upload it to the site.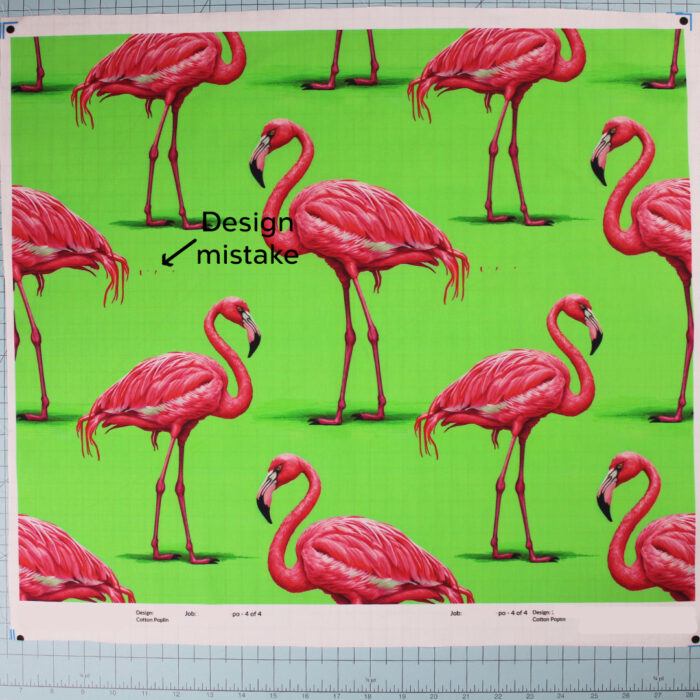 I missed a small repeated element on my flamingo print, and when I printed my test swatch I got the flaw printed on there. Understand that is my fault, not Spoonflower's fault.
Image size
Spoonflower recommends you upload at 150 dots per inch, or DPI, at your desired size. I upload all images at 300 DPI and let them reduce the resolution on their end, as they need to. This is something you don't have to worry about because their system automatically converts it. My mentality behind this is, put it in at a higher DPI and let the reduction happen on their end. They recommend 150 DPI because they've discovered that DPI prints better on the surface of the fabrics. To date, I have not had any issues with pixelation or blurriness on any of the designs I've received from Spoonflower.
Motif size
As far as size is concerned, you can make your centralized motif or repeatable tile as big or small as you want. You must consider the width of the fabric in relation to how large you want your motif to be. I typically make my motifs around 9 inches wide at full size. On Spoonflower, there is an option to reduce, or shrink, the pattern depending on how many repeats and motifs you want on the fabric.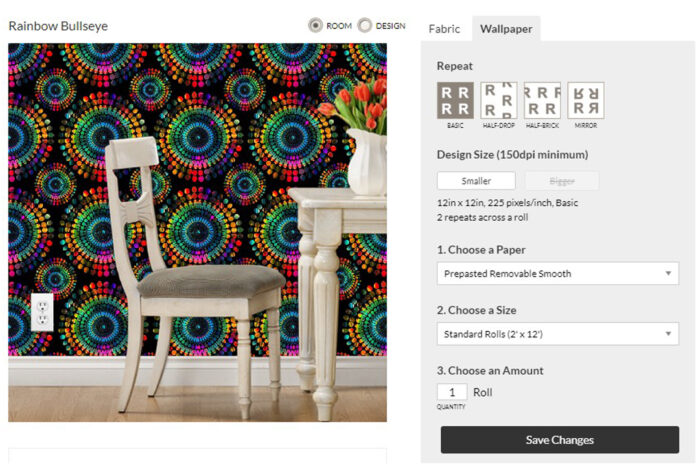 Once you've uploaded your image, you can do several things. I like to switch over to the wallpaper option view. Yes, Spoonflower also prints wallpaper. I check to see how big the motif will be in relation to the chair depicted in front of the wall onscreen. This gives me a better idea of the scale of my print. You can also have your fabric printed on a variety of premade items, including pillows and tablecloths.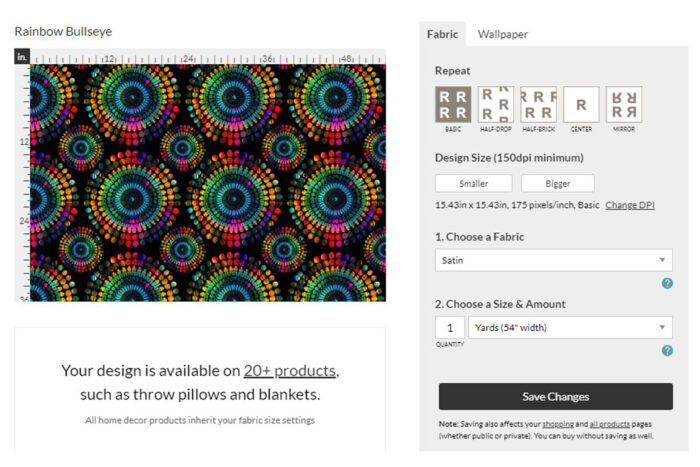 Once you're satisfied with a print, you need to print a test swatch or buy yardage. If you want to sell your prints on Spoonflower, you must make an initial purchase. The minimum sample size is an 8-inch square. I tend to get the fat quarter swatch—about 18 inches by 22 inches—because I like to see how the repeat happens. On my flawed flamingo print, had I ordered the 8-inch square, I would never have seen the mistake I made in Photoshop.
Spoonflower's turnaround for me is usually about a week. They post runtimes, depending on how busy they are, but an order has never taken more than a week and a half to get to me, even when I printed the 4 yards I needed for the challenge garment sample. To find out how I designed the garment for the challenge using AI, see my first installment,  "Joyful Dressing: Ode to Joy with an Assist from Artificial Intelligence."
Note of caution about Spoonflower color
Now, I have a warning: What you see isn't always what you get. Due to certain monitor settings, when you choose a color in your design, it might not come out exactly as you want when it is printed on the fabric.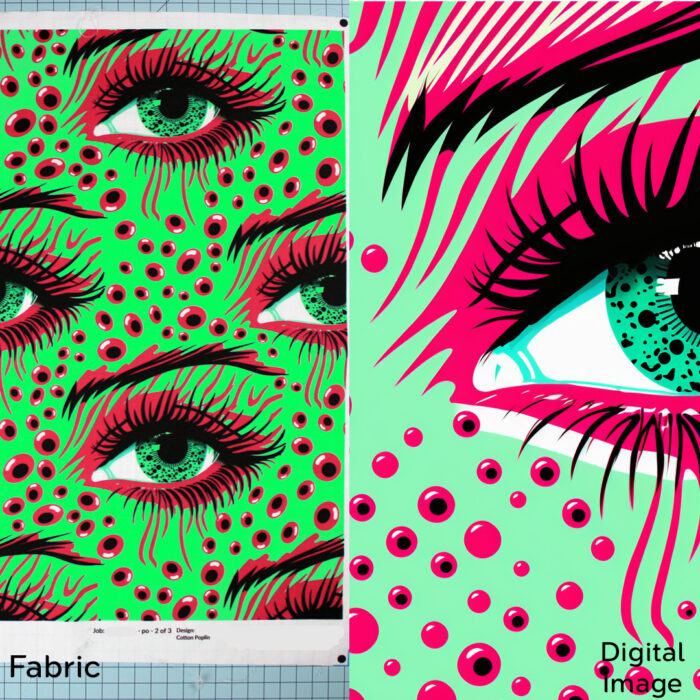 Take my eye print, for example. The original color on my monitor was a pale mint. When it printed out on the fabric, it resulted in a bright lime green. It was just a sample for me, so I wasn't terribly upset, and I can always use that fabric for something.
I asked Spoonflower why the color came out incorrect, when I knew the color was correct on my digital proof. Their answer was, it just sometimes happens. Depending on your monitor settings and even if you're using certain color codes, the color doesn't necessarily come out the way you would expect.
Spoonflower sells a swatch kit that includes a color chart. It will help with getting the colors correct, but again, it will require some level of knowledge in how to match colors in a program like Photoshop. When I ordered that fabric, I did not have the swatch kit because it was sold out on the website.
Spoonflower's fabric quality could improve
Spoonflower's printing quality is very good, although I'm not thrilled about their fabrics. I understand that they are trying to keep cost approachable, but part of me thinks their fabric quality could be upgraded without sacrificing customer happiness. If they had to add a couple of dollars to each yard for a better quality of fabric, I would easily pay for the more luxurious textile.
Still, the quality is good and the fabric usable. It's a compromise I'm willing to live with for now. The cotton is comparable to most major manufacturers if not just slightly thinner. The poplin is acceptable but, again, it's slightly thin. To me, the satin, which my garment sample is made of, is the quality of lining satin. It's not a bottom-weight fabric. Instead, it's a lightweight lining fabric. However, the best quality of printing I did get was on this synthetic satin. The sublimation they do on that surface carries the design beautifully.
For the sake of science, I took one of the swatches I had printed and ran it through the washing machine with towels. I wanted to see how it would last taking a beating in the washer. I was pleasantly surprised by how durable the printing was. The colors didn't fade at all in the wash, and the print didn't distort or blur. Once it was pressed, it looked like it did when it had been delivered to me.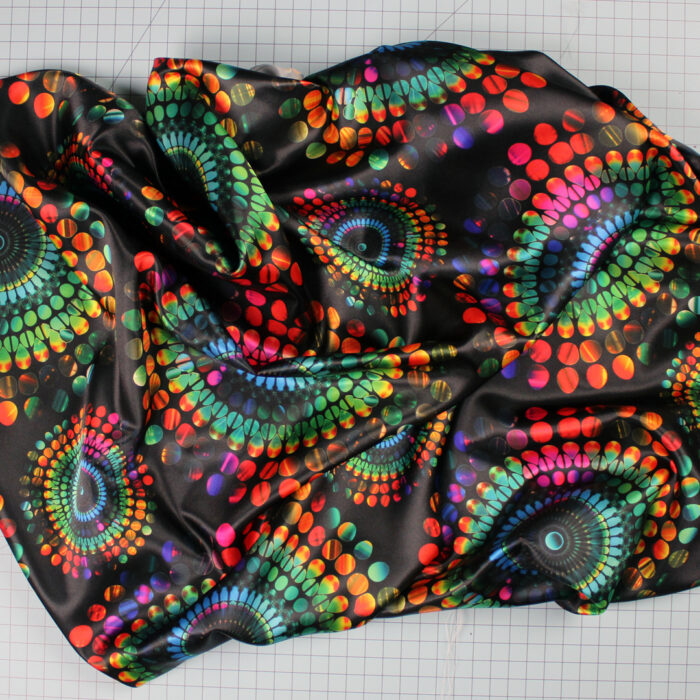 A valuable fabric printing experience
I know this reads like a giant advertorial for Spoonflower. Please understand, I hold no stake in this company or benefit from talking about it. This has just been my experience with using it. There are other companies, like RealFabric.com, that also print fabric. I just haven't used them yet. When I do, and I will, I'll report back with my findings.
I just wanted this post to take the edge off someone who was hesitant to print their own fabric. Despite the minor setbacks and flaws that can come from working with a digital fabric printer, there's a certain thrill that happens when you get fabric that you've imagined existing delivered to your front door. I can never complain again about not having the right fabric simply because all I have to do is imagine it.
---
Editor's note: To find out more about how Gilbert used artificial intelligence to design the fabric and the dress for the 2023 Threads Digital Ambassadors' Joyful Dressing Challenge, read his first installment here. You can also see what his three challengers created. 
---
Photos: (finished dress) Mike Yamin; all others, Gilbert Muniz.