Joyful Dressing: Ode to Joy with an Assist from Artificial Intelligence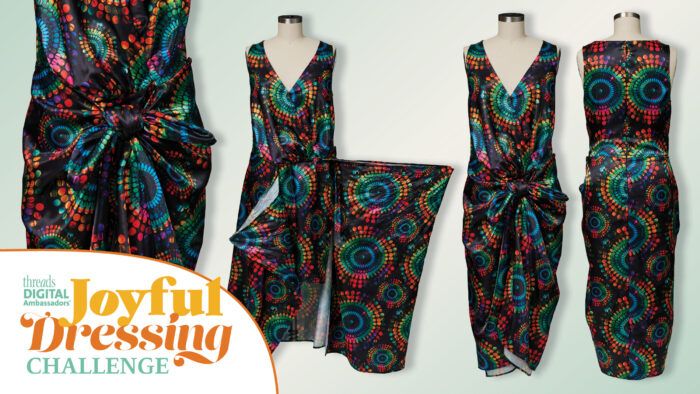 I suppose everyone experiences joy in a unique way. Joy doesn't always come with sunshine and puppies; sometimes, it's a quiet feeling, sometimes it's an exuberant outburst. For me, joy stems from discovery. I get excited learning something new or experiencing things I already understand in a fresh light. For this challenge, I didn't really know how to express that in a way other people would understand. To help me with this task, I looked to my latest discovery—artificial intelligence.
Now I know what you're thinking, is Skynet writing this post? No, not at all. I'm writing this post. Well dictating it, actually. I'm using the Dictate feature in Word to help me type this. They're my words but not my keystrokes. I think and talk faster than I can type, so this version of artificial intelligence is taking what I say and typing it out in a word processing program. Is that cheating? I don't think so. I'm not that good of a typist, and this is just another tool that helps me complete my task more efficiently. Ultimately, there's no machine creativity involved. It's just me writing out loud and the computer typing the words that are coming out of my mouth.
Artificial intelligence aids in fabric design
By this point you're wondering, what does this have to do with a Threads article about sewing? My post is about the joy of discovery, so when I created my garment for this challenge, I used artificial intelligence to design the fabric and the cut of the dress. That's not to say a Cloud-based server did all the work. It definitely helped me, though, figure out how to translate my love of discovery and the joy it gives me into something others could understand.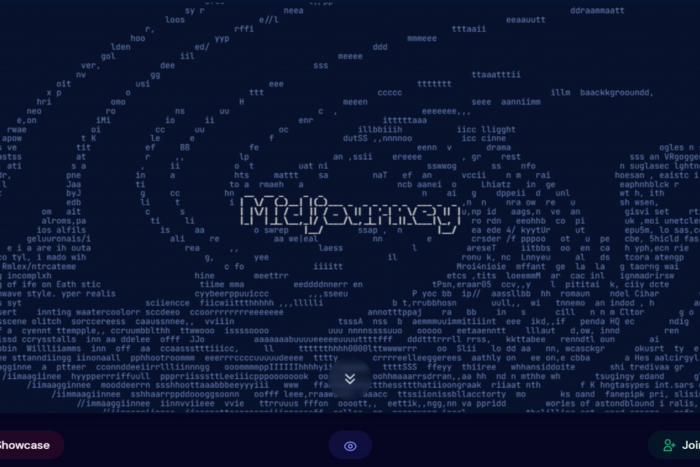 Recently, I started digitally printing my own fabric, which is the subject of "Joyful Dressing: AI, Spoonflower, and the Prints of Joy," Part 2 of my Joyful Dressing Challenge creation. For this post, I wanted to use artificial intelligence to design the print my fabric would be based on.
I started with probably the most obvious, joyous thing—bright colors. I then figured out a motif that would best highlight those colors. To compile this information and yield as many results as possible, I used an artificial intelligence known as Midjourney. An AI aggregator, Midjourney compiles existing images on the Internet, reorders them, and, taking into account the prompts you have given it, creates an image from your idea.
You can give Midjourney as much information as you want to describe the image you're looking for. The more specific you are, the more of a fleshed-out image you'll get. You can even specify what kind of camera, overhead lighting, background staging, or model you want in your image to get the results you want.
Don't get me wrong, Midjourney is not perfect. I have often gotten fashion models with four arms and five eyes. Still, for an idea generator, AI is second to none at opening up your imagination.
For my joyous fabric design, I asked Midjourney to generate an image based on the following prompt: "A radial repeating tiling design, colors are neon acid cosmic storm colors on solid black background, design is inspired by hypnotic lava lamps." What can I say? I'm nothing if not expressive. I wanted the design on a black background so it would have some base of neutrality. These are just a few of the results I got.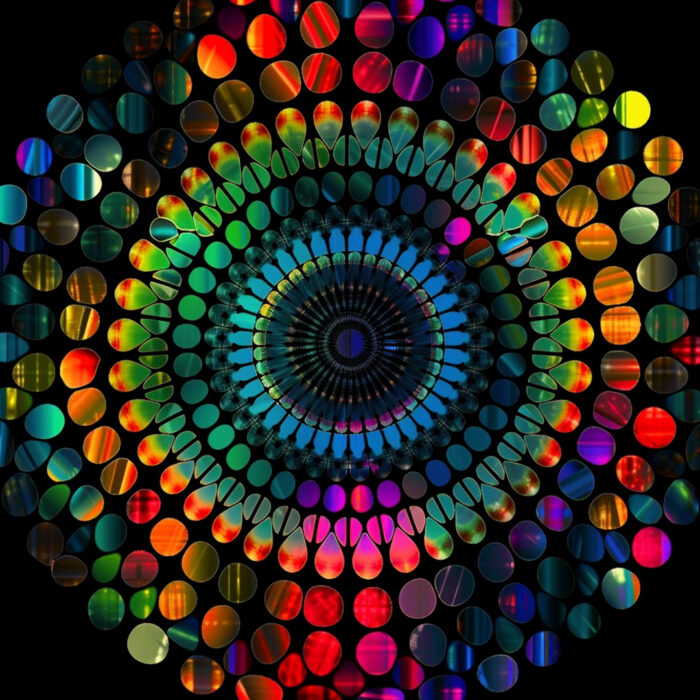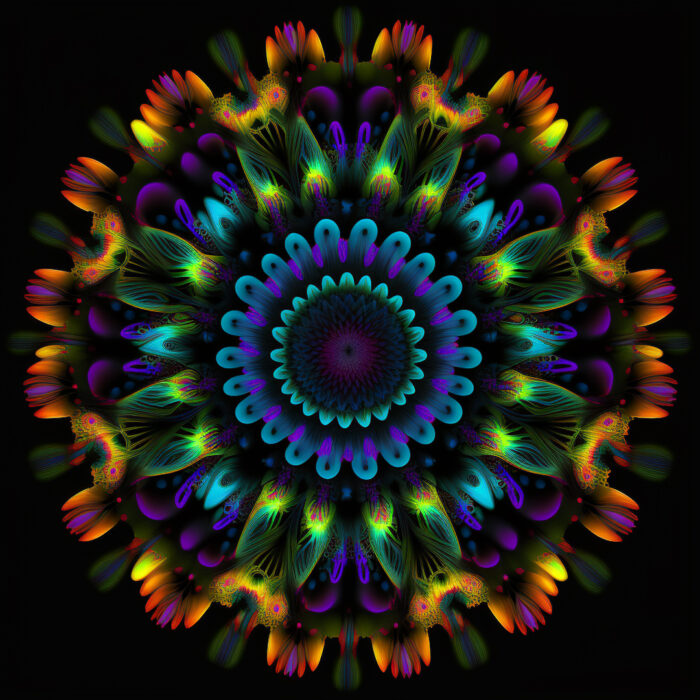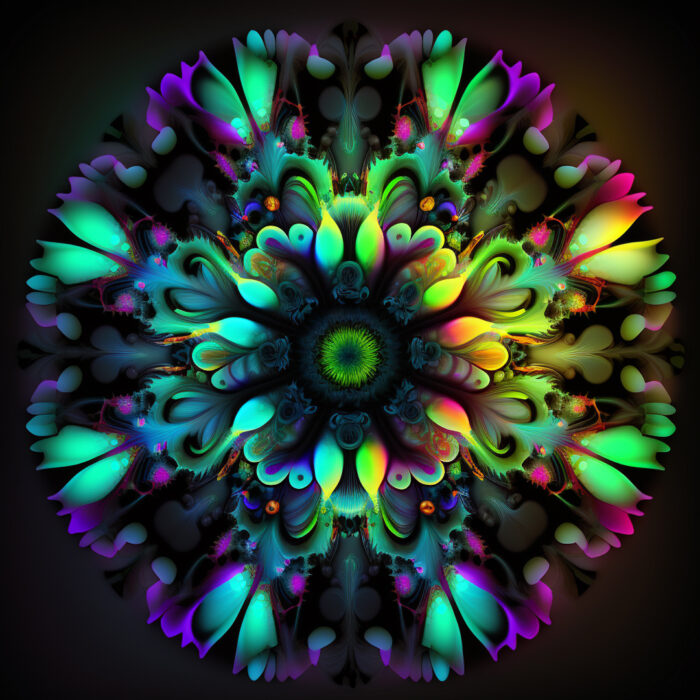 I chose the generated image that looked like little dots of stained glass. I downloaded it in the highest resolution I could from Midjourney and ran it through Photoshop to change the center, cleaned up some of the edges, shuffled the repeats, and manipulated the pattern to get exactly what I wanted.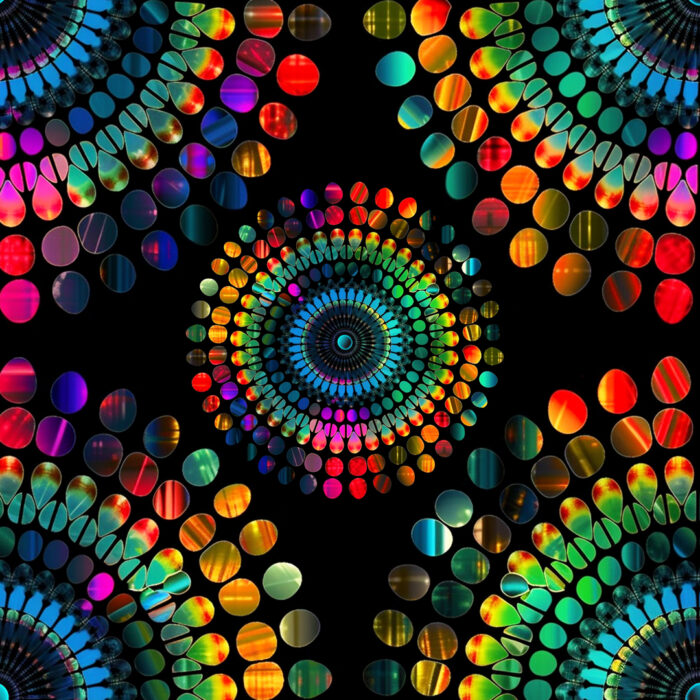 The image was then sent off to get printed and a couple of weeks later I received the fabric.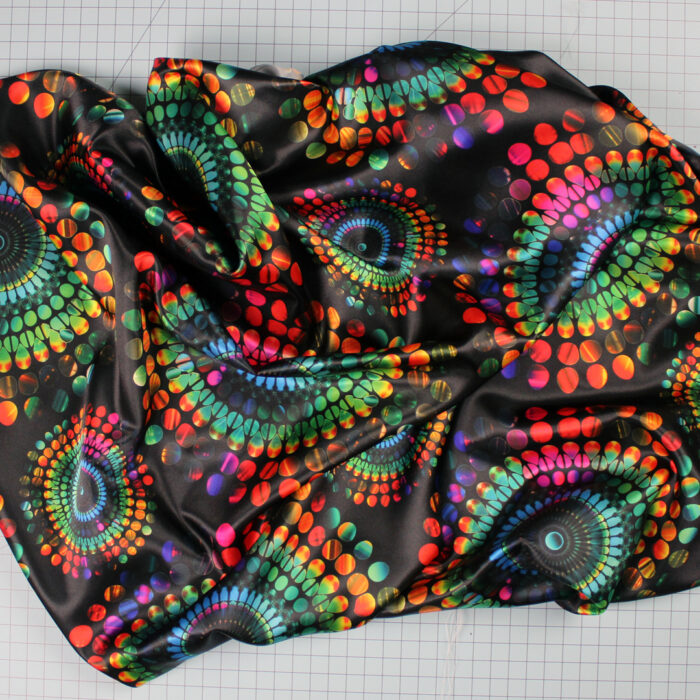 Dress design using artificial intelligence
You'd think that was the end of the story, but it was just the beginning because at this point, I let artificial intelligence design the dress I was going to make for the challenge. I say design, but what I really mean is, help me design. Often, using artificial intelligence to design things will get you to a starting point, not a finishing point. Artificial intelligence can come up with an incredible design, but usually, the physics don't work in reality.
I fed the following prompt into Midjourney to help me figure out what kind of dress I needed to make: "Fashion model wearing short funky bias-cut asymmetrical avant garde draped wrap dress with uneven hem, fitted bodice with tied torso, full length full body walking a fashion runway, dress fabric is black." I said "black fabric" because I tried saying "colorful circular motifs" and got too many distracting elements to concentrate on the cut. I like all of those elements in clothing design, so I wanted to see how they would all work together. These are some of the results.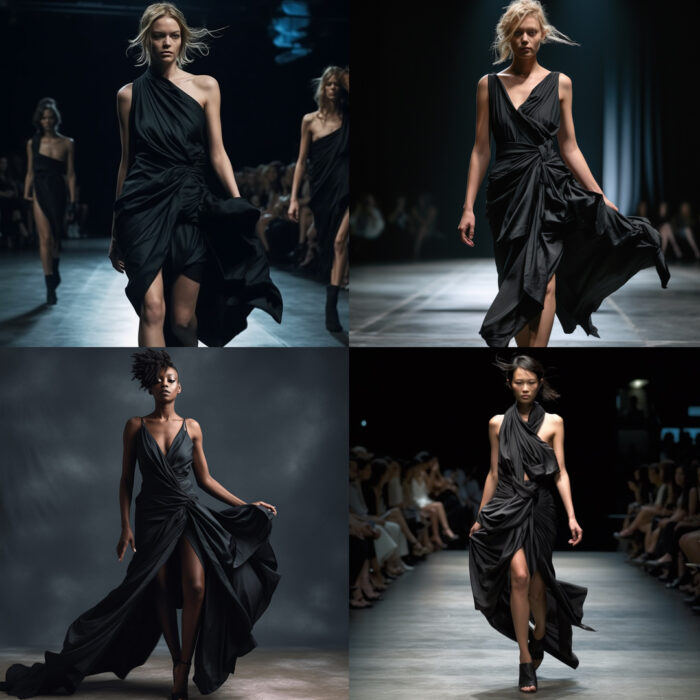 This is what I ultimately used as inspiration.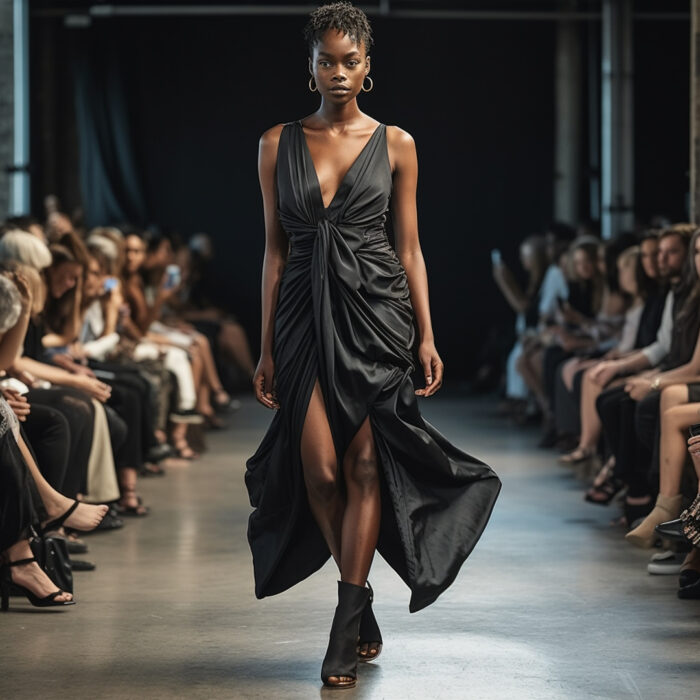 And this is what I made from the generated image.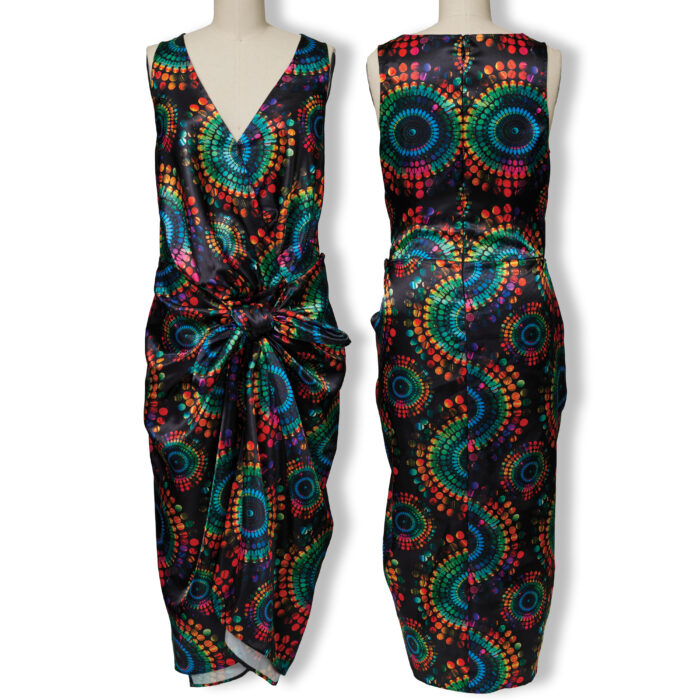 This is why I say artificial intelligence helped me design the dress, not completely design it on its own. Knowing the fabric I was going to work with, I didn't really see the need to crinkle it and distress it the way that Midjourney said the dress should look.
Another aspect of joy I've been forcing myself to experience is loosening up my draping style. For this garment, I did not want to stick to my normal corsetry and skintight aesthetic. I've been trying to broaden my horizons with different cuts and different draping techniques, so for this design, using the reference from Midjourney, I decided to applied a softer hand when developing the pattern. That softer hand and ability to adjust the way I work is something artificial intelligence can't accomplish on its own.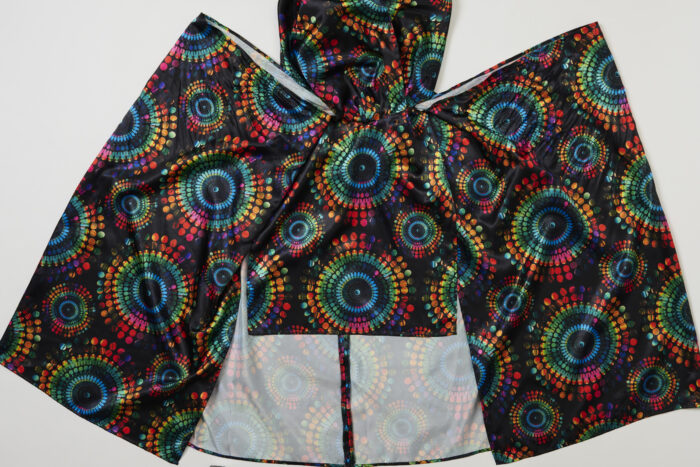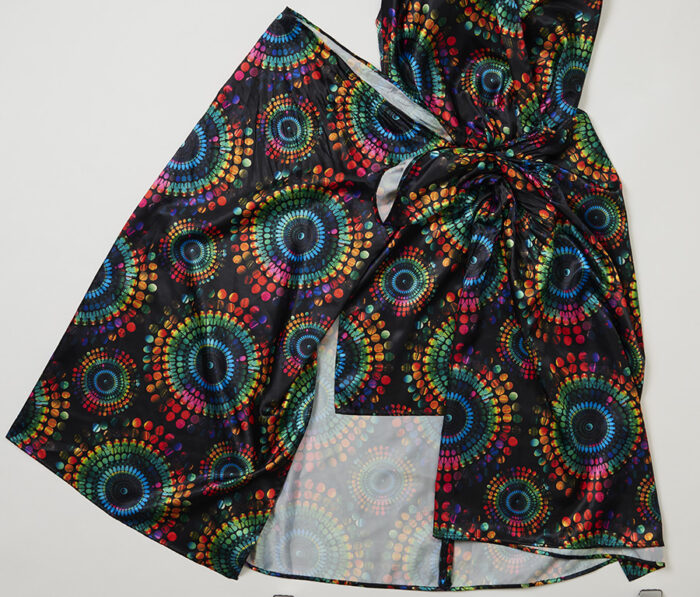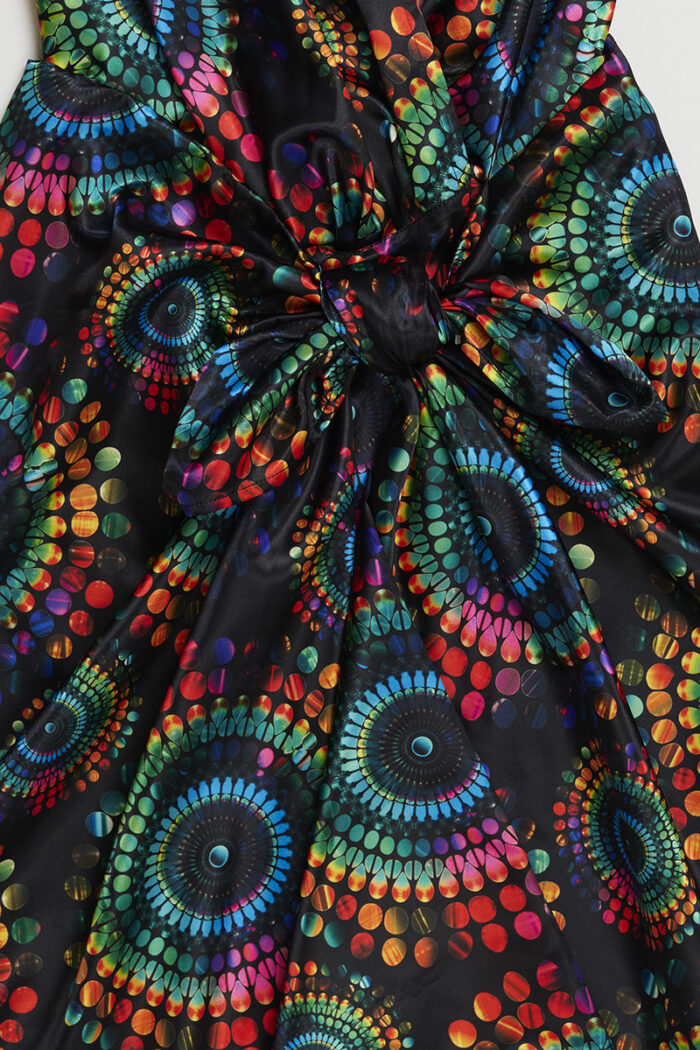 Limitations of AI
Using A.I. to create something from aggregated prompts will only get you so far. It's up to you to use this tool responsibly and efficiently. Whenever I use artificial intelligence to help me design a project for one of my school courses or help me design a garment that will be used in a Threads Insider post I always take it up to a certain limit. Sure, it would be very easy to just take the image that Midjourney generated and make a line for line copy of what's in front of me, and not to brag, I could do that. But at one point, I'd no longer be the designer. My prompt might have been the catalyst that generated the image, but without the human factor, the design would never have a life of its own.
I highly recommend you try Midjourney on your own. If nothing else, just to come up with some wacky prompts that will yield some cool and interesting images. You could always use them as computer wallpapers or phone backgrounds if you didn't want to go so far as to create clothing or fabric from them. Regardless of how you work with A.I., it's an interesting and useful tool that artists and people who want to be artists can use to improve the way they look at the world.
---
Editor's note: To find out more about how Gilbert used artificial intelligence and an online fabric printing service for the 2023 Threads Digital Ambassadors' Joyful Dressing Challenge, read his second installment. You can also see what his three challengers created. 
---
Photos: Gilbert Muniz, except where noted.