Joyful Dressing: Tie-dye Shirt and Polka Dot Shorts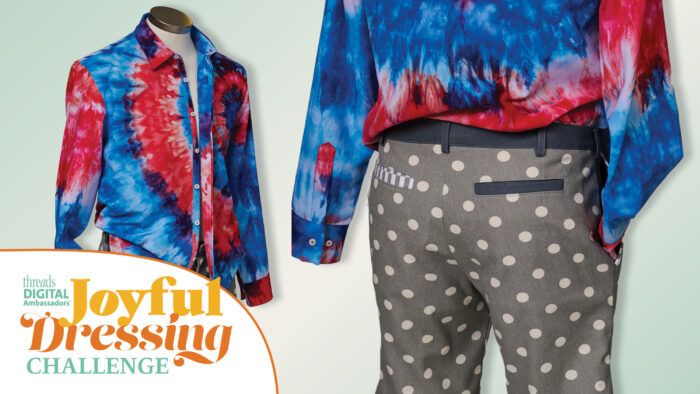 Joyful dressing is a huge part of my sewing ethos. In fact, I use my Instagram @jwloveday purely as an outlet for joy. As I work in the stressful fashion industry, I wanted a break-out space to be me, be joyful, and express the things I love about clothes.
What brings me joy in dressing? It's definitely the fabrics' colors, prints, and textures. All designing for me starts with seeing/finding a fabric that makes my heart skip a beat.
"Life is about using the whole box of crayons."
—American drag queen RuPaul
A colorful tie-dye shirt . . .
When asked to create something joyful for this Joyful Dressing Challenge, my first thought was to ask an amazing independent artist I've been watching to dye fabric for me. His work is drool-worthy and has been on my bucket list forever. Daniel Lundby is that award-winning fiber artist and a wonderful presence within the online creative community. He sells dyed fabrics on his Instagram feed, @dudequilter, and on Etsy at CreatedbyaDude. But it sells so fast, I never get my hands on it.
My idea was to create a shirt for myself with some of his amazing hand-dyed fabric. I wanted the shirt to be a subtle nod to formalwear, so I could wear it dressed up or down. That's why I chose to sew a hidden button placket and long sleeves. This shirt could look amazing paired with a black velvet sports coat and black bowtie or a biker jacket, as well as simply by itself for summer. Something I think a lot about when designing is total versatility.
. . . and polka dot shorts
For this challenge, I also was thinking about an entire outfit. I generally opt for seasonless designs and patterns or colors that can be worn year-round. But the weather was becoming warm, and shorts season would soon upon us.
I do not make a lot of shorts. Still, I wanted to perfect a commercial pattern I have had on my to-do list for a while. It's a pants pattern, and I adapted it by shortening the inseam. I also changed many small things with the pattern, which I will talk about in Part 2 of my Joyful Dressing Challenge entry.
For the shorts fabric, I chose polka dots, a classic print that's never out of style. I've always wanted a pair of polka dot shorts, so I'm marking this a big win for making things on that to-do list. The fabric came from an independent seller on Etsy. I try to buy from small, independent businesses because I find the customer service amazing—and it's all about supporting the "making" community.
Design method
My design process starts with superimposing fabric designs onto already-made computer clothing silhouettes, or drawings, for the garments I am looking to create.
I try lots of fabric combinations to see how they pair up. I spend a couple days taking out garment pieces, colors, and prints that just aren't jiving with the vibe I am going for.
You can try something similar by drawing or by using the computer to help with designs. I promise, it helps. Nothing is worse than thinking garment(s) will look good or pair nicely, then spend a lot of time making them, only to find out they don't look great in the combination that was in your head.
Key design questions
It honestly helps to slow down and design thoughtfully. You're creating something that does not exist in the world, so make those choices to your best ability.
Think about thread color—needle thread and bobbin thread. What colors do you want to use? Matched colors? Mixed colors?
How about seam finishes? For serging the edge, what color(s) should you choose?
What about buttons, zippers, lining fabrics, bias binding, and so on?
If you slow it down and think about the design process and all the small things you can customize, you'll create something unique. And why not?
Designing for the fabric
With my shirt, the one-of-a-kind, hand-dyed fabric is the star of the show. I chose not to pull away from it by using contrasting fabric. Even now, every time I look at the fabric, I see new swirls and patterns the dye created. It truly is eye-catching.
On the inside of the shirt, I used three complementary thread colors for serging the seams. Two thread colors were used for hand-sewing the buttons and buttonholes.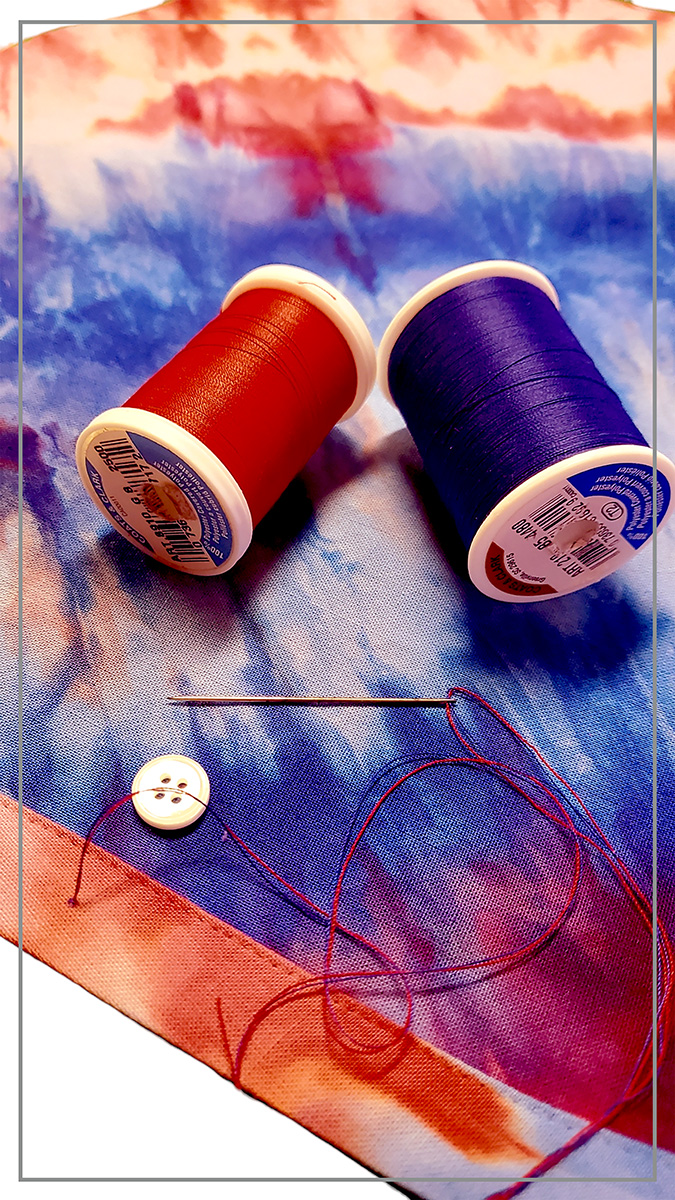 These are tiny details, which, for the most part, won't be seen. If I'm putting in the effort, though, why not make each step well thought out and joyful?
Tame shorts that have a wild side
With the shorts, I kept it subtle on the outside—and wild on the inside.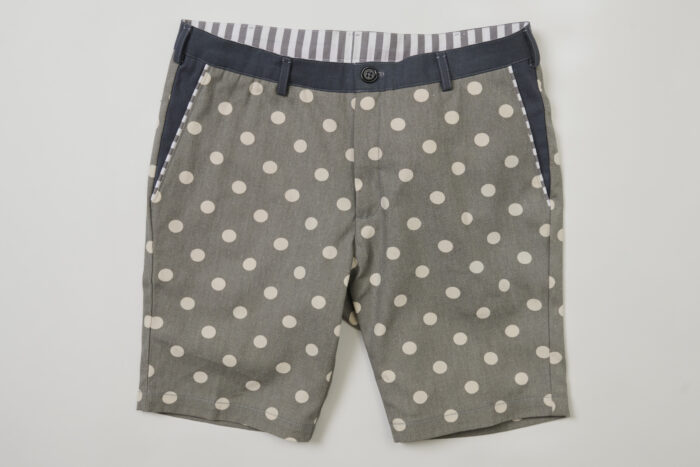 I added striped piping to each front pocket, and made the front pocket facings a contrasting dark gray to match the waistband and belt loops.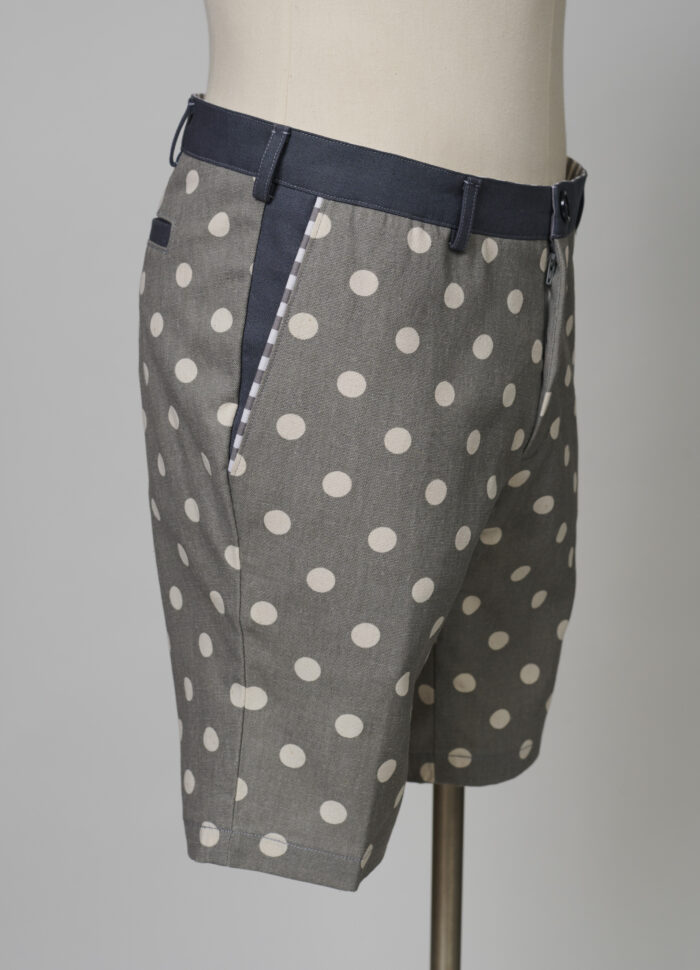 The single-welt pockets in back are different. I made one in striped fabric, and one in dark gray. This variation is a nod to implementing unique ideas.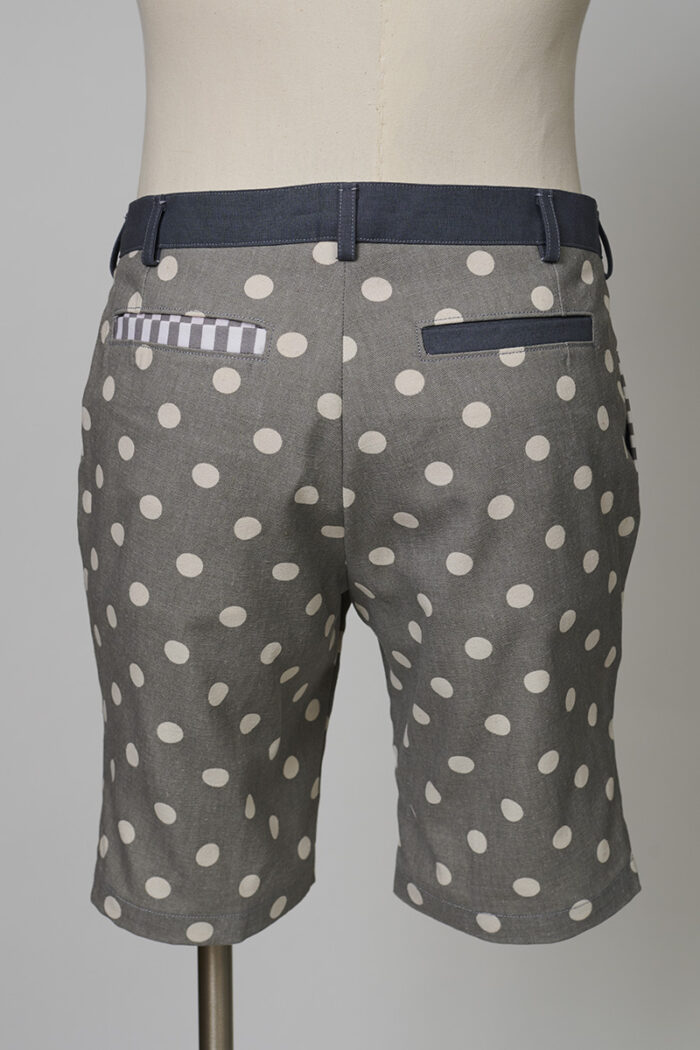 On the inside, I got playful and used some of the tie-dye fabric for the pocket bags.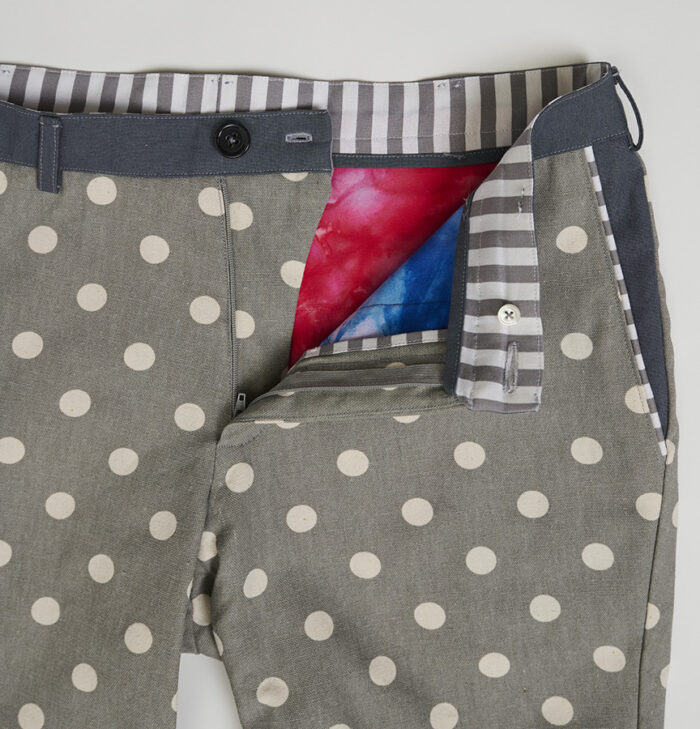 It adds an amazing pop of color.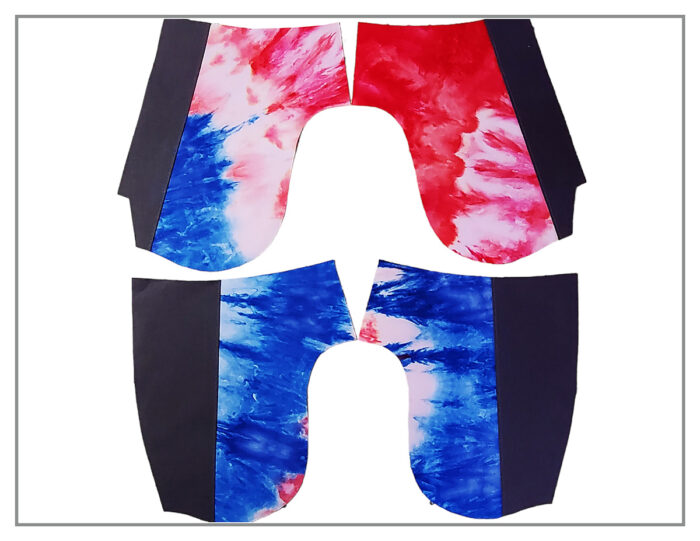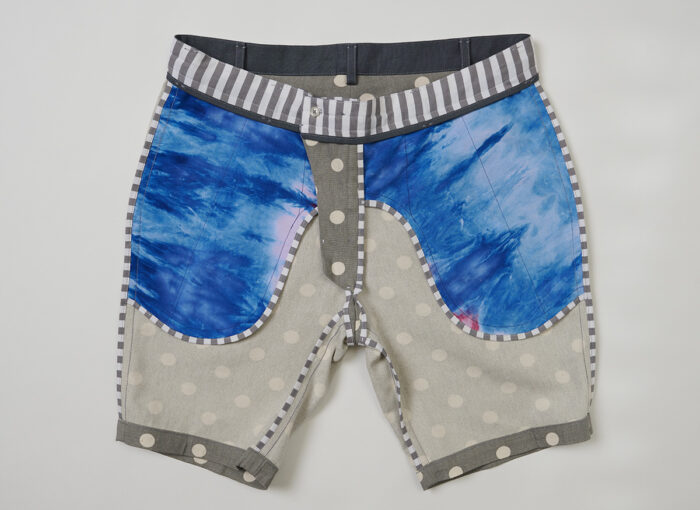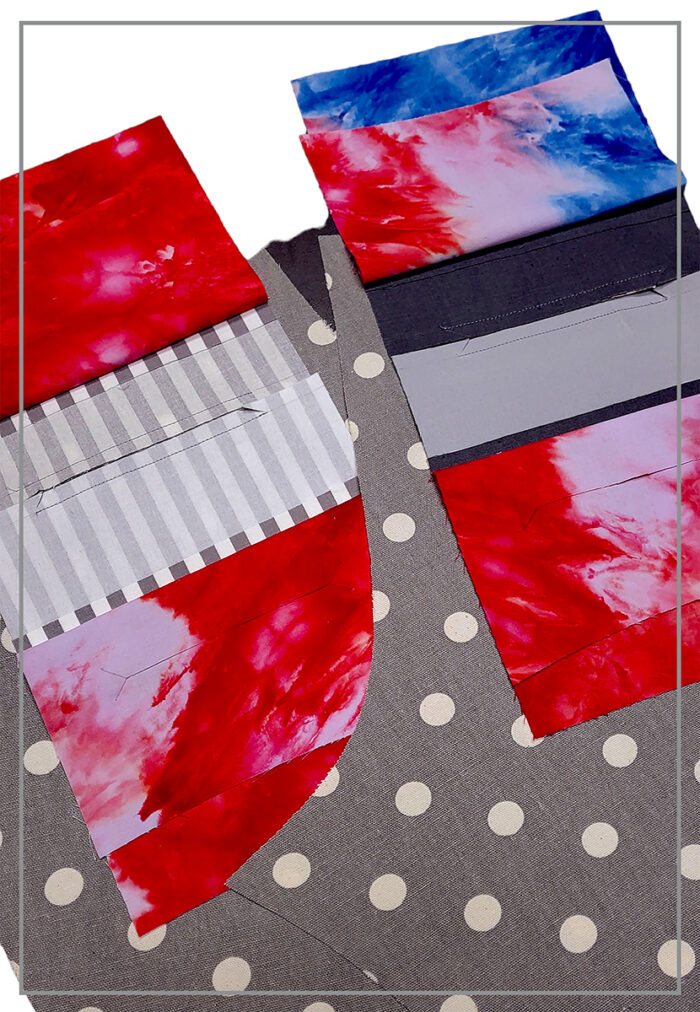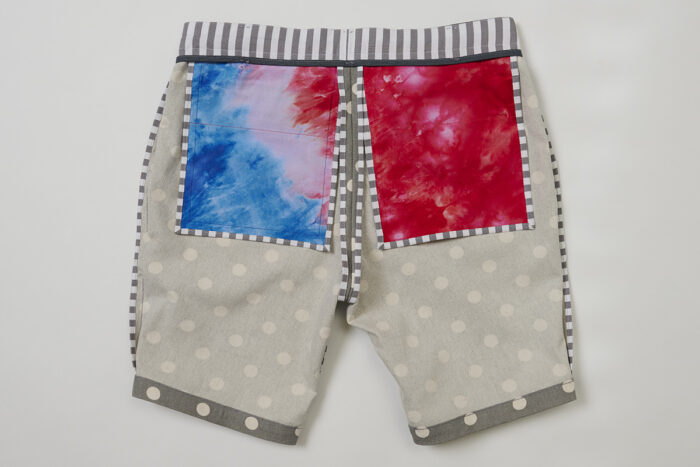 This makes me smile every time, which might be the exact vibe for joyful dressing.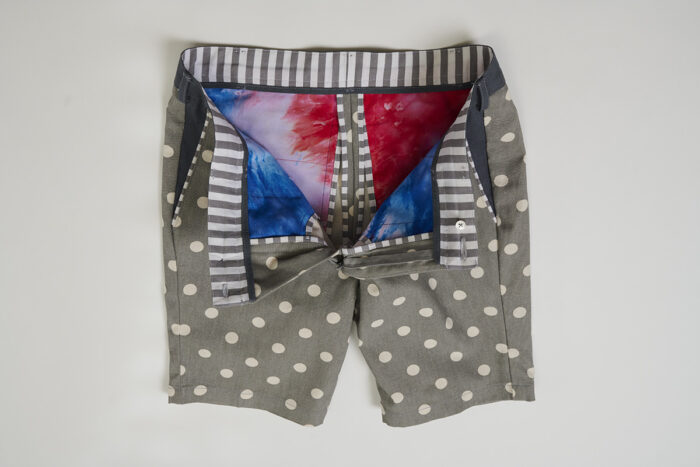 I finished all seams with self-made binding in the striped fabric. The inside striped waistband is trimmed with the dark gray contrast fabric. All these choices create a garment with plenty of visual interest.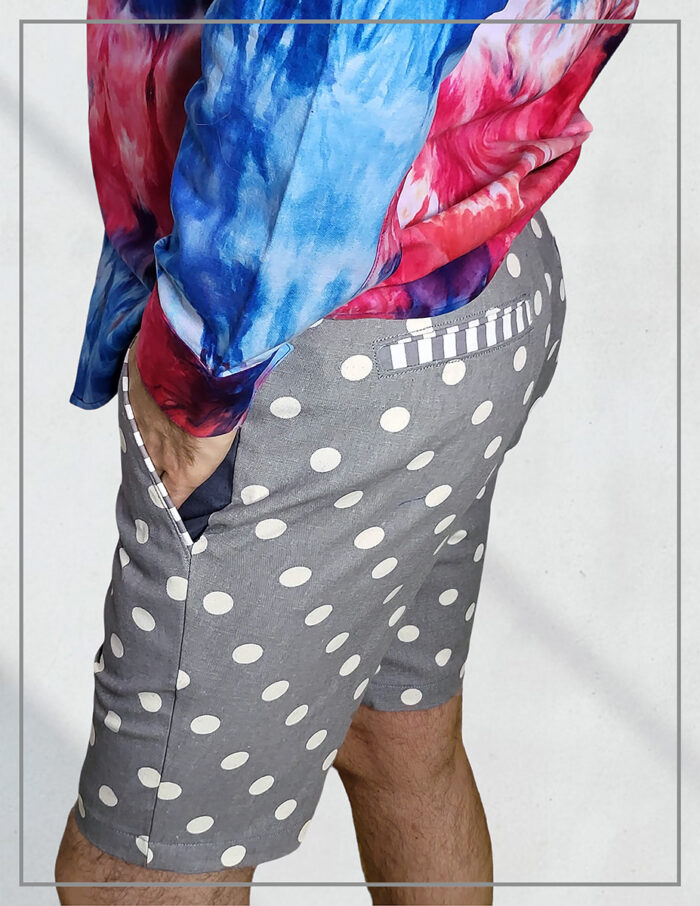 I absolutely love how everything turned out and it 100 percent brings a smile to my face. #joyfuldressing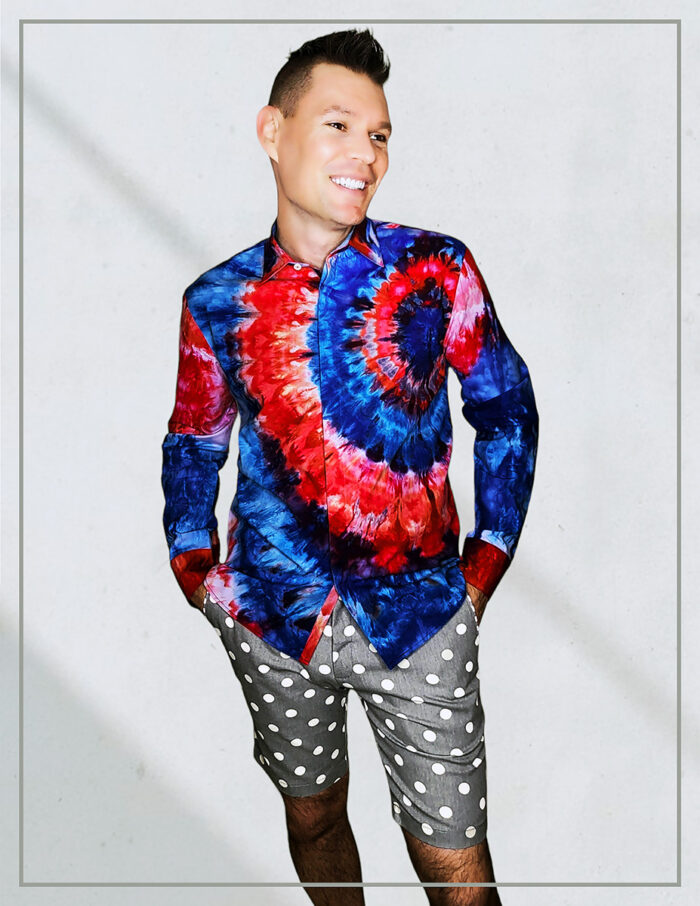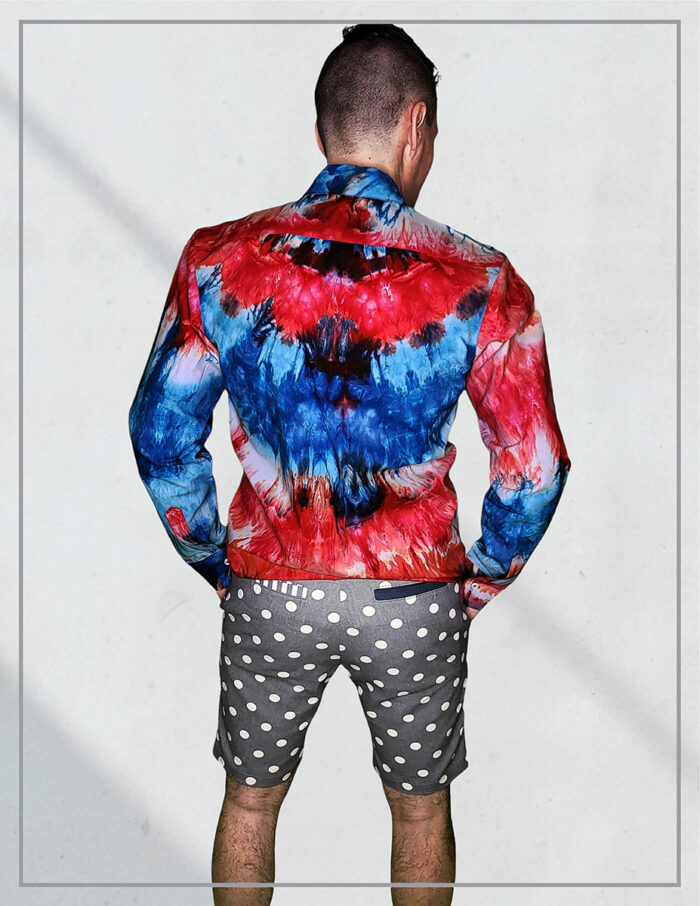 ---
Editor's note: To find out more about how JW designed and sewed his tie-dye shirt for the 2023 Threads Digital Ambassadors' Joyful Dressing Challenge, read his second installment. You can also see what his three challengers created. Then vote for your favorite.
---
Photos: JW Loveday, except where noted.