THE WOMAN IN WHITE from the novel by Wilkie Collins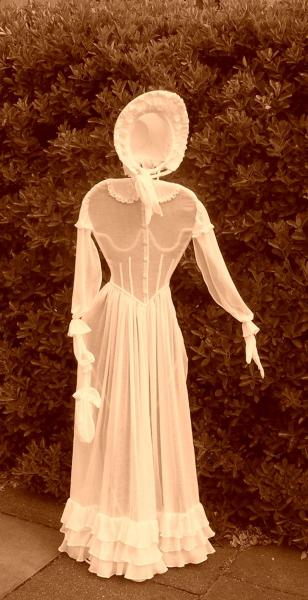 This life size figure was made for an art Exhibition. Artists were asked to create a work of art based on a favourite book.
I choose the victorian novel "the woman in white." I was inspired by the chilling and dramatic description of Walter Hartright's first meeting with a mysterious lady dressed from head to foot in white clothing on Hampstead Heath in London.
My idea was to make a 2D figure with 3D details using just wire and fine transparent muslin fabric. I wanted the gown to look ghostly so designed the gown making it as transparent as possible. A ghostly look was more important than historical accuracy although I still wanted the dress to look Victorian. The vintage thread buttons were an ebay find. The book I found most useful was the "V&A Nineteenth-century fashion in detail" by Lucy Johnson
The hat. bag, and hands were made by adapting Butterick sewing patterns using only the very fine muslin, trying to get a transparent ghostly effect.
The frame was an ebay find, I removed some pieces and painted it white. I added the wire head and arms, then covered it all in bias cotton tape.
You can read more about this project at thecrinolinelady.wordpres.com