Add Pockets and Subtract the Zipper in Your Favorite Pants Pattern
Learn a quick pattern revision for more functional pants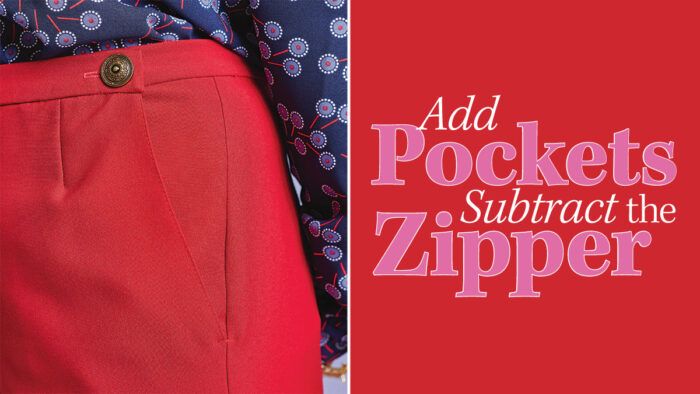 Growing up I remember my mom and my grandma saying that you couldn't have a pair of pants or a skirt without pockets. Where else would you stash your hanky? As a teenager, I thought a pocket's only purpose was to make my tummy pooch out. So when did I turn into my mother?
Mom and Grandma were absolutely right: Pants need pockets. And not the little shallow kind. They need nice, deep, useful pockets. Now, when I encounter a pants pattern sans pockets, the first order of business is to add some. With many of my favorite patterns, this means that I need to work around a side-seam zipper. I could move the zipper to the center front or back, but my preferred method is to shift the side-seam opening into the left front pocket. I like this choice for several reasons: It means I don't need to install a zipper, and if I need to adjust for t I can easily make adjustments to both side seams. Plus, having the opening shifted toward the front makes for easy dressing and comfortable wear. Let me show you how I revise a pants pattern to add pockets, and how to construct the pants for a good-looking, sturdy result.
Modify the pants front pattern
Begin with a pattern that fits well. It can be intended to have a side, front, or back zipper. Remove any fly zipper extensions.
DRAFT THE POCKET OPENING AND THE BAG
1. Trace the pants front pattern. Trace the top section, from the waistline to a few inches below the crotch point. Include the grainline and dart(s).…
Start your 14-day FREE trial to access this story.
Start your FREE trial today and get instant access to this article plus access to all Threads Insider content.
Start Your Free Trial
Already an Insider? Log in