Fitting: Waistband Alternatives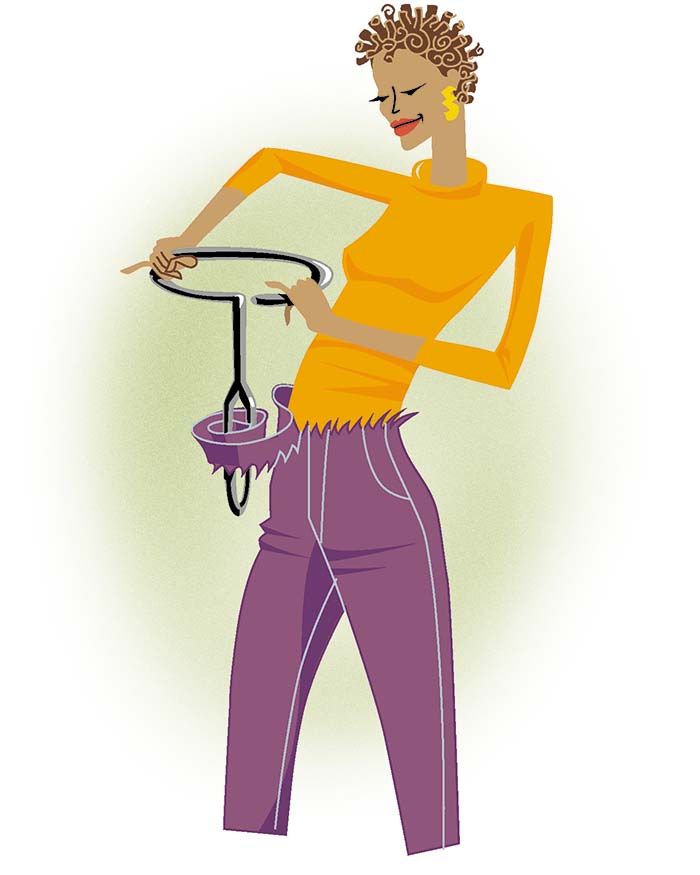 I'd like to convert a pair of pants with a standard, set-in waistband to one with a facing and no waistband. How can I do this while maintaining the fit at the waist?
—Lee Nyberg, Hartsville, S.C.
A standard waistband provides a stable anchor for pants (and skirts) because it fits the waist, typically the smallest area of the torso says fitting expert Karen Howland. If the difference between waist and hips is minimal, the garment must also be held in place by friction, which means it must fit tightly, or with suspenders. In any case, it's easy to alter standard pants into a variety of no-waistband styles without changing the fit.
A no-waistband style is a comfortable and easy-to-alter alternative to standard pants. This style is supported by the facing and by stay tape in the waist seam at the top of the pants. In order to maintain the fit, the facing must fit the waist and upper hip area.
Assuming your standard pants pattern fits correctly, the drawing below left shows how to make a facing pattern from it. Since the facing this creates will be inside the pants, it should be slightly smaller than the pants. Reduce the facing length at the side seams by the thickness of the garment fabric. 
If your original pants are designed to be eased onto their waistband, the facing may need to be reduced to match the band. To check this, compare the upper (waistline) measurement of the facing with the waistband length. If the waistband is smaller, tuck the paper pattern at the waist edge until that edge is the same as the waistband, as shown in the diagrams below right. This will make the curve of the facing more pronounced. Interface the facing, assemble it, and…
Start your 14-day FREE trial to access this story.
Start your FREE trial today and get instant access to this article plus access to all Threads Insider content.
Start Your Free Trial
Already an Insider? Log in