Layer Your Way to Pattern Adjustment Success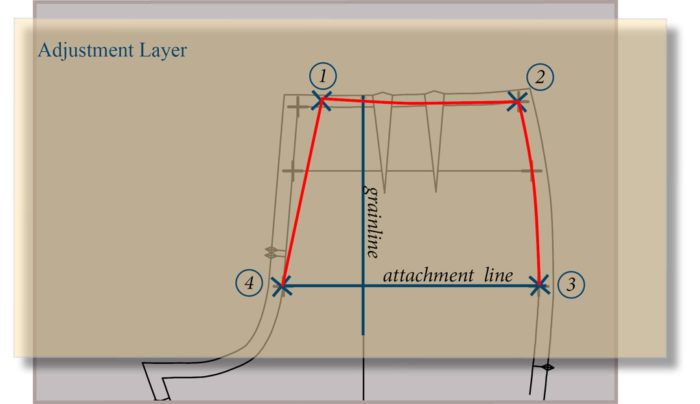 Here is a way to use a pattern tissue overlay to adjust a pattern without having to slash and spread or erase a bunch of lines. This method is neat and well-organized. Adjustment lines are drawn on the overlay, looking through the tissue to the pattern underneath. Once changes are confirmed, the overlay replaces the ill-fitting portion of the pattern.
Birth of the idea
The "layers" light went on in 2002 as I was grading my JSM Pants 1 pattern, using computer-aided design (CAD) software.
I noticed that each new size ended up on a separate layer. I could stack or unstack these layers at will to compare the size and shape changes between pattern sizes, and I could shift one layer over on top of another layer to join the points, using the original lines as a guide. When I was done grading I had several pattern sizes that could be printed either separately or nested, as is typically done with multisized commercial patterns.
The layer concept worked well when resizing the whole pattern by computer, I wondered: Why not try it for making adjustments by hand? It worked! Since then I've been layering my pattern adjustments whenever I want to change pattern fit or style.
The advantages of layering
There is no need to cut the pattern apart and tape it back together again, nor erase lines from it, or cross them off, or deal with multiple lines that can no longer be erased because they are covered by tape.
It allows you to return to the original pattern any time you want.
To layer your pattern adjustments you will need:
I use architectural sketching paper as pattern tissue because it meets the following requirements:
Start your 14-day FREE trial to access this story.
Start your FREE trial today and get instant access to this article plus access to all Threads Insider content.
Start Your Free Trial
Already an Insider? Log in