Alterations for Perfect Pant Legs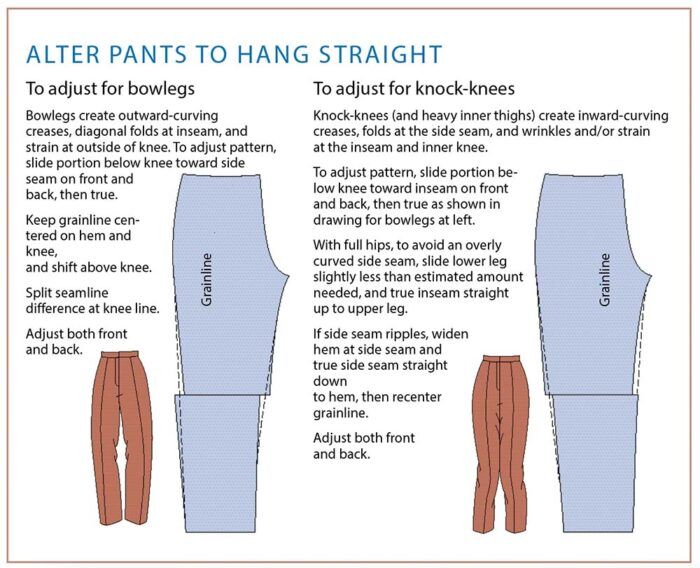 Perfecting Pant Legs
I've finally gotten a pants pattern to fit in the waist and hips, but now I'm having trouble getting the legs to hang straight and smooth. Any suggestions?
—Lily Lauterbach, Marshall, VA
When pants that are cut on grain don't hang straight, says fitting expert Susan Bennett, it's usually because of some combination of leg shape, weight distribution, and/or stance. Let's begin with leg shape: in other words, with bowlegs and knock-knees. The solution in both cases is to shift the center of the pants' leg either in or out so that it matches the position of the knee.
To fix your pattern, you'll need your waist-to-knee measurement at the side seam. Measure this along the pattern's side seam, front and back, then draw a knee line perpendicular to the grainline. If the grainline doesn't bisect the leg at ankle and knee, redraw the line to center it on the leg. Keep it parallel to the original, and extend it from waist to hem. After you make any of the following adjustments, cut a muslin try-on version with 11⁄4-in. seam allowances at inseams and side seams, and mark the grainlines on the muslin.
You'll have to estimate the amount of alteration needed, so try on an existing pair of pants with clear, freshly pressed creases, and analyze how the crease shifts at the knee and by approximately how much. If you're bowlegged, the crease will bow outward, the pants will pull against your calves at the side seam, and diagonal folds will form at the inseam knee area, as shown at far left, below.
To adjust the pattern, cut the legs on the knee line and slide the lower section out by the amount you've estimated,…
Start your 14-day FREE trial to access this story.
Start your FREE trial today and get instant access to this article plus access to all Threads Insider content.
Start Your Free Trial
Already an Insider? Log in