Restyling Pants Patterns
Got a pants pattern that fits well? Use it to make any style of pants you want.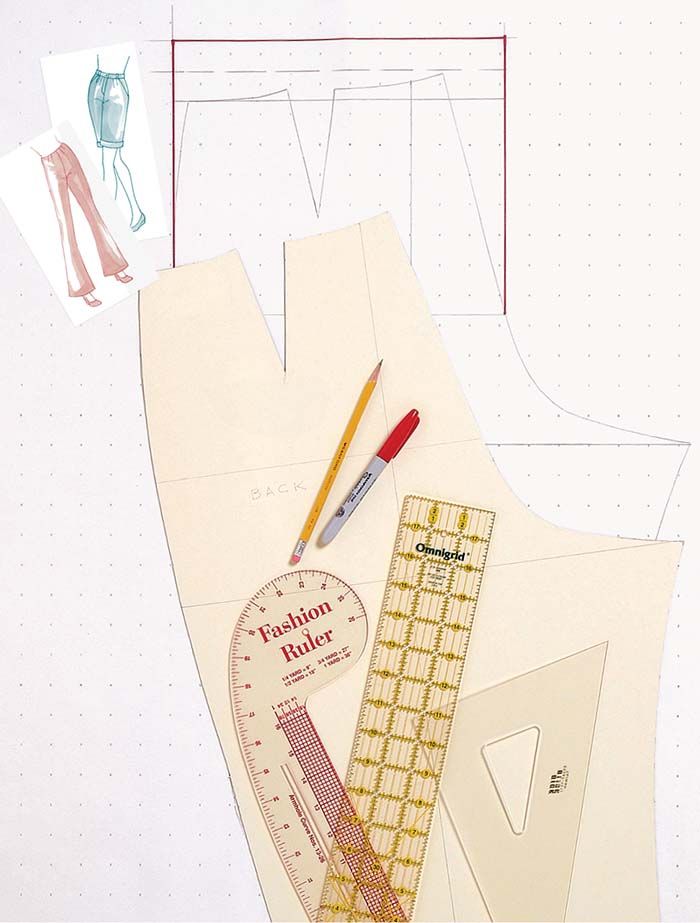 If you've got a favorite basic pants pattern you can easily alter it into multiple styles that will all fit just as well as your basic.  Both the silhouette and the length of your pants can be easily changed, and any kind of waistband and pocket variation can be added or substituted, without altering the critical areas of fit of the original pattern. In the directions below, I'll use example drafts of specific styles to walk you through the basics of restyling, including reshaping the legs for width and length, creating several types of waistbands (including a waist facing and a bias binding), and adding pleats to alter the front of the pants. These examples can be easily adjusted to provide many other variations. The easiest way to add pockets, a fly, or some other design detail is to borrow the needed pieces from a commercial pattern that has what you want, so I'll outline this process as well. 
You can begin with either an adjusted commercial pattern or a custom-fitted sloper. A pants sloper is a basic pattern created to your measurements without seam allowances or details like no pockets, fly, pleats, yokes, or waist or hem finishes with straight legs that are neither tapered nor flared. If you're using a commercial pattern instead of a sloper draft as your basic, ideally it will also be as free of details and style as possible. (And if you need a well-fitted pants pattern, see my article "Draft a Pants Sloper That Fits,")
First, trace your pattern
Regardless of how you want to change your existing pants pattern, the first step is to trace the original pattern front and back including all darts, without seam or hem allowances. Make sure to mark the hipline, crotchline, knee line,…
Start your 14-day FREE trial to access this story.
Start your FREE trial today and get instant access to this article plus access to all Threads Insider content.
Start Your Free Trial
Already an Insider? Log in