To Fit Pants, Start at the Waist
Although the waistband is the last piece you sew, it should be the first area you fit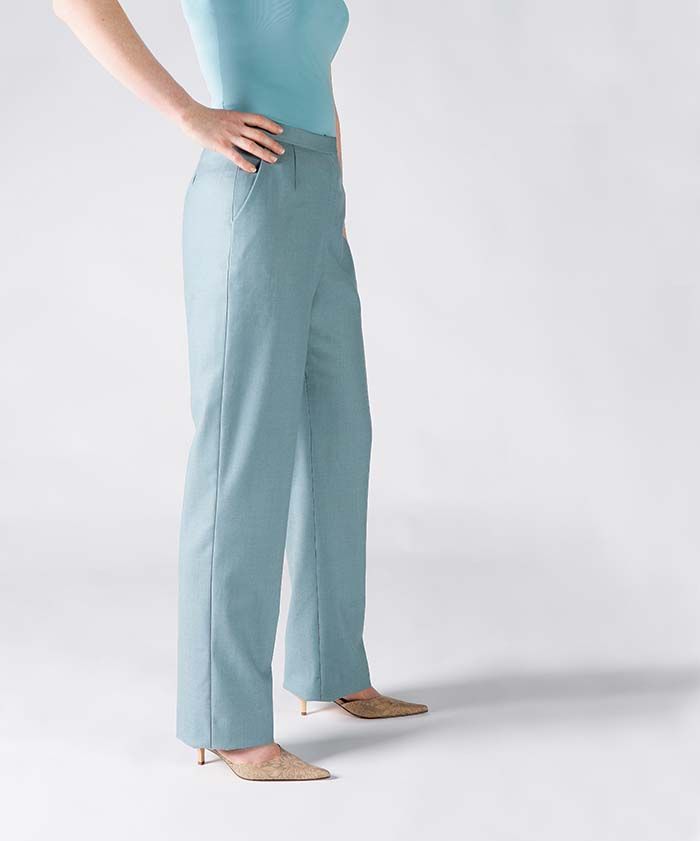 Over the years, I've fitted pants on thousands of bodies, and although I can easily and happily fit pants now, I found this task frustrating and time-consuming when I first started my custom tailoring shop. Back then, I followed the traditional fitting method: I pin-fitted a muslin version minus the waistband, then attached the band once the fit was perfected. Unfortunately, adding the waistband usually sabotaged all of my hard work, and I would have to go back and refit the muslin all over again.
One day, when I was struggling with a waistband, I experienced an "a-ha!" moment: Everything hangs from the band, so it should be the first thing I fit, not the last. Once I figured that out, I was able to streamline the process. Now, I do the fitting in fully sewn pants. I call these "test pants" because I construct them in muslin or other inexpensive fabric—including the all-important waistband—and measure the pants only after any fitting changes have been made.
Choose a pattern that fits your hip measurement
The best pattern to use for your test pants is a basic pants pattern that features one dart on the front, one or two darts on the back, and a straight, noncontoured waistband. I prefer to start with a slightly tapered leg, as it's easier to evaluate how it fits than a fuller leg. If you desire a straight, boot-cut, or full leg, it's easy to make those style adjustments to the pattern after it is fit.
Because the hip area is the most challenging area to fit, choose your pattern size based on that measurement, even if your waist and abdomen are larger than your hip. I know this seems counterintuitive, but it really does work, as you'll see in…
Start your 14-day FREE trial to access this story.
Start your FREE trial today and get instant access to this article plus access to all Threads Insider content.
Start Your Free Trial
Already an Insider? Log in