Vertical Seams for Ideal Pants Fitting
Create opportunities to custom-fit your shape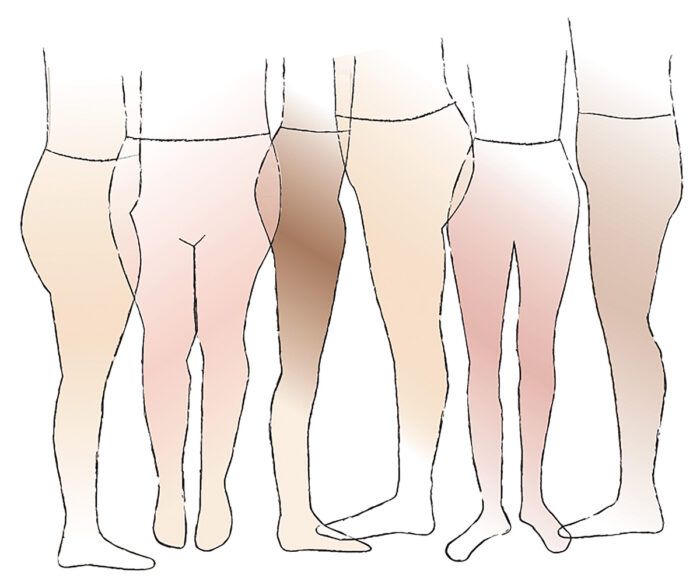 Maybe you've discovered how to get around the tricky business of pants fitting by drafting a pattern from scratch. To quickly fit a basic pants pattern, however, adding vertical seams to the front and back is the answer. There are so many variables with pants fitting, and successful results involve establishing the correct relationship between the pattern and assorted body parts. It's difficult to get all the necessary adjustments into two basic pattern pieces, yet I can show you how easy it is when you divide the patterns vertically, with a seam at the center of the front and back pieces.
The benefit of fitting with these vertical seams is that you can make a pant leg larger and smaller in different places. You're able to shape the pant leg and the torso area, from crotch to waist, to match the body and stay comfortable. Common challenges that this approach can solve include a protruding stomach; a flat or prominent seat; full or thin legs; wide or narrow hips; and high or low hip fullness.
I recently had a friend help me fit a pants pattern that came with vertical front and back seams as a design feature. We were delighted with the ease of fitting and the final result. I realized it would be simple to duplicate this feature on many pants patterns and achieve a similar fine fit with less effort. I'll show you how easy it is to effectively shape a pants muslin to your individual figure. If you, like many sewers, have problems getting a good pants fit, give this method a try.
Pattern landmarks
Start your fitting with a basic pants pattern that's free of design details such as a waistband, zipper, pockets, and leg shaping. Once a good fit has…
Start your 14-day FREE trial to access this story.
Start your FREE trial today and get instant access to this article plus access to all Threads Insider content.
Start Your Free Trial
Already an Insider? Log in